Famous throughout the camp and the island, Mehdi's dramatic skills have provided solace to the men imprisoned in Australia's detention centre. On the night locals attacked the compound, his reputation may also have saved his life. Behrouz Boochani, a journalist detained on Manus, reports.
I had not met him yet. I had only heard about him, and the beautiful things said about him — that he is a theatre performer and had hosted children's television programs, and that he was cheerful and much-loved among the prisoners.
During the times of our greatest suffering and misery, just hearing that this actor was in the same prison as me was a blessing, and just knowing that in this prison an artist was close-by gave me comfort. During the most difficult times, when the prisoners of Manus were under intense pressure from G4S officers and Salvation Army workers, he would stage satirical performances for the prisoners in Oscar compound. He staged plays he had acted in many times before for prisoners who had no other salvation other than their fellow inmates.
Following conversations between patients in the small clinic, news of his performances spread through the separate compounds in Manus. In those days the prisoners were under tight surveillance and restricted from meeting each other. However, these restrictions could not prevent stories about this artist from spreading to every corner of the prison.
At the time, my relationship with this man was one-way, and only took place in my mind. Whenever I heard his name I would imagine his character, his unique figure and short stature. I was interested in meeting this actor, who stood one-metre tall, and to hear his words. After the February 2014 riots and the killing of Reza Berati, I finally had the opportunity through the efforts of Salvation Army staff.
On a depressing evening in the prison, news spread through Fox compound that Mehdi Savari would be visiting to perform for us. That night approximately 400 asylum seekers imprisoned in Fox were waiting in eager anticipation for his appearance. Mehdi was accompanied by several other prisoners, and they bravely entered Fox compound with painted faces. Mehdi staged, produced, directed and performed an exceptional piece of theatre.
HOUSE AD – NEW MATILDA NEEDS YOUR HELP. OUR LATEST FUNDRAISER ON POZIBLE IS HERE. HELP US PAY OUR HUGE LEGAL BILLS AND KEEP INDEPENDENT MEDIA ALIVE!
I will leave the details of the plays and Mehdi's artistic work in Manus Prison for another article. My purpose here is to introduce him to you, and for you to get to know this artist, and the pain and pressure he has endured over the last three years.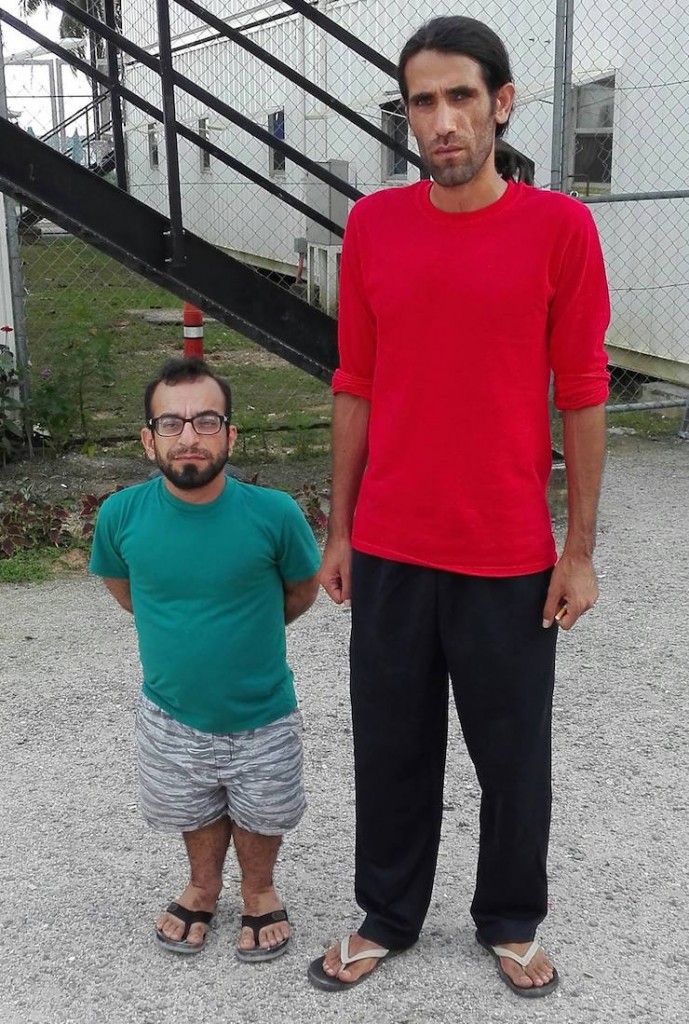 Mehdi Savari is thirty-one years old, approximately one-metre tall, and weighs about thirty kilos. He is an actor who has worked with numerous theatre troupes in many cities and villages in Iran, and performed for audiences in open public places. For a time he was the host of the most popular children's television show in Iran's Khuzestan Province.
On the 23rd of July 2013, Mehdi undertook a difficult journey by boat to Christmas Island, four days after the introduction, on 19th July, of a new Australian government policy, whereby Asylum seekers were to be transferred to Manus Island within a month. Mehdi told me that he pleaded with immigration officials not to send him to Manus Island; the officials replied that 'laws are laws'. However, at the same time, many of Mehdi's friends, who had arrived with him on the same boat, were allowed to remain on Christmas Island and were granted Australian visas after one year and released.
Upon entering Manus, Mehdi became entangled in the Australian Government's inhumane games, along with nine-hundred fellow asylum seekers. However, due to his physical make-up, his experiences differed significantly. He has told me that while the conditions on Manus Prison have been difficult for everyone, they have been even more difficult for him. He has met with severe discrimination over the last three years. The extent of the discrimination can only be understood when one puts oneself in his shoes, and considers his daily struggles.
The prisoners must wait in line to use the toilets, and the humiliation associated with this takes place several times a day. However, for Mehdi the main challenge is not the waiting in line, but what he experiences once he gets there. He says: "When I have to use the toilet I feel like I am confronting and battling a giant – sitting on the toilet seat is one of the most difficult things for me and I have fallen off on a number of occasions, resulting in filthy situations. I imagine that the most painful memory that I'll take with me from this prison is my encounters with the toilet seat. They made me feel like a worthless human being."
I think that Mehdi will require a lot of time to to come to terms with this trauma. He has had to endure this gross indignity for three years.
Prejudice against Mehdi manifests itself in the inappropriate clothes he has been forced to wear – the prison management provided him with ridiculous, ill-fitting clothes. Imagine the indignity of a grown man having to wear heavy, baggy clothes that obstruct the movement of his arms and legs, as he waited in line for food or the toilet. Mehdi says: "They even withheld scissors or cutting utensils so that I couldn't shorten the sleeves. I had to endure this humiliation for two years. I would have preferred to be naked rather than wear those clothes."
His anguish intensified when he began to experience excruciating pain in his eyes. After constant requests Mehdi was transferred to Port Moresby Hospital. The authorities kept him behind closed doors in a hotel for twenty-one days. He was forbidden from leaving and finally returned to Manus Prison without undergoing an eye operation. A year later he was taken to Port Moresby again and after fifty days returned to Manus Prison without treatment.
"The doctor first told me that I had a cancer of the eyes, and then a few days later he said I'm fine and that it's not cancer," Mehdi explains. "Because my father turned blind due to the same illness, I fear I too will become blind."
Like many other sick people held in Manus Prison, Mehdi has had to endure his condition without treatment, adding to his sense of humiliation and suffering.
In contrast to these painful experiences, Mehdi maintains a different outlook to prison life, and has developed his own survival strategy.
"After the events of February, when I was deeply affected by the death of Reza Barati, I felt that the people here needed at least something that would bring joy and beauty into their lives," he said. "Therefore, I decided to heal their wounds with the language of theatre and art. I was able to make them happy, on various occasions, using this medium."
Performing theatre in Manus Prison was not easy. Mehdi says that his requests for microphones, props and other requirements, were rejected. In one instance, a Salvation Army manager responded by reminding him that he was in prison and not in an art space.
Despite these restrictions Mehdi was able to perform on a number of occasions and soon became the most loved person in the centre. He is even known to the locals outside the prison. The affection that they have for him guaranteed him protection during the attacks by some of the locals. Mehdi says the aggressors recognised him, and let him be.
Translated by Omid Tofighian of the University of Sydney, with editorial assistance from Arnold Zable.
HOUSE AD – NEW MATILDA NEEDS YOUR HELP. OUR LATEST FUNDRAISER ON POZIBLE IS HERE. HELP US PAY OUR HUGE LEGAL BILLS AND KEEP INDEPENDENT MEDIA ALIVE!

Donate To New Matilda
New Matilda is a small, independent media outlet. We survive through reader contributions, and never losing a lawsuit. If you got something from this article, giving something back helps us to continue speaking truth to power. Every little bit counts.