The case took another turn today, as the man who admitted sending violent and graphic harassment in a Facebook exchange changed his initial plea of not guilty. Max Chalmers reports.
25-year-old Sydney man Zane Alchin has entered a plea of guilty in a NSW court after posting a series of abusive messages to women in a Facebook argument.
Alchin had previously entered a plea of not guilty to a charge of using a carriage service to menace, harass, or offend, in a high-profile case that has inspired a campaign drawing attention to the threats and harassment women face online.
The charges relate to a number of posts made by Alchin on Facebook in August 2015 directed towards a number of women, including Paloma Brierley Newton, who ended up taking screenshots of the encounter to police.
In a witness statement submitted to NSW police, Brierley Newton said the comments were made after a friend of hers was shamed on Facebook by another man in relation to her bio on Tinder, a popular dating app. An argument broke out in the comments, in which Alchin made graphic sexual references to the women, described them as "sluts", and said:
"I'd rape you if you were better looking but I wouldn't fuck you a nimbus"
"You know the best thing about a feminist they don't get any action so when you rape them it feels 100 times tighter"
"If you sucked my dick I'd slap your over the back of the head after it so you'd spit my cum out you ain't worthy of swallowing my jizz"
"If anything you've proven the only thing good about a women's mouth is useful for is to get face fucked till she turns blue then have a man hot load straight down it"
"Hahahah your going to die alone and miserable with a dried up cunt and ovaries that never got used"
"Say something back you fucking moles I've got sooooo much more to give and I'll start with my cock in your grandmas ass"
"A spade is a spade and being politically correct is a mental illness"
In the exchange, Brierley Newton threatened to go to the police if the comments continued.
"What law am I breaking? I'm not the one out of the fucking kitchen," Alchin replied.
As it turns out, the answer to that question was section 474.17 of the Commonwealth Criminal Code Act, which carries a maximum sentence of three years imprisonment.
According to a police factsheet, seen for the first time today, Alchin admitted to police that he was responsible for 55 messages in total. He told police that he had posted the comments after looking them up on an "anti-feminist website", and said the group of women had been harassing him and his friends. "He was internet trolling and was unaware it was a crime," the factsheet said.
HOUSE AD – NEW MATILDA NEEDS YOUR HELP. OUR LATEST FUNDRAISER ON POZIBLE IS HERE. HELP US PAY OUR HUGE LEGAL BILLS AND KEEP INDEPENDENT MEDIA ALIVE!
Alchin told police "he was drunk at the time and the comments do not represent what he is about". The police factsheet put the time of the posts at 12:30pm, and said they were made in an "apparent attempt to cause the victim to retaliate".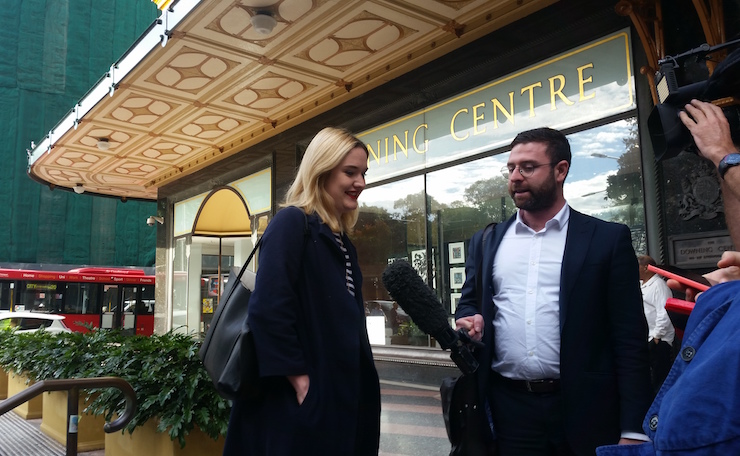 While today was expected to see Alchin's trial commence, Brierley Newton and a small group of supporters were informed by police while waiting outside the court that Alchin's lawyers had reversed the previous plea of not-guilty. Alchin's legal team told an initially hearing that a plea of guilty was likely, only for them to later formally enter a plea of not guilty, and subsequently change that to a guilty plea today.
Alchin, who has no previous criminal history, will face sentencing on July 29.
The police sheet described Alchin as remorseful, though Brierley Newton said she has not yet received an apology.
She said she was surprised by the guilty plea but "elated".
"I think that by standing up and saying he's guilty of a crime it can put an end to all the backlash of 'this is just the internet, it isn't a crime'," she said.
"I think guilty is one thing but actually admitting you've done the wrong thing as opposed to realising you can't get out of what you've done [is another]. I want to hear him say he is sorry for what he said rather than that he is sorry he got caught," she said.
For New Matilda's original story on the saga that led up to charges against Alchin being laid, read here.
HOUSE AD – NEW MATILDA NEEDS YOUR HELP. OUR LATEST FUNDRAISER ON POZIBLE IS HERE. HELP US PAY OUR HUGE LEGAL BILLS AND KEEP INDEPENDENT MEDIA ALIVE!

Donate To New Matilda
New Matilda is a small, independent media outlet. We survive through reader contributions, and never losing a lawsuit. If you got something from this article, giving something back helps us to continue speaking truth to power. Every little bit counts.