There's big money in coal, right? Well, for Queensland taxpayers there's bigger money in car registrations, writes Rod Campbell from The Australia Institute.
Despite the arrival of online political gambling, you still can't place a bet on the most exciting thing in Queensland politics and economics.
Forget Labor vs LNP, Greens vs Pauline Hanson or Campbell Newman vs the taxpayer – the closest race in the sunshine state is between car drivers and the coal industry.
While the Queensland Premier thinks coal is the "backbone" of the state's economy, every year coal battles with motor vehicle registration to be the Queensland government's seventh biggest source of revenue. Each provides a thumping 3 per cent of the money that pays for hospitals, schools and services in the state.
The real money comes from the Commonwealth, taxes and sale of goods and services.
As I wrote last year, coal royalties were slim favourites to win this year, with Treasury expecting them to bring in $1.684 billion to $1.654 billion.
Excitement reached fever pitch on Queensland budget day this week. And the winner was….
Car rego by $1.632 billion to 1.594 billion! Well done, drivers. Better luck next year, miners. And bad luck, Queensland Treasury, who picked it wrong. Again.
In fact, Queensland Treasury are mug punters on the value of coal royalties. They've been getting it wrong for a long time. In the chart below, the dotted lines are Treasury's projections of coal royalties, while the solid line is how much is actually collected.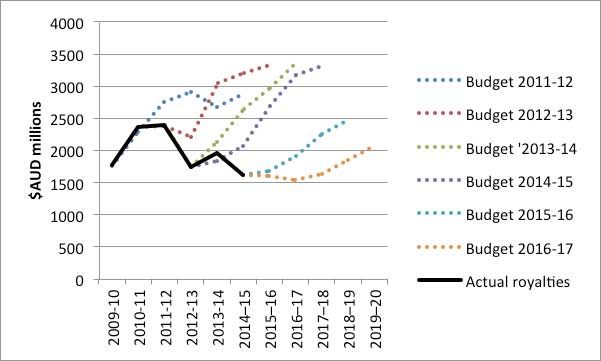 Notice in the chart how in every year's budget the dotted lines of projected coal royalties soar skywards. Meanwhile, the amount actually collected is trending down.
It's not that Queensland is producing less coal, quite the opposite. More coal is being produced, but Queenslanders are getting less and less money for it, as prices have declined. The Queensland Government could address this by increasing royalty rates to be the same as New South Wales. Unsurprisingly, this is exactly what the coal lobby doesn't want.
Not only do Queensland's bean counters get it wrong on coal, but they're as bad on gas. Predictions and actual royalty collections are shown in the chart below: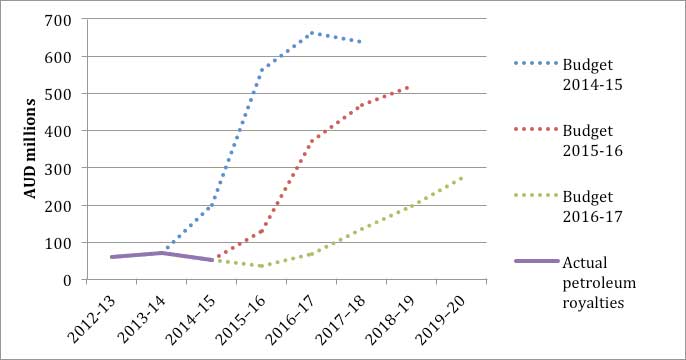 Queensland's large-scale gas exports began in 2014, and Queensland Treasury had predicted that they'd be pulling in over $660 million of royalties in the next year. It looks like they'll get one tenth of that, $68 million in 2016-17, with the forecasters predicting $270 million in 2019-20.
Those figures are royalties. It's not how much the gas is actually worth.
Royalties are the money paid to Queenslanders by gas companies for the right to dig up and sell off the gas that belongs to Queenslanders. Gas under the ground is collectively owned by the people of Queensland. We only get to sell it once, so we should be trying to get the best price possible.
The sale price the gas companies get for Queenslanders' gas is much higher. Treasury expect annual gas exports to be worth over $20 billion each year by 2017-18.
So that's $20 billion worth of gas soon to be leaving Queensland each year (page 41), but Queenslanders will struggle to get more than $200 million per year for it (page 241).
The gas companies do invest in infrastructure, process and market the gas, so clearly they do need to get a higher price than they pay to Queenslanders in royalties. But according to Queensland's own ever-optimistic Treasury, it looks like Queenslanders will be receiving about 1 per cent of the export value of their gas in royalties.
What's worse, for these paltry returns Queenslanders have to put up with significant damage to their environment. Gas operations have impacts on water and air quality and on other industries.
Somehow, the budget papers put a positive spin on Queensland's gas exports:
[A] rebound in GSP growth is underpinned by a surge in overseas exports, as liquefied natural gas (LNG) production ramps up and drives the value of Queensland exports to almost $100 billion by the end of the decade. (page 25)
Earth to Treasury: surges in exports and GSP based on gas aren't much good unless you're taxing them properly, and/or you own the company. Neither is happening in Queensland, where most gas companies are foreign-owned and the wider problems of taxation of the gas industry are too big for this column.
To put it bluntly, Queensland is not getting a good return for its natural resources.
If Queensland Treasury wants a better return, I'll give them 2:1 on car rego outperforming coal royalties again next year. Maybe the political betting markets will give you even better.

Donate To New Matilda
New Matilda is a small, independent media outlet. We survive through reader contributions, and never losing a lawsuit. If you got something from this article, giving something back helps us to continue speaking truth to power. Every little bit counts.