A world-leading system of Marine Reserves to protect Australia's oceans, which was put on hold when the Abbott government came to power, is back on the cards after Labor announced that if elected it would seek to finish what it started.
The plan was unveiled by Tony Burke in 2012, and involves protections for an area more than six times the size of Germany, in Australian waters right around the continent.
It would have been the world's largest network of Marine Reserves at the time, but the plan was scuttled by the Abbott government. Management plans drawn up during Julia Gillard's time in office were suspended and put under review, just six months after they'd been approved.
Yesterday, Shadow Environment Minister Mark Butler went on the attack, arguing that "the Abbott-Turnbull Government has spent the last three years undermining the protection of Australia's environment and Labor won't let it continue".
It's a sentiment widely shared by advocates for marine conservation. "From our point of view there was absolutely no point – it was a completely unnecessary and pointless review of these Marine Parks," said Wilderness Society campaigner Suzanne Milthorpe.
"There'd been 10 years of consultation and scientific research and the community had come together on that, and then the Abbott Government launched this unnecessary and really expensive review, the outcomes of which we're still waiting on," she said.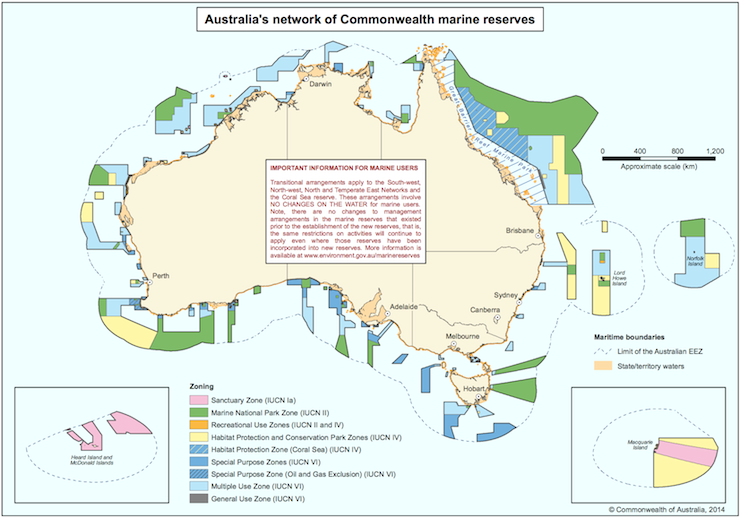 Environment Minister Greg Hunt has been sitting on a report outlining the findings of the Abbott-era review since December last year. He will not release it before the election, and the Coalition's policy on the issue remains unclear.
Michelle Grady, a long-term campaigner with Pew Charitable Trusts, said that the Coalition's actions do not inspire confidence they will emerge from the review process with a strong policy.
"The industry department has been allowing the fox into the henhouse while the door – which is basically the review process – is open," she said.
Analysis commissioned by Pew Environment and carried out by the Centre for Conservation Geography shows that the Coalition has been handing out mining titles in areas which had been slated for protection.
The analysis found that since the announcement of the review in December 2013, 39 permits have been handed out to the mining industry for areas which overlap with Commonwealth Marine Reserves.
Grady questioned whether the review had been undertaken in good faith, given that environmentally damaging developments which conflict environmental protections are clearly being entertained.
Milthorpe said the review represents "a delay in the establishment of those strong, well-functioning marine protections for the amazing marine ecosystems we have off our coast".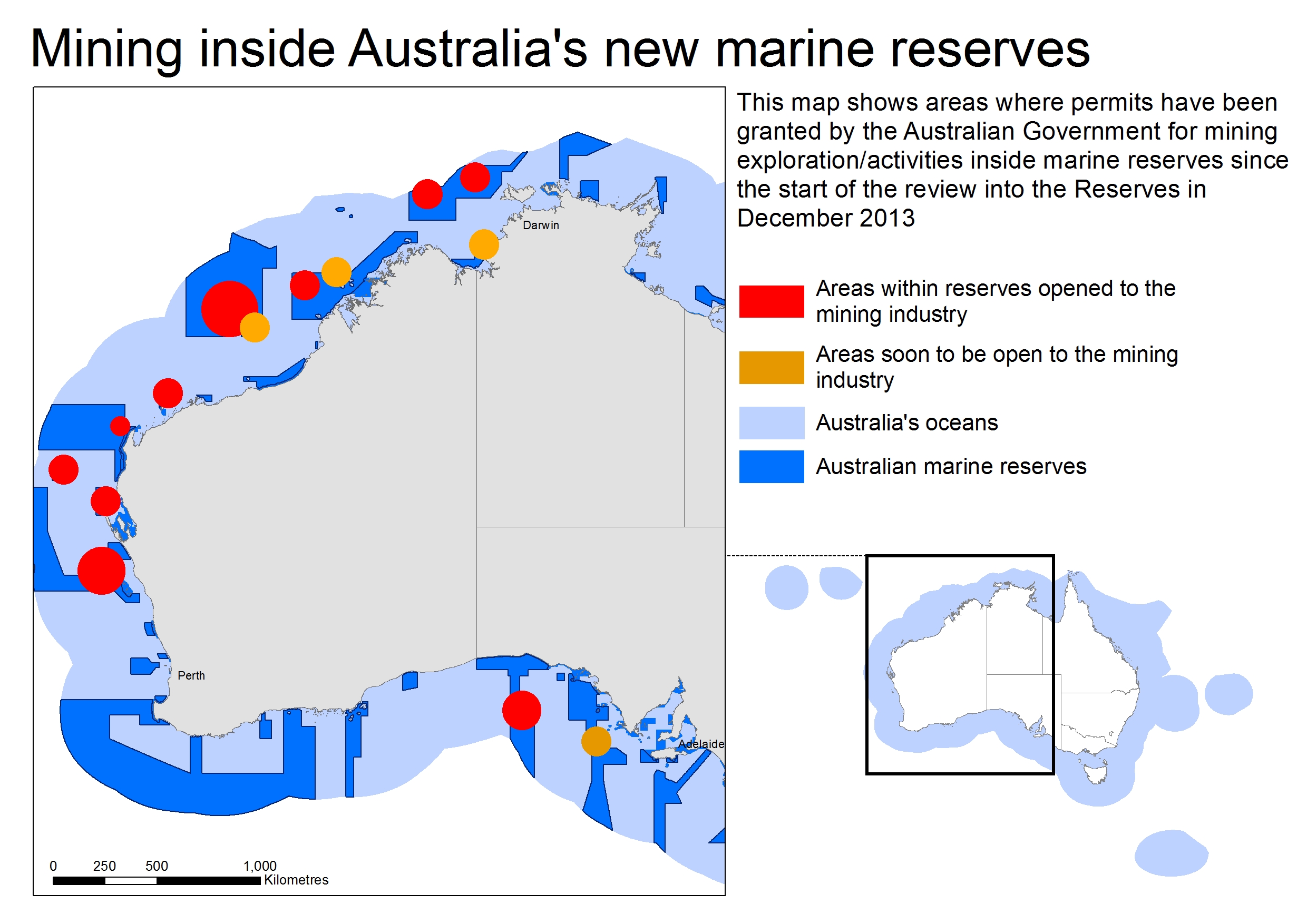 Professor Sean Connolly regrets that protections for marine ecosystems have often been neglected because they are "out of sight, and therefore out of mind".
"When habitat is destroyed on land it's obvious, [but]when deep water habitat is damaged by something like trawling, we don't see it," he said.
A Stanford graduate, Prof Connolly is now with the College of Marine & Environmental Sciences at James Cook University. He said the Marine Reserves Network is comparable to the terrestrial National Parks system, and that there is evidence marine reserves work.
"If you stop removing an organism from the marine environment, then it tends to not only become more abundant but to develop a more natural structure to its population," he said.
"So for instance if you stop fishing, then fish in the places that are protected will tend to get bigger on average. So big old fish make a disproportionately large contribution to the next generation because as a fish gets bigger the number of eggs it produces increases exponentially."
Prof Connolly also said that certain types of fishing damage habitat structures, and that "really the question about that [Labor] plan was whether it adequately protected habitats where there is significant fishing activities," rather than skirting around them.
Environment Minister Greg Hunt has not yet responded to requests for comment, but it appears that the Coalition will eventually come forward with its own version of the Marine Park network.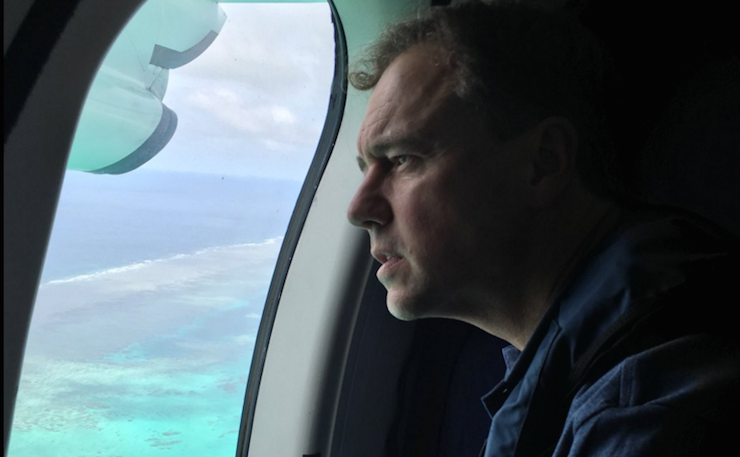 Michelle Grady said this year's budget included $56 million towards the program – compared to Labor's promise of $103 million over four years – but that this suggested there would be less protections under a Coalition government.
Some fisherfolk will need to be compensates, and Labor accepts this in its policy.
The Marine Reserves Network had long enjoyed bi-partisan support, with consultation beginning during the Howard years, in 1998. The South-East Marine Reserve, around Tasmania, was established just before the conservatives lost office in 2007.
Labor's plan for a nation-wide network was essentially the culmination of this long process. Their renewed commitment hasn't made much of a media splash, but Suzanne Milthorpe said it's one of the most significant promises in environmental policy of the election.
"Getting these Marine Reserves actually implemented and on the water in the way they were supposed to be, and the community wanted them to be, is a massive step forward," she said.
"The ecosystems they'd protect are as extraordinary as anything you would see on the land or the water anywhere in the world. It is extraordinary that they're not already protected."

Donate To New Matilda
New Matilda is a small, independent media outlet. We survive through reader contributions, and never losing a lawsuit. If you got something from this article, giving something back helps us to continue speaking truth to power. Every little bit counts.