A moment of abuse became a flash of inspiration. Liam McLoughlin reports.
Gerard O'Dwyer was just trying to do his job when he was publicly humiliated.
"I used to work at Macca's at North Parramatta. One day when I was cleaning the dining area I went up to my customers, two customers, two boys. They were sitting down and carrying on with their business having lunch. I asked them if they were finished with their scraps," Gerard recalled.
"I asked them if they were finished so I could put them in the bin. They then began to imitate me, stammering and stuttering."
"I was about to lose it, it got to me when they did that so I got mad at them. I was that close to shouting at them and telling them to stop. I wanted to tell them I work on my stutter…I didn't tell them. I didn't say anything. I stayed quiet."
Many people would ruminate on feelings of anger and upset for days after such an encounter, consumed by the regret of inaction. Gerard chose a different path. He took his experience to RUCKUS, a disability led performance ensemble which he co-founded.
Together with six other actors and director Alison Richardson, Gerard expanded his story into an acclaimed theatrical production called See In Me, exploring "what it is to feel invisible, isolated and alone and what we can all do in our lives to stay connected, visible and heard".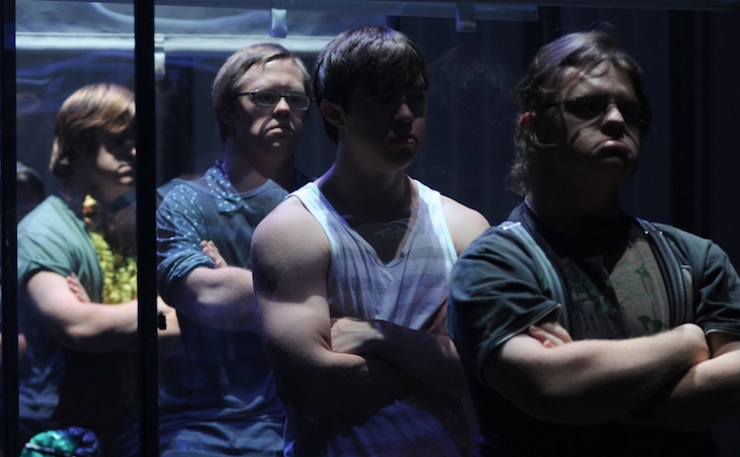 "I curated that text and it was based on my Macca's piece with the boys imitating me stammering and stuttering…what I said about them was really heartfelt," Gerard told New Matilda. "Yes, I got angry, but I curated that story."
In doing so, Gerard was acting out the philosophy of his performance troupe: "RUCKUS reject being victims of pity but rather embrace being active agents of individual and societal change."
The new short film Anaconda, directed by Jerome Pearce, takes the audience behind the scenes as Gerard rehearses his lines before telling this story to a live audience. It's one of four short films making up the project My Life/My Art, developed by the Parramatta based arts organisation Information and Cultural Exchange (ICE) and currently showing at the Bradford Small World Film Festival.
According to producer Barry Gamba, the films aimed to "tell stories to a wide audience that would dispel myths and misconceptions about people with disability and creativity".
Life Is Short, Time Is Constant aka Listic, directed by Vanna Seang, follows Campbelltown rapper Lima Peni as he mentors kids in the local area. It's slowly revealed that Lima is also legally blind.
In Valentine, directed by Tresa Ponnor, we hear from actress Janet Lombardo on the challenges of being a stroke survivor in the search for intimacy.
Ludwig El Haddad's Two Heads Are Better Than One introduces Auburn-based visual artists and twin sisters Carla and Lisa Wherby. Carla has chronic anxiety and a related physical disability and Lisa is her carer and artistic collaborator. Both produce political art with great empathy.
One misconception tackled by these films is the idea that disability somehow dominates a person's life, Gamba said.
"They all seemed to position disability as something that was almost an aside. It wasn't the driving force behind what motivated people to do things. It wasn't even a big burden on their shoulders; it was just something in their lives…one of the elements that maybe in some way informed the art they were creating."
Anaconda Director Jerome Pearce thought something similar when he realised the biggest challenge for Gerard was not what you might think.
"Gerry's most obvious disability when you see him is his Down Syndrome but when you actually have a conversation with Gerry that's not his main disability… he doesn't see himself as a person with Down Syndrome. He sees himself as a person that struggles with getting his lines right and the main thing that gets him every time when he's performing or when he's rehearsing his lines is that stammer and that stutter."
Gamba thinks there is another common myth, this time about the limitations of life with a disability.
"Gerry has a fairly prominent career as an actor. I think there were misconceptions about what parts he could get, what kind of career a young actor with Down Syndrome could have."
Gerard's career took off when he won best actor in the 2009 Tropfest winning film Be My Brother.
Since then he has featured in a range of short films and numerous plays, spoken publically at film festivals, leadership conferences and fundraisers, become an ambassador for the Don't Dis My Ability campaign, and is now starring his first feature film, alongside John Jarratt.
His success is testament to the RUCKUS aim to "smash stereotypes and challenge audience preconceptions of what people with disability are capable of achieving".
It's a goal shared by Carla and Lisa Wherby, who hope the My Life/My Art films will "smash the unfortunate reality of discrimination and negative attitudes against all people who identify as living with a disability, including artists."
In the film Two Heads Are Better Than One, Carla and Lisa link discrimination against people with disabilities to discrimination against other socially and economically disadvantaged groups through their artwork The Sydney Housing Crisis.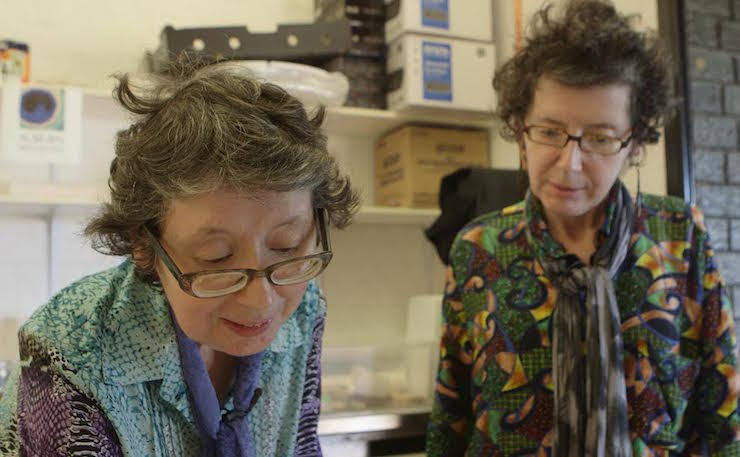 Lisa: "We believe it's a very dire situation in Sydney so we'd like to try and document it and create narratives about it, maybe in a series of future artworks."
Carla: "All the architecture down at the Rocks was all bold and beautiful but they just knocked it all down like that Joni Mitchell song, pave paradise and put up a parking lot…a lot of these people in housing have poor health or disabilities like me. I just imagine what they were going through at the time."
Lisa: "We know the terror ourselves of getting letters from real estate agents saying we have to vacate in a month or two months."
Carla: "We got one on our birthday about seven years ago…we thought it was a birthday card."
The sisters feel a sense of solidarity with the 293 public housing households in Millers Point who have faced eviction since March 19, 2014. A Sydney Morning Herald piece on the subject from earlier this year reported a Swedish study which found an "increased risk of death among those who are exposed to urban renewal, both in the case of temporary evacuation and permanent moves".
Millers Point residents expressed the same kind of terror Lisa described.
The two visual artists elaborated on these themes in correspondence with New Matilda.
"Nearly everyone I know has been affected in one way or another by the Sydney Housing Crisis – public housing evictions, rezoning of land, redevelopment, and rental/mortgage stress," Lisa wrote. "Living in Auburn for 10 years, Carla and I have witnessed development as a fierce and unrelenting force. We have never felt safe here."
"Eviction letters are terrifying and paralysing emotionally as they affect your stability and wellbeing. The vulnerable people forced out of the Rocks after many years must feel disorientated, betrayed and in total disbelief".
Like Gerard, Lisa and Carla choose not to passively endure injustice, but to respond creatively to it.
Carla wrote that "returning to art has helped with my anxiety and depression (therapeutic) and has made me feel I can create something worthwhile despite my limitations and illness."
Following their critique of the NSW government's approach to development, the Wherby sisters have recently produced a more optimistic artwork called the Demonisation of Disability Is History (Moving On).
Thanks to the hard work of disability advocates and films like Valentine, Life Is Short, Time Is Constant, Anaconda and Two Heads Are Better Than One, the demonisation of disability may soon be history.
"Hopefully people seeing these films would actually give them the opportunity to think twice before they judge someone based on their first impression," Director Jerome Pearce said.
Producer Barry Gamba sees a similar power in such work.
"Art has a political and social impact – when you start to question your own assumptions and allow more opportunities for people rather than limiting them based on pre-judgement. I think art has the power to affect the way we think and the way we move ahead."
If art does influence the way we move ahead, artists like Gerard O'Dwyer will make excellent guides.
"We are what we are in life and we deserve to be treated like everybody else. We deserve to be treated like equal people. We want to be seen and heard and given a voice. Everyone wants to make a difference if given a chance. So please do not put anyone down and treat everyone equally. That message is important to me because it's coming from the heart."
The four films of My Life/My Art are screening at the Bradford Small World Film Festival throughout the month of June. The films have been submitted to a range of other film festivals and Australian audiences will have a chance to see them at local screenings in coming months.

Donate To New Matilda
New Matilda is a small, independent media outlet. We survive through reader contributions, and never losing a lawsuit. If you got something from this article, giving something back helps us to continue speaking truth to power. Every little bit counts.