The race is on to build a gas pipeline from the Top End to the east coast to prop up a failing fossil fuel industry. Lauren Mellor explains.
The North East Gas Interconnector (NEGI) has been proposed by the Northern Territory's Giles' Government as a Project of National Significance; an $800m pipeline to connect Territory gas reserves with the East coast markets.
The pipeline is proposed to run 623km from Tennant Creek to Mt Isa in Western Queensland, before connecting to existing networks and sold for export.
The project's feasibility was sold on the basis of a need to on-sell the NT Government's share of surplus contracted gas from Power and Water Utility from the offshore Blacktip field. But to feed it the pipeline's proponent, Jemena – a dual Chinese-Singaporean government-owned company – have stated they would require the development of significant new onshore unconventional gasfields, and the use of high-risk hydraulic fracturing (or 'fracking') to extract the gas.
Since 2011, a rampant unconventional gas rush and lax government regulation allowed more than 85 per cent of the Northern Territory's landmass to be acquired by unconventional gas companies, with approved gas tenements covering more than 40 per cent of the total landscape.
These places include prime pastoral and food growing regions, high-value tourism, cultural and conservation areas and the vast majority of the population's drinking water supplies.
Opposition to the practice of unconventional gas mining has accelerated in the Northern Territory in recent years in response to revelations of water contamination caused by fracking gasfields, and fugitive methane emissions impacts. Against a backdrop of historically inadequate mining regulation leaving many high profile former mine sites irreparably damaged, few Territorians have faith in the under-resourced Department of Mines and Energy to effectively monitor thousands of remote gas wells and associated infrastructure.
Polling and community surveys in the lead up to the August 2016 Territory elections suggest the Giles' government is isolated and hemorrhaging support over it's backing of the fracking industry, with the Labor Opposition responding to community concerns by committing to an indefinite moratorium on the fracking industry if it wins office. The new party One Territory, and the Greens, have called for an outright ban.
The Giles Government had hoped the talk of jobs and revenue created by the pipeline proposal would be enough to counter criticism, but a new report by US-based Institute of Energy Economics and Financial Analysis shows the pipeline's economic viability rests on a set of increasingly shaky foundations and calls for the plan to be abandoned.
Pipeline established on false needs basis
The IEEFA report released last week found that the global LNG market is oversupplied, with 245Mt sold in 2015, compared to global liquefaction capacity of 308Mt.
That surplus is at 26 per cent and rising. Indeed, the global LNG industry is in a demand crisis that is particularly acute in North Asian markets critical to Australia, with demand from Australia's three largest markets – Japan, Korea and China declining in aggregate over 2015.
Conditions weren't much better back in 2014, when the NEGI was first floated. At the time, the Territory's Chief Minister ignored recommendations from the chief gas industry market regulator – the Australian Energy Market Operator – and the Reserve Bank of Australia, with both organisations' 2015 reports showing no expected supply gaps in NSW, with national demand for domestic gas actually falling.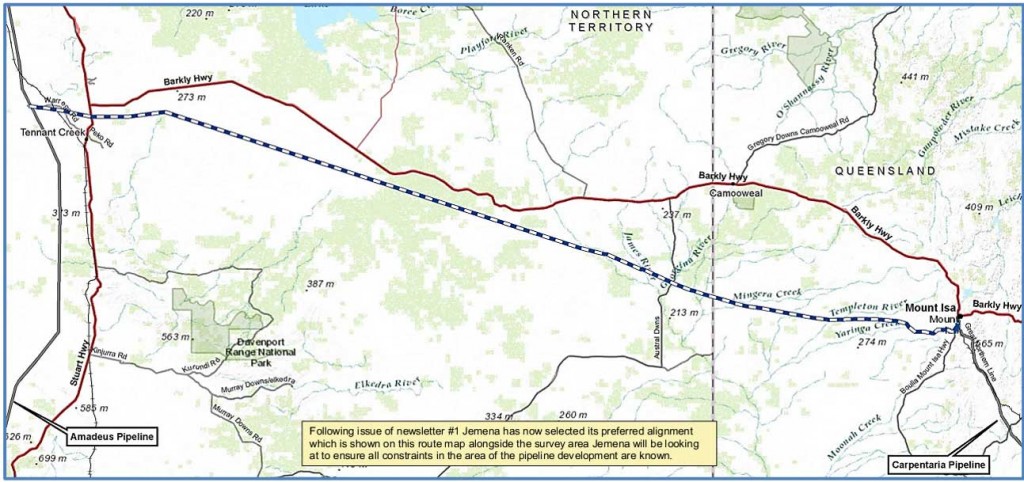 But caving to a gas lobby scare campaign, warning of an impending East Coast gas shortage in part because of widespread opposition to unconventional gas mining across NSW, the Giles' government rushed to accelerate the pipeline tender process and project assessment.
But the gas it would produce has no customers other than the NT Government's Power and Water Corporation, which would supply just a portion of the gas required to fill the pipe.
Citing a lack of customers, Jemena in April 2016 announced a 25 per cent downgrading of capacity, with the pipe being resized from 14 inches to 12 inches. With gas prices continuing to crash, and new major gas projects coming online and contributing to oversupply, it's likely this is just the start of the project's problems.
The Northern Territory government has further disadvantaged the project by gifting the Chinese and Singaporean governments who share controlling stakes in Jemena the right to run an unregulated monopoly gas transmission line.
The NEGI's high distribution tariffs will price it out of an East Coast market, where the entire onshore gas export industry is now running at a loss. The report concludes that, "Neither the NEGI nor the larger East Coast onshore gas export market has sufficient customers for their high-priced product."
The project's jobs promises appear equally hollow. By Jemena's own admission, the pipeline would create just 90 jobs in its short construction phase, and just 7-9 long-term jobs projected overall.
Critically, this bad business decision on behalf of the NT Government was made without a single commercial reserve of shale gas being proven anywhere in the Territory. With major players like Santos, Origin and Pangea all winding up their 2016 drilling programs in response to the nose-dive in gas prices, any commercially-guaranteed quantities could be many years away.
But despite the economic case for the pipeline tanking alongside the global gas market, the Giles' government remains stubbornly wedded to the idea that a shale gas industry can be subsidized into existence, with $9.2 million already spent to 'drive private sector investment' and senior ministers recently floating the idea of upscaling the project using $60 million in taxpayer funds.
In recent months, the Frack-Free Territory campaign has won important support from the NT Labor party with a commitment to a moratorium on any development of the onshore gas industry and opposition to fracked gas being transported through the new pipeline.
The federal ALP's national interest test for new gas projects announced last month would also likely find at odds with trading off vast quantities of Territory water for use by the fracking industry, and unindustrialized landscapes being turned into gasfields.
Now that it is clear the pipeline's viability rests entirely on the exploitation of fracked gasfields, the next logical step for the NT Labor Party, should they win office in the August 2016 polls, is to commit to finding other ways to utilize, renegotiate or cancel the excess contracted gas, and walk away from the Giles' government's poorly hatched plan to build the pipeline.
The case for keeping it in the ground
There is a far greater cost in the proposed pipeline than just a few hundred million badly spent, and its impacts reach far beyond the Territory taxpayer.
The last decade's fracking boom, we were told, was about creating a bridging fuel that could wean the world off dirty coal and oil and onto renewables. Instead, what we've seen is massive growth of the gas fracking industry, with leaking methane rapidly overtaking carbon as the world's biggest contribution to global warming.
Last month the Australian government signed onto the UN Paris Climate Accord, pledging to work with other nations to reduce reliance on fossil fuels in an attempt to limit the global temperature rise to 1.5 degrees. But while this agreement is a step forward, there are two glaring omissions that allow government's like the Northern Territory to continue propelling us headlong towards a fracked future.
Under the Paris agreement methane is not counted in emissions reduction pledges, despite being 86 times more potent a greenhouse gas than carbon over a 20-year period. This has allowed governments like the US to claim that its carbon emissions are falling as coal plants are displaced by fracked gasfields.
But explosive new evidence published by Harvard University in the US shows methane leakage rates from gas processing infrastructure has been grossly underestimated.
Between 2002 and 2014, the data showed that US methane emissions increased by more than 30 percent, accounting for 30 to 60 percent of an enormous spike in methane in the entire planet's atmosphere. Methane emissions are so high in areas of large shale gas extraction that carbon emissions reductions elsewhere may have even been eclipsed.
Secondly, it does not obligate signatory countries to stop new investment in fossil fuel projects like fracked gas pipelines or coal mines, and adding new fossil fuel reserves to an already fatally oversupplied global emissions budget. The task of ensuring that our governments are bound to their promises now lies with the growing global movement to keep fossil fuel in the ground.
The Northern Territory boasts some of the world's last remaining untouched, unindustrialized landscapes, with a small, dispersed population. Its contribution to climate change to date has been negligible by comparison to the rampant coal and gas extraction of our major East Coast cities, but that could change with a headlong rush to production of shale gasfields.
If constructed, the NEGI would drive investment in the extraction of major reserves of shale gas and its accompanying leaking methane would blow any chance of remaining within Australia's stated emissions budget.
Globally, the climate justice movement has worked to ensure the world's remaining untapped reserves of fossil fuels stay safely in the ground with the transition to renewable energy. They are racking up some important wins lately that provide cause for hope.
The pipelines that would facilitate more dirty tar sands oil being burnt like the Keystone XL pipeline planned from Canada to the Gulf of Mexico and the Constitution fracked gas pipeline in New York have both been denied approval by Federal and local governments following significant grassroots pressure.
In New York State, fracking has been banned outright.
The NEGI, good money after fracking's bad bet
While the employment and economic outcomes of the NEGI are clearly on shaky grounds, there is certainty that the path to both a stable economic model and future climate should shift investment of the hundreds of millions pledged to develop and promote onshore fracking into a rapid upscale of our solar energy potential in the Territory. Solar is our natural advantage, not dirty fracked gas.
A bold government committed to taking the kind of action that climate science necessitates can create opportunities out of the crisis that eclipses those being offered by yet another high risk and low return fossil fuel project.
The Northern Australia Infrastructure Facility and federal climate adaption finance funds are an historic opportunity to overhaul our energy grid and transition to renewables, instead of maintaining an expensive reliance on gas and diesel.
Transitioning skilled jobs from the conventional gas sector to a new solar industry, creating thousands of new jobs in retrofitting public buildings and housing stock and building new and much needed climate adaptive housing across regional and remote communities are the types of projects that need and deserve public investment.
This transition has the ability to create meaningful work and much-needed services that can erase the inequity across our regional and remote communities and redistribute wealth, making our communities safer and healthier places to live.
There is no question that the national pivot to Asia and focus on developing the North will see the Territory's population and infrastructure needs grow. The question is whether we will take the opportunity to develop cleanly while simultaneously addressing the climate crisis and creating opportunities for Indigenous, regional and remote communities.
Or will we allow the Territory to become the final frontier for the world's flagging unconventional gas industry, and lose those natural assets and attributes that those of us who live in the North value most?

Donate To New Matilda
New Matilda is a small, independent media outlet. We survive through reader contributions, and never losing a lawsuit. If you got something from this article, giving something back helps us to continue speaking truth to power. Every little bit counts.