The union representing academics is talking big, saying it will press ahead with a legal challenge on Monday if three conditions are not met. Max Chalmers reports.
The union representing higher education workers will today write to La Trobe University demanding the reinstatement of suspended academic Roz Ward, vowing to take legal action on Monday if its requests are ignored.
Ward, the co-founder of the Safe Schools program, was suspended after being lambasted in News Corp papers for her Marxist politics. She was suspended by the University and investigated for serious misconduct after it emerged she had called the Australian flag "racist" in a private Facebook post.
Despite the apparently jocular nature of the post, the University cited a number number of grounds for the decision in a letter to the academic, including allegations she had brought the Safe Schools program into disrepute, and forced members of the Victorian government to "take up their time in defending the Safe Schools program".
Colin Long, the Victorian Division Secretary of the National Tertiary Education Union (NTEU), told New Matilda his organisation was demanding Ward be reinstated immediately, that allegations of "serious misconduct" be dropped, and that the University apologise. If it failed to do so, he said the NTEU would take the case to the Federal Court on Monday at midday.
Long did not identify the exact areas of the law the Union would lodge the case in relation to, but said it would be based both on protections under the Fair Work Act, the University's collective agreement – which contains a clause relating to intellectual freedom – and broader protections "around freedom of political expression". He said such a case may go beyond workplace law.
Long said the Union had not yet had any communications with the University, except for having seen an email sent to staff defending the decision.
In the email, Vice-Chancellor Professor John Dewar said the University remained committed to the Safe Schools program, and to "Academic Freedom".
"On the application of Academic Freedom, La Trobe University confirms that it values independent thought and academic freedom. These values are enshrined in our Collective Agreement at clause 9.2, which clearly encourages staff to talk freely in their area of expertise and knowledge," the email said.
In the private Facebook which now threatens to blow-up Ward's career the academic joked that, with a rainbow LGBTI flag flying above the Victorian parliament, "Now we just need to get rid of the racist Australian flag on top of state parliament and get a red one up there and my work is done."
Since being suspended, Ward has drawn support from a number of sources, including the hard-right Institute for Public Affairs. Sarah Joseph, the Director of the Castan Centre for Human Rights at Monash University, said the incident sent a "chill" through Australian academia.
"It is ironic that the safety of Ward's colleagues is cited as a reason for her suspension," Joseph wrote yesterday. "I find it difficult to believe that La Trobe academics feel "safer" because one of their colleagues has been suspended over a political opinion expressed on a Facebook post.
A petition calling for Ward's reinstatement has close to 10,000 signatures, and a Facebook page set up to support her is promoting a rally to be held next week.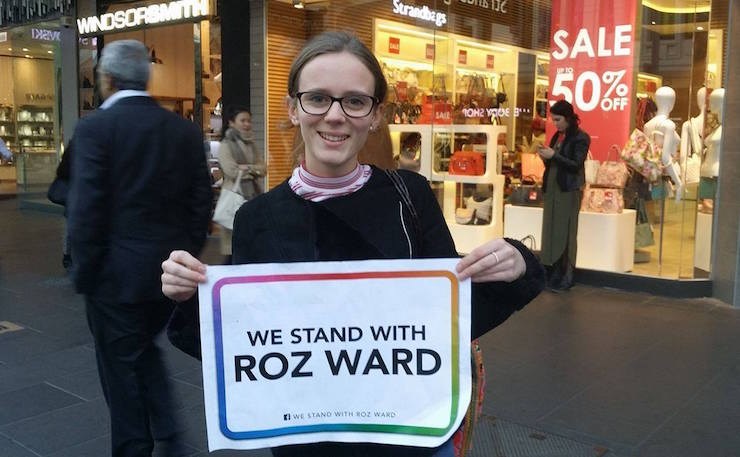 But high ranking Liberals, including Federal Education Minister Simon Birmingham, former Victorian Premier Jeff Kennett, and Victorian Shadow Education Minister Nick Wakeling, have joined the attacks on Ward.
As New Matilda revealed on Wednesday, Ward was given a number of reasons for her suspension in a letter from the University which alleged she;
"a. … Undermined public confidence in the Safe Schools program by undermining public confidence in you as a researcher and as a person associated with the Safe Schools program."
"b. … Damages the reputation of the Safe Schools program and aligns the Safe Schools program with views which have nothing to do with the program and its message and content."
"c. … Has required members of the Victorian Government to take up their time in defending the Safe Schools program, rather than be positive advocates for the Safe Schools program."
"d. … Has required senior staff at the University to take up their time in defending the Safe Schools program, rather than be positive advocates for the Safe Schools program or undertake other duties they have."
"e. … drawn (your colleagues) into the negative publicity around Safe Schools and this has impacted on their ability to continue with their research in a safe environment."
A spokesperson for La Trobe University declined to comment further, other than to say the University was following standard HR procedures.
Under La Trobe's Collective Agreement, the Vice-Chancellor is given the option of suspending an employee if an allegation of misconduct is made, as occurred here. The agreement also allows for pay to be suspended during the course of an investigation, though that has not happened to Ward.
The agreement also offers some protections for academics who wish to "contribute to public debate and discussion on matters relevant to their areas of specialist knowledge and expertise."
While that may not cover Ward, a subsection allows academics to also "express unpopular or controversial views, although this does not mean the right to harass, vilify or intimidate another person or to demean alternative points of view."
Long and the NTEU seem to think they have a case.
"If they think that serious misconduct, which can lead to dismissal, can be used to deal with someone for making a private Facebook post about a flag that does not abuse or endanger anyone, then they have a very strange understanding of freedom of speech, intellectual freedom, and what constitutes serious misconduct," Long said.

Donate To New Matilda
New Matilda is a small, independent media outlet. We survive through reader contributions, and never losing a lawsuit. If you got something from this article, giving something back helps us to continue speaking truth to power. Every little bit counts.