A barely reported speech delivered recently by a Labor MP reveals the party is moving towards a more radical position on the thorny issue of competition. Despite the shrieks from the business lobby, it's not really about them, writes Ben Eltham.
"ALP ramps up its war on business," screamed the headline today in The Australian. According to the narrative pushed by the Murdoch broadsheet, Labor apparently has an "anti-business agenda". Former Queensland Labor treasurer Keith De Lacy has waded into the fray, attacking Bill Shorten's plan to abandon the Coalition's $48 billion company tax cuts should Labor win government.
"This is the most anti-business policy I've ever seen federal Labor put to an election," De Lacy told The Australian.
"And it's not just the policy. It's the language. The way it splits out the top end of town leaves business in no doubt that they are the enemy."
Exactly how "anti-business" Labor's policy really is should be debated. Even the federal Treasury argues that the benefits of the massive company tax cuts will accrue largely to overseas multinationals. A similar sum invested in productive public infrastructure across the nation would comfortably outperform the marginal improvements in growth promised by the policy – a boost in growth of just 1.2 per cent of GDP over a decade. National income will rise by even less, as a result of dividend imputation and foreign investors making windfall gains.
The result? Company tax cuts will overwhelmingly help giant global multinationals like Apple and Google, that are in many cases already actively profit-shifting offshore.
But that won't stop the Coalition from attacking Labor about its business credentials at every turn. A variety of the usual pro-business cheerleaders can be found in support, such as Michael Chaney and Tony Shepherd.
Shepherd, the pro-austerity former Commission of Audit and Business Council of Australia supremo, sprayed a scatter of complaints about. "I find this very disappointing, this attitude which is anti-business, fundamentally," Shepherd told Sky News yesterday. "Unless we get struck by a rainbow and growth takes off, the reality (of growing government spending) will still be there."
Wesfarmers chairman Chaney accused Labor of "scaremongering and divisive approach that's taken in modern political campaigns." The titular head of one of the most hated duopolies in the country bemoaned the division of "battlers versus well-off, rich versus poor, haves versus have-nots, rather than working to achieve a greater pie for all". It's funny how class war always seems to be something happening to those unfortunate rich people.
It's hardly news that big business and the Labor Party are not on terribly good terms. Opposition Leader Bill Shorten has openly campaigned on inequality throughout 2016. Labor is trying to reframe the economic debate away from the Coalition's mantra of "jobs and growth" and onto the more conducive terrain of protecting public services. The ALP wants to safeguard the remnants of the welfare state and address the growing inequality of Australian society.
Some would counsel that Labor runs a risk by taking on big business. The implacable opposition of big business for most of the Rudd-Gillard years was a major political problem for the ALP government.
But maybe Labor figures it has nothing to lose. The entrenched support of big business for the Coalition is locked in, and there's not much Labor can do about it.
Shorten this week waved away De Lacy's remarks with ill-concealed scorn. "Shock horror, a company director saying he would like to see a company tax cut for his company," he said in response to a question from journalists.
Indeed, you could argue that Labor is doubling-down on inequality, making it a major theme of economic policy across its platform.
A week ago, for instance, in a little-reported speech to Melbourne University, Labor's shadow Assistant Treasurer Andrew Leigh made a number of very interesting policy commitments on economic policy.
Leigh gave the John Freebairn Lecture on Public Policy on May 19, a platform that in recent years has been giving opportunities to left-of-centre economists like John Quiggin.
As you might expect from a former Harvard economist, Leigh's talk was reasonably dense with economic jargon. But read carefully, it also reveals an intriguing new direction in a hypothetical Labor government.
This is the critical scrutiny that Leigh, the shadow Assistant Treasurer, is finally giving to the remarkable dominance of a handful of big players in Australia's economy.
The market concentration of much of Australia's economy is breathtaking. We have two airlines, two supermarket chains, three big mining companies, and four banks. As Leigh notes, "market concentration in Australia is a cradle-to-grave affair, running from baby food to funeral services."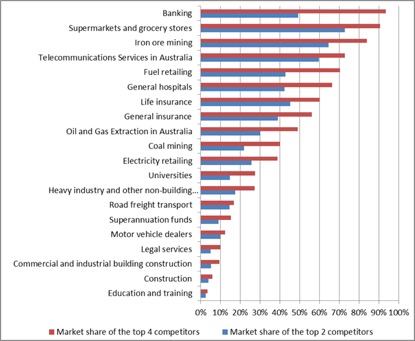 "In the 400-plus industries covered, the unweighted average market share of the largest four firms is 41 per cent," he said in the lecture. "In the largest 20 industries shown in Figure 1, the market concentration is similar, at 43 per cent."
This concentration brings power. The ability of the Coles-Woolworths duopoly to squeeze suppliers and to dominate their marketplace is notorious. Similarly, the big four Australian banks collectively harvest an amazing 90 per cent of the banking market. The banks also enjoy the security of Australia's official "too big to fail" policy, known as the "Four Pillars."
Many of the companies that dominate Australia's services sector are successful overseas monopolies. Google, Apple and Facebook wield vast influence on the everyday lives of ordinary Australians, and yet seem to suffer little regulation (or even to pay their tax).
As Leigh notes, this market concentration is bad for innovation, allowing competitors to be taken over, and stifling smaller but more efficient firms.
But market concentration is also bad for inequality. "I confess to have come somewhat late to the argument that a lack of competition might be a significant driver of inequality," he admits.
Inequality can be increased by market concentration. Higher corporate profits seem to be accruing to the top end of the wealth curve, in a familiar process we've seen benefiting the top one per cent.
Monopolies generate astonishing profits for their shareholders, and the money pools at the feet of the venture capitalists and the tech CEOs. Facebook, Google, Microsoft, and Apple are all monopolies of a certain type, and all have catapulted founders and early investors into the stratosphere of multi-billionaire status. In general, the share of economic wealth kept by capital is increasing, while the wealth being shared with labour is reducing.
A similar macroeconomic effect is proposed by Thomas Piketty, who thinks that inequality rises when the return on capital exceeds the general level of economic growth. And this is precisely what has been happening in rich western economies in recent years: growth has been stagnant, even while profits have been high. This is the problem that prominent US economist Larry Summers has dubbed "secular stagnation."
Summers pointed out in March that "if monopoly power increased, one would expect to see higher profits, lower investment as firms restricted output, and lower interest rates as the demand for capital was reduced."
"This is exactly what we have seen in recent years!" Summers exclaimed.
If monopolies and oligopolies are bad, then let's have fewer of them. The logical step for a progressive Labor government would be to break them up. Few would doubt that action to bust up the big banks and the supermarket cartel would be hugely popular in middle Australia.
In his speech, Leigh announced four specific policy measures to try and better tackle the inegalitarian consequences of market power.
Most interestingly, Labor will direct the Productivity Commission "to investigate the impacts of increased market concentration on income inequality in Australia." The soft power of the Productivity Commission is considerable. A wide-ranging report on inequality from this august body could set the national policy agenda – as happened with the Commission's ground-breaking report on gambling.
Leigh has also committed Labor to tweak the Competition and Consumer Act to apply higher penalties for firms that rip off low-income earners, and force the ACCC to investigate scams that "target or disproportionately impact disadvantaged Australians." It could open the way for the ACCC to go after obviously exploitative practices such as pay day lending.
Labor's foray on competition policy is cautious and interesting. We're not talking trust-busting with pitchforks, whatever the business lobby may scream. But for those interested in doing something about entrenched inequality, Leigh's speech signposts a quietly radical direction.

Donate To New Matilda
New Matilda is a small, independent media outlet. We survive through reader contributions, and never losing a lawsuit. If you got something from this article, giving something back helps us to continue speaking truth to power. Every little bit counts.