OPINION: New South Wales Premier's coup against local democracy has people revolting, and for good reasons, writes Thom Mitchell.
The first meetings of Mike Baird's forcibly created 'super councils' are being shut down. The hand-picked Administrators are being shouted down. People simply do not accept those chosen to replace their elected Councils as legitimate.
As the face of this anti-democratic putsch, Administrators selected by the state government are wearing the fall-out. If they hadn't made themselves the blunt-force instruments of a coup, you'd almost feel bad for them.
It must be confronting to have hundreds of angry residents scream at and revile you, but it's far more confronting that the Baird Government has ruthlessly sacked Mayors and Councillors around the state: People's votes have been stolen, and they're furious about it.
On Tuesday Sydneysiders shut down the first meeting of the new Inner West Council, which has replaced the local democracies of Ashfield, Marrickville and Leichhardt. Last night ratepayers moved a loud adjournment to a meeting of the new Mid-Coast Council, which has usurped the local governments of Gloucester, Great Lakes and Taree.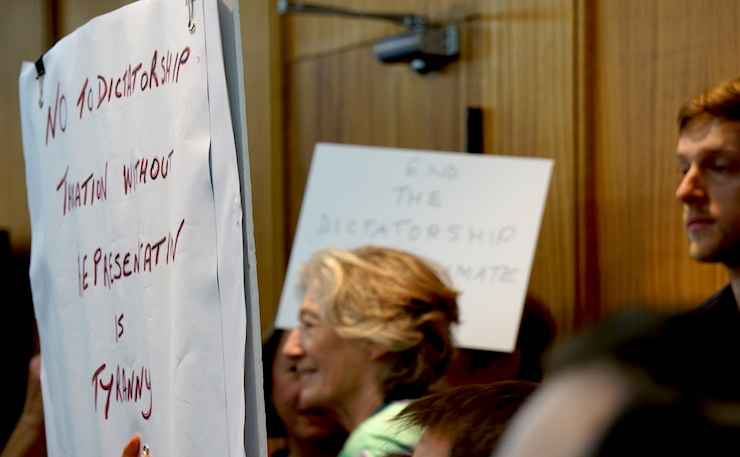 Video footage of the Mid-Coast Council meeting shows it was mostly Knitting Nannas who shouted John Turner, a controversial mining industry figure turned Administrator, out of council chambers. They're hardly the most radical bunch.
In the inner west a broad cross-section of the community hounded Administrator Richard Pearson, the former Deputy Director-General of the Planning Department, out the back door on Tuesday.
The people involved in this campaign come from all quarters, but they're united by respect for democracy. The Baird Government has forcibly merged 42 councils into 19. It has plans for further amalgamations pending the outcome of a series of legal challenges.
The upshot is that much of New South Wales will be without representation until September next year. At the Inner West Council meeting, there was talk of a rate strike. And fair enough: No taxation without representation, as the old saying goes.
In contrast, the Administrators will no doubt be taking a high rate. Pearson was pocketing more than $300,000 at his previous job. It's unclear exactly what virtues landed the Administrators their cushy new appointments.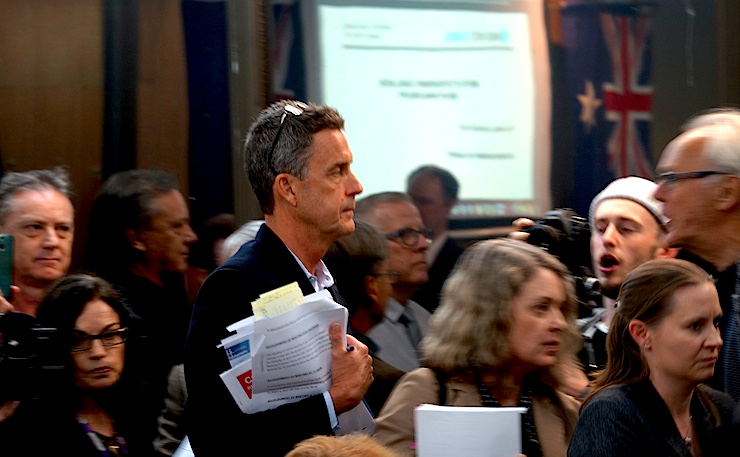 As sacked Councillor and former Deputy Mayor of Leichhardt Council Linda Kelly noted, being a man clearly helps. "So 19 Administrators were appointed, 5 of them are women; 19 interim General Manager were appointed, two are women; and there was about 26 or so Deputy General Managers appointed…there were two women among that group," she said on Tuesday.
In the case of the Mid-Coast Council, it appears nepotism was also a key selection criteria. John Turner, a former Deputy Leader of the Nationals, was appointed by fellow National, Minister for Local Government Paul Toole.
Labor and the Greens have both called for Turner to be sacked. He's closely linked to the mining industry, yet has been appointed to represent a community famous for resisting coal seam gas. He's replaced a council that had been battling to stop a coal mine, while receiving pay from at least five coal companies.
As the beneficiary of the Inner West coup d'état, Richard Pearson is under pressure over his previous place at the top echelons of the Department of Planning and Environment.
Pearson was at the Department as it rubber stamped the first stages of the controversial Westconnex tollway. That this project was staunchly opposed by all three of the local councils he's supplanted seems not to have occurred to Mike Baird. Yeah, right.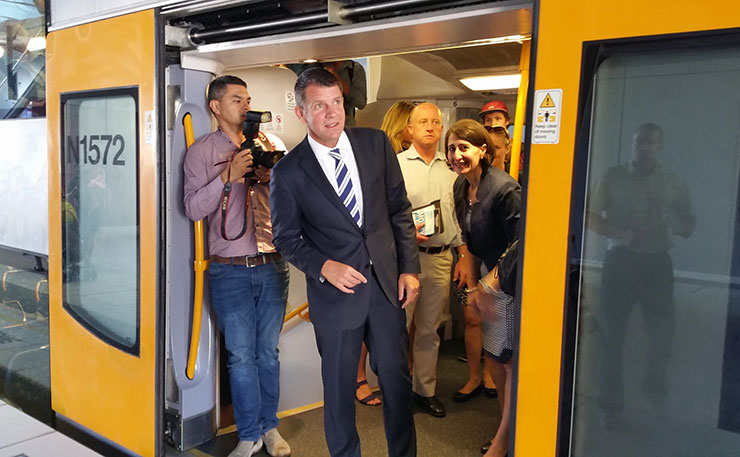 Clearly Casino Mike's not content with burning the ballot box. The dictators are not benevolent, the phoney councils have also been stacked.
At the Inner West Council meeting, one demonstrator was so angry she actually spat in Pearson's face. While obviously reprehensible, the way the Daily Telegraph and its stablemates in conservative government have seized on the incident speaks volumes about how little they understand of the issue.
The tabloid describes the whole protest as "ugly," and characterised the spitting woman as being "the centre" of the demonstration. That is wrong. She was a sore thumb in an otherwise peaceful action, and has become a convenient fig-leaf.
When they stole their vote, Mike Baird and his Administrator-cronies spat in the face of hundreds of thousands of voters. That is the real issue. That is why communities are angry.
The fact that ordinary people have been forced to go to meetings and scream to be heard only goes to show how ruthlessly the state government has tried to silence them.

Donate To New Matilda
New Matilda is a small, independent media outlet. We survive through reader contributions, and never losing a lawsuit. If you got something from this article, giving something back helps us to continue speaking truth to power. Every little bit counts.