After years of disappointment, the families of three Aboriginal children murdered 25 years ago have welcomed a surprise development that could see justice finally done. Amy McQuire reports.
Ten years ago, Detective Inspector Gary Jubelin watched as the only man ever accused of the murders of three Aboriginal children in Bowraville was acquitted over Evelyn Greenup's death. It was 2006. The three children – Evelyn, 4, Colleen Craig Walker, 16 and Clinton Speedy-Duroux, 16, had all gone missing within five months of each other from the Bowraville mission in 1990-1991.
"I remember that day particularly well because it was an emotional day," Det Inspector Jubelin told Let's Talk 98.9 FM programme.
"I haven't seen a situation like this before in court, and I've been involved in numerous murder trials. It was a whole community shattered. I've never seen a court with so much emotion at the time, and when the jury announced they've found this person not guilty for the murder of Evelyn – there were a lot of tears.
"But I had nothing but admiration for the dignified manner they got up and stood up as one, and turned and walked out of court."
The accused – Jay Hart – a non-Indigenous man who hung around the mission at the time, had previously been acquitted of Clinton's murder. No one has ever been charged over Colleen's death because she is still missing. The original police investigation was beset by bungles, spurred on by the racism that engulfed the mission at the time. Det Inspector Jubelin, who headed the second police investigation, had by that time spent nearly a decade rebuilding a relationship with the community that had been continually let down by the white justice system. He has continually said that this case would never have dragged on for two decades if the victims had been white.
That afternoon, the families all came together for a community meeting, where they started planning the next step forward. Det Inspector Jubelin said it "broke your heart seeing what the families had gone through".
He explained to the families that because of the double jeopardy principle, the person could not be re-tried.
"I didn't think it would resonate from there," he said.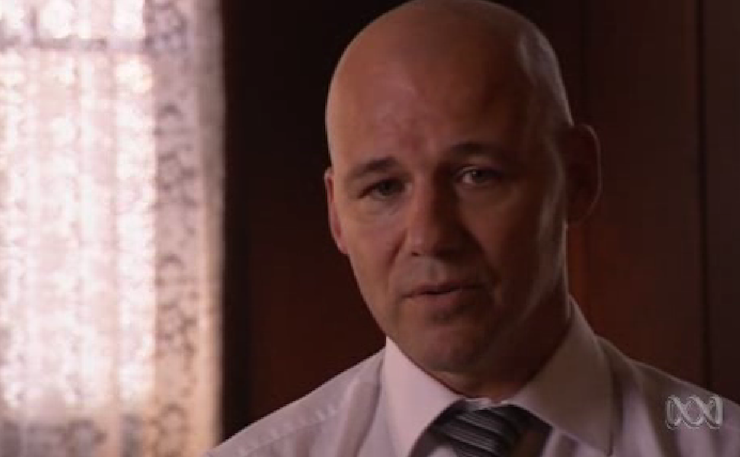 But it did. The families campaigned – and that double jeopardy principle was overturned in the state with the Bowraville case in mind – in 2006. There was hope, then, that the families would be able to get the man before court and have the three cases linked following changes to the state Evidence Act, and with new 'fresh and compelling' evidence.
But it took a decade, several protests, petitions, a series of offensive knockbacks by state Attorneys-General and pleas to the media to take them seriously. Today, they are still crying for justice.
Their application was knocked back by three state Attorneys-General – including the current Attorney-General Gabrielle Upton – with the legal fraternity concerned over an artificial legal barrier within the double jeopardy amendments.
The series of decisions followed several protests that shut down Macquarie Street, and a parliamentary inquiry that put forward recommendations designed to clear this barrier and get the accused before court, recommendations that were referred to an independent review. Over the course of 26 years of campaigning, mainstream media has never fully rallied behind the families until recently.
Earlier this month, the families were again forced to protest. Just before Christmas, Ms Upton had announced she was not accepting the recommendations of the inquiry. Her office had previously compounded the families hurt by cancelling an important meeting by text message. The ensuing protests led to the NSW Police delivering a formal submission to the Ms Upton's office this month. After continual letdowns over two decades, there was a feeling that the families would again be forced to fight.
But yesterday, the families were informed in person and on conference call that Ms Upton would be referring the case back to the Court of Criminal Appeal, which will decide whether to send it back to trial.
"After careful consideration, I have decided that there should be no further delay in bringing this matter to court," Ms Upton said.
"The best and most transparent way to deal with this tragic case is to make an application for retrial to the NSW Court of Criminal Appeal."
Colleen's brother Lucas Craig told New Matilda the decision came as a shock. The family were expecting the police to make their submission, but after a series of letdowns from the NSW government, they were not expecting movements so quickly.
"There was a real shock at first, because I was not, well none of us were expecting her to do this. And I guess it's something we were just really lost for words really.
"We weren't keeping our hopes up for something that may not happen. When we were told she had gone ahead with it… it was a shock really. It was a good shock. Now finally we are getting our voice heard. We are not being left in the dark."
Diane Greenup, Evelyn's cousin, was on the conference call yesterday and told New Matilda it was a "welcome relief".
"At least we are getting somewhere now, " Ms Greenup told New Matilda.
"I know this is obviously our last chance. So I'm hoping that the Court of Criminal Appeal will see that these cases are linked together and there is one suspect in this case that needs to be brought to justice. One would hope the (Attorney-General) can see that it's time for us to get closure."
Jasmin Speedy, Clinton's cousin, said she was dumb-founded when she heard the news.
"It was just a major shock to the system," Ms Speedy told New Matilda.
She says it's a "major step that we've never even been considered to get an application reviewed. So it's a really big thing that's happened. It's not being reviewed by an independent person, it's going straight to the Court of Criminal Appeal."
Greens MLA David Shoebridge, who has pushed the families case for a very long time, said that this latest decision was significant.
"There has been more than a quarter of a century of heartache, campaigning, frustration and persistence from the families of the victims of the Bowraville murders," Mr Shoebridge said in a statement.
"Like any community would if their children were taken, they were never going to give up and today they have won a very significant victory in their struggle for justice.
"The families came time and again to Parliament, demanding justice. They petitioned, they called, they wrote letters, emails and pleas. In short they never gave up. Today their efforts have borne fruit.
"While this is long overdue, the Greens welcome the Attorney-General's referral so that these families can finally have their day in court."
He called on the Attorney-General to take steps to immediately refer the case to the Court of Criminal Appeal.
Ronella Jerome, Clinton's aunty, told New Matilda that the families had already "achieved so much but yet we are still a step or two away from our real goal" – a trial where all three cases are linked. This has never happened before.
But she says that "we must remain realistic". The fact that the family have been constantly let down over two decades has made her cautious.
"Our families are so used to let downs over the past 26 years, we remain guarded just in case, and at the same time, we have to remain optimistic for a positive result. To have our pleas and demands finally heard and acted on, is a tremendous act. It's a great relief to receive this news especially after the bill was recently rejected in Parliament."
But it is a vital step, Mr Craig says. His sister Colleen is still missing, and the family are still hoping that getting the matter before court again might lead to new information so they can finally lay her to rest.
"Since Colleen hasn't been found, my mother is still grieving. We've never laid her to rest… maybe we might find out where she is. So this is very important for that healing."
Diane Greenup, says that it will still be hard for the families to heal, even as the case progresses. Evelyn's father Billy did not turn up to the last protest and there is still a sense that he will be let down yet again.
"For him, it's still a long struggle. I don't think he believes anything will happen. He suffers every day. As far as he's concerned. No one will listen. No one cares. And we just have to be supportive for him.
"We just have to be there to be supportive for him as much as we possibly can. He struggles every day, he relives the nightmare of when his daughter went missing. His four-year-old baby. An innocent child – a baby."

Donate To New Matilda
New Matilda is a small, independent media outlet. We survive through reader contributions, and never losing a lawsuit. If you got something from this article, giving something back helps us to continue speaking truth to power. Every little bit counts.