Victorian conservationists who've saved a colony of threatened Greater Gliders from loggers say the latest victory is further evidence the Federal Government should tear up the Regional Forestry Agreements, which exempt native forest logging from national environmental law.
A group led by the Goongerah Environment Centre discovered the Gliders in April, on a night-time survey of the Errinundra Plateau in East Gippsland. Logging operations in the area where shut down while the Victorian government investigated, and this morning the area was placed under permanent protection.
Under the current regulations, State-owned logging corporation VicForests carries out surveys for threatened species in areas of native forest it wants to cut down. In this case it failed to detect the Gliders. A spokesperson for the Goongerah Environment Centre, Ed Hill said this system amounts to putting the fox in charge of the hen house.
"VicForests just can't be trusted to do these surveys. If they actually find the required number that triggers the protection, then they can't log. So they've got no interest in finding these species because it can actually stop them logging," he said.
HOUSE AD – NEW MATILDA NEEDS YOUR HELP TO FUND OUR COLUMNISTS. YOU CAN CHUCK IN A FEW BUCKS TO OUR LATEST POZIBLE CAMPAIGN HERE
This morning the Victorian Department of Environment, Land, Water and Planning said that a 100 hectare conservation zone would be established. After being tipped off by the citizen scientists at the Goongerah Environment Centre, government ecologists stepped in and confirmed the area was providing habitat for more than ten Greater Gliders.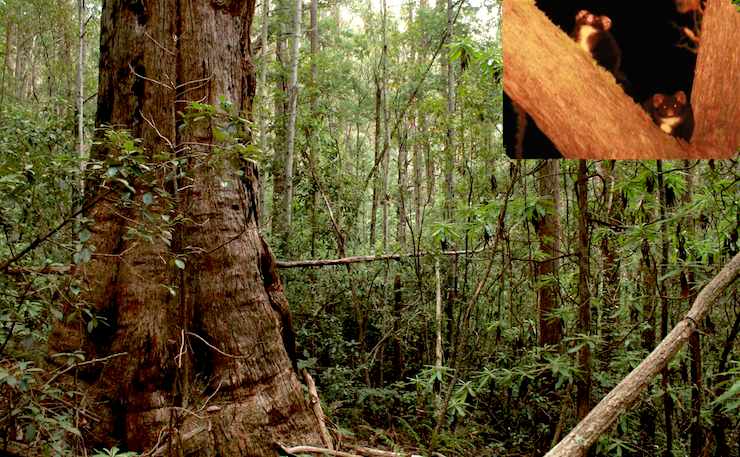 Greater Gliders are Australia's largest gliding marsupials. They live in old growth forests, eat gum leaves, and are capable of gliding up to 100m through the forest canopy. This month they were added to the Federal Government's threatened species list, but Hill notes that this will do nothing to protect them from logging in Victoria.
The reason that logging corporations are doing the surveys for threatened species is because the Federal Government has divested its environmental powers to the States, when it comes to logging, under a series of Regional Forestry Agreements. Victoria's Department of Environment simply does not check for threatened species for itself.
"The RFAs exempt the logging industry from Commonwealth environmental law. They hand responsibility to the States, and what we're exposing is the States are failing to enforce their own legislation that protects threatened species and communities," Hill said.
"That shows that the whole RFA process is flawed, in that it hands the responsibility to the States but the States aren't actually doing their job and breaches are being found all over the place."
This is not the first colony of Greater Gliders that citizen scientists have discovered in areas which VicForests has already started to log after carrying out flawed surveys. In January the Goongerah Environment Centre identified a separate colony of Greater Gliders, and won them protection too.
Greater glider among nearly 50 new species added to federal list of threatened flora and fauna. Photo: D Stojanovic pic.twitter.com/CPHnw8TwGl

— Wildlife Land Trust (@wlt_au) May 10, 2016
Hill said citizens should not be forced into doing the government's job. He said the State Government should at least start doing threatened species surveys itself. More ideally, he said, the Federal Government should act to uphold Commonwealth legislation.
"The East Gippsland RFA is up for renewal early next year, and we're calling on the Federal Government to not roll the RFA over, but to scrap it altogether. The exemption from Commonwealth legislation should be removed," he said.
"Loggers should be subject to the same environmental approvals that any other industry would be if it's operating in threatened species' habitat."
It's a sentiment shared by at least 31 other environment groups, which yesterday made the same demand in a short report calling on the Federal Government to abolish the "failed" agreements. "Numerous assessments show that RFAs have manifestly failed to protect wildlife and threatened species or other values," the group said.
"If any native forest logging is proposed in the future it should be subject to Commonwealth environmental laws in the same way as every other industry, not exempted through the RFA regime."
HOUSE AD – NEW MATILDA NEEDS YOUR HELP TO FUND OUR COLUMNISTS. YOU CAN CHUCK IN A FEW BUCKS TO OUR LATEST POZIBLE CAMPAIGN HERE

Donate To New Matilda
New Matilda is a small, independent media outlet. We survive through reader contributions, and never losing a lawsuit. If you got something from this article, giving something back helps us to continue speaking truth to power. Every little bit counts.