While no one was looking, a local campaign to stop lion hunters bringing their trophies back to Australia picked up support from a Liberal MP. The tri-partisan reforms that resulted are a reminder of what parliament can be at its best, and why the government should leave NGOs to decide how to use their own resources, writes Rod Campbell.
When you think of the last three years in Australian politics, what do you think of?
Tony & Malcolm?
Knights & Dames?
Backbenchers & NGOs working together for world-leading conservation legislation?
If you're a human you probably answered A. or B., but 100 per cent of African lions answered C.
In case you missed it, around the time of Tony Abbott's "near death experience", Australia made a serious step forward on an important animal welfare issue.
Australia can't stop gun-toting nutters going to Africa and shooting lions. Our laws can do little to stop cruel and cowardly "canned" hunting, where lions are shot in enclosed in small spaces. But our 44th Parliament has stopped Australian hunters from bringing their bits of dead lion back into the country.
While not many of us want a lump of deceased threatened species on our living room wall, this is a big part of the motivation for trophy hunters. Having paid up to USD$70,000 to shoot a lion, most of them want to bring the corpse home. Being unable to take the dead lion home means they're far less likely to shoot one.
HOUSE AD – NEW MATILDA NEEDS YOUR HELP TO FUND OUR COLUMNISTS. YOU CAN CHUCK IN A FEW BUCKS TO OUR LATEST POZIBLE CAMPAIGN HERE
Australia led the way on this. Our legislation in March 2015 made it easier for similar moves in Europe in November 2015, and then most importantly in the USA in December 2015. The vast majority of lion shooters are Americans, and most of them shoot canned lions.
The group that made this happen is For the Love of Wildlife, a small NGO based in Melbourne's east. They got their local member onside, Liberal member for La Trobe Jason Wood. Wood worked with Environment Minister Greg Hunt, who supported the move and ensured it became law.
It sounds simple, but making this happen took years of work, and making it stick has taken deep cross-party engagement. The ban passed with tripartisan support, because Wood was able to manage the pro-hunting elements of his own party as well as engage with members like Labor's Melissa Park, Kelvin Thompson and the Greens' Lee Rhiannon.
The ban faced opposition from powerful American and South African hunting interests and less powerful people like David Leyonhjelm, who argued that lion hunting was "vital to African communities" and "provided much needed tourism dollars".
The idea that lion hunting is "vital" for African communities is nonsense and Wood had done his homework. Trophy hunting provides a minimal economic return to African communities. Operators typically return just 3 per cent of revenues to local communities, while they occupy large areas of land that can't be used for other tourism or agriculture. Trophy hunting revenue accounts for a fraction of one percent of GDP in any African country. At 0.27 per cent, it leaves the biggest mark in Namibia.
With facts, Labor, and the Greens on his side, Wood was able to get his legislation through and keep it there – a considerable achievement in the last three years of federal politics.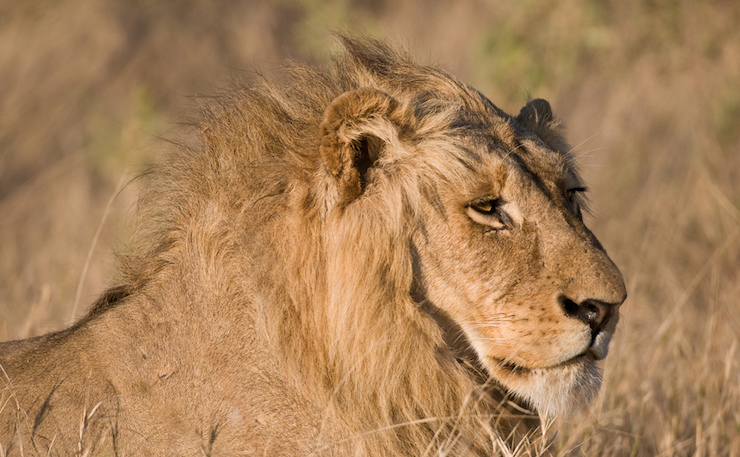 Fast forward to this week and Wood was in the news as part of the Parliamentary Inquiry into the Register of Environmental Organisations. The government-dominated committee came to the conclusion that green groups should spend less time worrying about governments' environmental policies or companies' environmental practices and more time in the great outdoors. Specifically, the Committee recommended:
that the value of each [environment group's] annual expenditure on environmental remediation work be no less than 25 per cent of the organisation's annual expenditure from its public fund.
If the next government acts on this recommendation, this would mean groups campaigning for conservation of wildlife in Africa could be forced to spend their supporters' money planting trees in Australia. Wood expressed his concern in the committee's report that "groups solely focused on education and research, advocacy, including environmental law, and overseas activities" would have difficulty meeting this requirement.
Wood is right to be concerned. If the NGO For the Love of Wildlife had been stuck slashing blackberries in the Dandenongs rather than helping to lobby the opposition and raise the profile of canned hunting, one of the Government's key conservation achievements might not have happened.
The fact that Wood expressed his concern was noted in some of the media coverage. Unfortunately, with the pace of election media coverage, none had time to explain why he reached this position.
"I take my role as a local member very seriously," Wood told me. "Where community members or groups have a valid concern or policy suggestion, I want to support them and I want to take their ideas to Canberra. I'm very proud of our work on lion conservation and hope to continue with similar initiatives in the next parliament."
Which brings us to the election. As we consider who to vote for, it's important to remember how the Australian system of government actually works. We are represented by our local members. If you want to make a difference to policy in Australia, get to know the members. Help them understand your issues and help them work with other parties to improve policies.
Even during a time of intense partisanship, local people working with their local member can really make a difference, as For the Love of Wildlife and Wood have demonstrated. Because of them we might be short a few trees around La Trobe, but policy around the world has changed and lions across Africa can breathe a roar of relief.
HOUSE AD – NEW MATILDA NEEDS YOUR HELP TO FUND OUR COLUMNISTS. YOU CAN CHUCK IN A FEW BUCKS TO OUR LATEST POZIBLE CAMPAIGN HERE

Donate To New Matilda
New Matilda is a small, independent media outlet. We survive through reader contributions, and never losing a lawsuit. If you got something from this article, giving something back helps us to continue speaking truth to power. Every little bit counts.