A landmark case that could "put a brake on Australia's fossil fuel exports" kicked off this morning in the Federal Court, in a precedent-setting bid to invalidate Environment Minister Greg Hunt's approval of the largest coal mine the nation would ever see.
The Australian Conservation Foundation is challenging Minister Hunt's decision to approve Adani's Carmichael Coal Mine, arguing it is unlawful because he failed to properly consider the impact that associated greenhouse gas emissions would have on the Great Barrier Reef.
The case is being run by the Environmental Defenders Office Queensland. It hinges on the Federal Government's obligations to protect Australia's World Heritage from damage – in this case, the Great Barrier Reef – and argues that Hunt has failed to meet those responsibilities.
If it succeeds, the case would have wider ramifications than simply invalidating Adani's approval. It could set a precedent which would force Federal Governments to consider the impact fossil fuel exports are having on World Heritage listed environments, making it harder to get approval for other big fossil fuel projects, too.
Government scientists have long told us that the most serious threat to the Great Barrier Reef is climate change. Yet when Greg Hunt approved the largest coal mine in the Southern Hemisphere, he did not consider the impact that burning the coal overseas would have on the Reef. These emissions, he said, were not a 'direct' enough consequence of his decision.
Under the United Nations process, the country that burns fossil fuels is responsible for them. Who exported the fossil fuels is considered irrelevant. And that was why Hunt, and all governments to date, largely ignored the damage Australia's fossil fuels exports do to our environment when making approval decisions.
The Australian Conservation Foundation is trying to change that.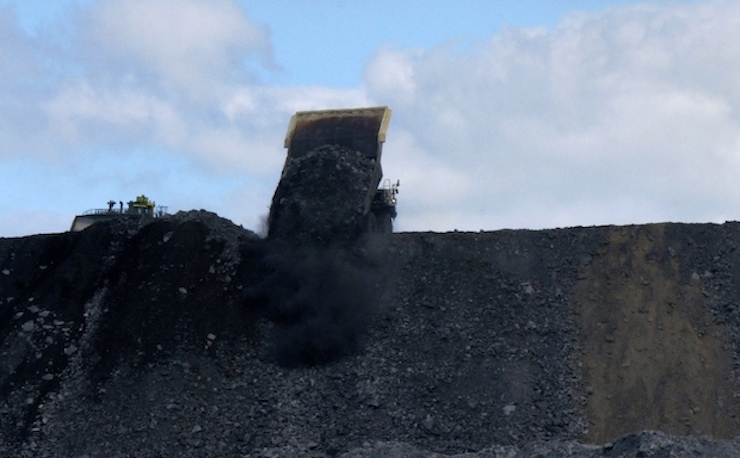 They're arguing that irrespective of where the coal is burnt, it will have a serious impact on the Reef, and that this impact will be felt irrespective of how the United Nations framework on climate change works. In choosing not to consider the vast bulk of the emissions Adani's mine will create when he made his decision, ACF argues that Hunt failed to meet his obligations to protect the World Heritage Area.
"We're asking the court to look at whether Greg Hunt has actually breached that provision in relation to his approach to the climate change impacts of this proposed mine," said Jo-Anne Bragg, Chief Executive Officer and solicitor at the Environmental Defenders Office Queensland.
"The ACF position is that the Adani Carmichael Mine should have its federal application refused, because of the serious impacts of massive greenhouse gas emissions on the reef, and because of the legal obligation to not make decisions inconsistent with the World Heritage Convention."
The case is a judicial review, which means it relates to how national environmental law is interpreted and applied.
"The obligation to not make decisions inconsistent with the World Heritage Convention has been part of [national environmental law]for many years, but this is the first case to address what that actually means," Bragg said.
Much of the argument will centre around how 'direct' the negative impact exporting fossil fuels is. In other words, it will clarify whether Environment Ministers should consider the climate change fossil fuel exports cause to be a 'significant' impact affecting Australia's World Heritage Areas.
According to an Originating Application lodged with the Federal Court, Hunt found that it was "not possible to draw robust conclusions on the likely contribution of [Adani's mine] to a specific increase in global temperature".
He said it's too "difficult to identify the necessary relationship between the taking of the action," and damage to the Great Barrier Reef. As a result, the vast bulk of greenhouse gas emissions associated with Adani's mine were ignored.
Bragg said that while Greg Hunt did give some consideration to how those emissions would impact the Great Barrier Reef, "he just hasn't given the impacts the appropriate weight in terms of the sheer size of this coal mine, the extent of those impacts on the Reef, and his duty under [Federal law]".
The case comes against a grim backdrop, with the Great Barrier Reef suffering the worst coral bleaching ever recorded. It's a calamity that only adds to the fact it's already lost half its coral cover over the last 30 years.
If the case succeeds in invalidating Adani's approval, this latest blow to the Reef's health would need to be considered before a new approval can be issued for the Carmichael Coal Mine.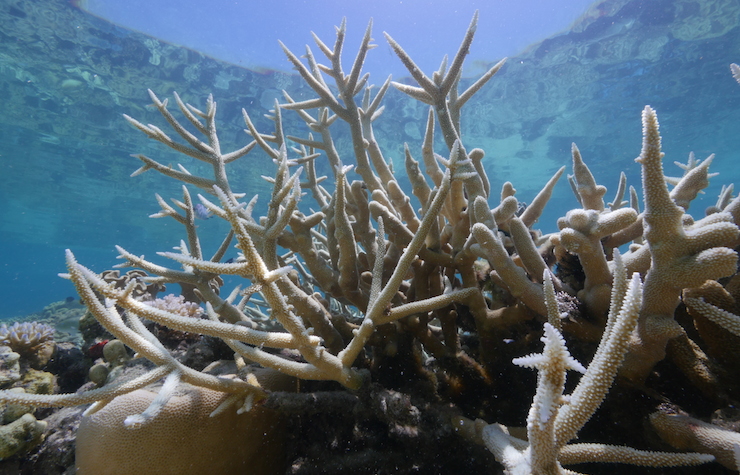 For the Australian Conservation Foundation, though, there's no such thing as a valid approval in this case.
"We would say a valid decision would really examine the nature and extent of those greenhouse gas emissions and, we say, you would know it would be correctly done because you'd get a refusal," Bragg said.
That's the case that ACF is putting to the Federal Court, and Bragg is "anticipating some judicial commentary on deficiencies in what Minister Hunt has done". What that commentary says, exactly, will set the bar for how hard it is to get big coal, oil and gas projects up and running.
"I think the law correctly applied would put a break on Australia's fossil fuel exports," Bragg said. "It depends entirely on how the Federal Court expresses that obligation to not make decisions inconsistent with the World Heritage Convention."
If it makes a strong statement on the negative impacts that greenhouse gas emissions have on World Heritage environments like the Great Barrier Reef, that could force governments to factor this environmental damage into decision making processes in a way they never have before.
"It doesn't really matter where the coal mine or fossil fuel project is in Australia, it's really the burning of the fossil fuel, the coal, that causes the adverse impact ultimately on the Reef," Bragg said. "Whether the coal is burnt in Australia or overseas, it adds to the cumulative affect of the greenhouse gasses."
That, in turn, "has implications for all those types of projects".
Assuming the government doesn't simply legislate around the court's ruling – Hunt has already issued a second approval after his first one was knocked down in court, and tried to remove environmental groups' standing to bring cases like this one – such a precedent could be a game changer.
Obviously, the impact that emissions linked to a project are likely to have depends on its size. But as the affects of climate change become increasingly evident, and the scientific predictions more grave, the weight given to emissions which our coal exports create could grow.
"Possibly, as climate change gets worse, it might be that smaller mines could rush us towards a tipping point, so we might find that the scale of projects which have a significant impact might become smaller," Bragg said.
Earlier this month, Greenpeace released a report which calculated Australia's coal exports will give rise to one billion tonnes of carbon during this year alone. That's almost double the nation's domestic carbon emissions, as far as the United Nations framework is concerned.
Environmentalists have long argued that governments' greatest contribution to climate change is its determination to continuously expand Australia's fossil fuel exports, and this case could provide a new way to hold them to account for that.
The hearing is slated to wrap up tomorrow, with a judgment expected within six months.

Donate To New Matilda
New Matilda is a small, independent media outlet. We survive through reader contributions, and never losing a lawsuit. If you got something from this article, giving something back helps us to continue speaking truth to power. Every little bit counts.