OPINION: The Turnbull Government's decision to abolish the Road Safety Remuneration Tribunal is a travesty that will have far-reaching consequences for truck drivers and everyone who shares the roads with them, writes NSW Secretary of the Transport Workers' Union Michael Aird.
When I first started working at the Transport Workers Union on the far north coast of NSW in 1996, I was more than a little wet behind the ears about how brutal the trucking industry could be. I learned quickly.
It was up in Kempsey that I first met Barry, a long-distance truck driver with a wife and two young daughters. One day, after driving over 13 hours a day for six days straight, an exhausted Barry parked his rig on the side of the road. Barry fell asleep and he missed his delivery slot at a Coles Distribution Centre in Brisbane. His boss's response; sack him on the spot. With a sense of righteous injustice, I helped Barry to take his boss to court for unfair dismissal. I was convinced Barry would get a decent payout, maybe even his job back.
But out of nowhere Barry decided to settle for only three weeks' pay. It turned out that someone had threatened to break both of Barry's legs for pursuing the case. This was my introduction to the dark side of the road transport industry – the excessive hours demanded by clients and operators, the skipped maintenance, the endless fatigue, and the amphetamines dealt out by some bosses to keep their trucks moving.
Two years later I got a call to say that Barry, who was now working for a new operator, was dead. He had been using the truckies' trick of corners, where exhausted drivers rely on their mate driving a truck ahead of them to signal any oncoming vehicles. If the road is clear, they use both sides of the road to travel around corners. When fatigue hits, this tactic helps to manage the vehicle and maintain excessive speeds. Barry came to a corner he couldn't make in his wrecked state, careened off the road, and was killed in the crash.
At the coronial inquest for Barry and three other drivers killed in similar circumstances, the Coroner spoke about the systemic problems in the industry. The low rates, pay per kilometre incentive systems that encourage drug use, driving while fatigued, and other unsafe practices. All adding up to a sick industry that was killing people, not from accidents, but from preventable crashes. In 2016, the same problems remain. Over the past decade, truck crashes have killed more than 2500 Australians.
Working behind the wheel of a truck means you are 12 times more likely to die on the job than the average working Australian. Statistics from the Victorian Coroners Court show that truck drivers are the most likely to suicide. And if you happen to own a small business trucking company, ASIC statistics on insolvencies show that you are one of the most likely to go bankrupt.
Truck drivers are professional, hardworking Aussies who take great pride in their work. But many are under immense pressure from the big transport clients – like Coles, Westpac and BP – whose freight they are carrying. As an example, the national logistics manager for Coles has detailed how his KPIs demand a 5 per cent cut in transport costs while increasing the freight moved by 15 per cent, regardless of the consequences.
When truck drivers are not paid a safe rate for all the work that they do, it leaves some with little option but to speed, skip maintenance or push the limits by driving while fatigued. This is leading to devastation on our roads and devastation in the transport industry.
A root cause identified by more than two decades of coronial inquests, independent research and cross-party parliamentary inquiries is this economic pressure on drivers and transport companies. Despite numerous attempts by the Government to spin or ignore this inconvenient truth, it has been proven, time and again.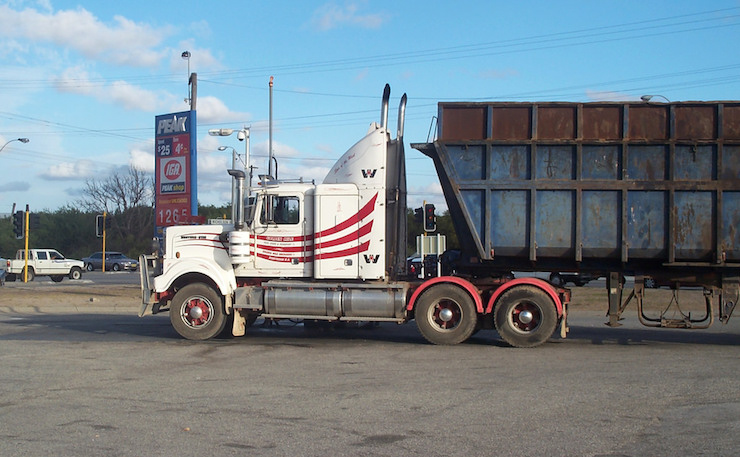 If we don't address the systemic causes of the problems in the industry, we will continue to have chaos and tragedy on our roads. That's why the Road Safety Remuneration Tribunal was set up in 2012; to save lives on our roads by tackling this link between economic pressures and road safety.
The Tribunal had been working away for several years before it recently burst into public consciousness. Vested interests and politicians seeking an issue to campaign on between now and July 2nd attempted to spin the Tribunal into a battle between owner drivers and employee truck drivers.
The reality is that the Tribunal was established to bring truck drivers, trucking operators, and transport clients together to develop safe standards and conditions for all transport workers – owner driver and employee, regional and city based – that would then make the roads safer for all Australians.
The Tribunal had active inquiries into the cash in transit sector (where low rates and unscrupulous operators have seen drivers shot and killed) the Oil, Fuel and Gas Sector (responsible for the notorious Mona Vale crash), the Waste industry, Ports and other sectors. But it was all ignored in the political circus of recent weeks. The Government has now washed away years of inquiries, progress and hard work with the Tribunal's abolition.
Big businesses at the top of the supply chain are the big winners from scrapping the Road Safety Remuneration Tribunal. They have abolished the one body that could hold them accountable nationally for providing safe and fair standards for all truck drivers.
The big losers? The rest of us. The transport workers and their families crushed by economic pressure from these major clients. The decent transport companies who want to play fair by their owner-driver and employee workforce. And everyone who shares the roads with truck drivers.
Truck Drivers are responsible for their individual actions, but if you want to tackle the systemic problems in the industry, you need to look at the economic pressures. Unless you address these root causes there will always be another truck driver facing the exact same pressures to do the job as cheaply and quickly as possible.
Think about this the next time you pass a truck. Do you want the B-Double hurtling towards you driven by a tired, stressed and pressured truck driver? Or do you want a refreshed and alert driver in a properly maintained rig?
That's why safe and fair pay and conditions for truck drivers' matters to everyone.

Donate To New Matilda
New Matilda is a small, independent media outlet. We survive through reader contributions, and never losing a lawsuit. If you got something from this article, giving something back helps us to continue speaking truth to power. Every little bit counts.