A new survey of housing reveals just how difficult it is for those on low incomes and welfare to find somewhere to live. According to the charity that compiled the data, people are being forced to choose between food, bills, and rent. Max Chalmers reports.
A single person on the dole would have to search 3,590 properties before they found one that was affordable and appropriate for their level of income.
That's according to the latest rental affordability snapshot, an annual survey run by Anglicare Australia, which the charity says shows low income earners continue to be pushed further out of the housing market and forced to choose between paying rent or skipping out on groceries, visits to the doctor, and other bills.
The survey, conducted by searching a range of online property sites, looked at the rental cost of 75,410 properties advertised around Australia on April 2 and 3. Anglicare then used the data to calculate how many properties would be 'suitable' – defined as affordable and appropriate – for people on various incomes or support payments.
By doing so, the charity found just 21 properties listed anywhere in the country would be suitable for a single person receiving the basic dole allowance Newstart.
Worse, around the entire country it found only one property suitable for a person over the age of 18 and living on Youth Allowance, the support payment reserved for 16 to 24-year-olds in study or training.
While the report profiles how a range of low income earners would fare in the property market the two above, as well as people on the Disability Support Pension (DSP), were shown to be particularly unlikely to be able to find appropriate housing. Just 0.5 per cent of properties were suitable for a single person over the age of 21 on the DSP.
With burgeoning populations, the situation was poor in major cities. Of the 57,307 properties examined which fell in a metro area, just 33 were suitable for a person on the DSP.
The report noted that with metro areas now accounting for around two-thirds of the population, those supported by welfare payments are unlikely to be able to afford to live in a suburb where they can easily transition to employment.
"Given the increasing pressure on our cities, people living on a low income have very little chance of living in an employment rich urban environment without being under extreme housing stress," it said.
"Affordable and appropriate housing does not only provide a physical structure to house its occupants, it also enables individuals to participate meaningfully in education, employment and the life of their community," the report noted.
While a single person on the Age Pension would find more suitable housing than someone on Newstart – 2.1 per cent of the properties searched – the report said many of those homes would in reality be a sharehouse arrangement geared towards young people, and highly unlikely to be able to host an age pensioner.
The report also assumes that those on welfare are receiving the maximum payment available to them, unlikely given the increasingly tough compliance measures those out of work must follow in order to avoid having their payments docked.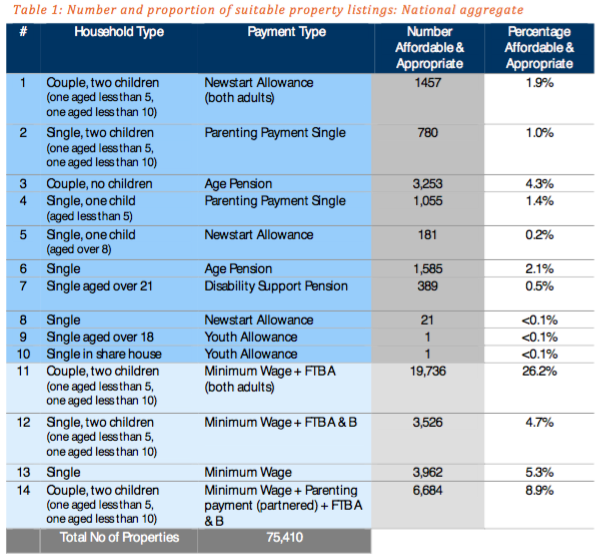 Anglicare has used the results to push for a number of major policy shifts, and the charity argues negative gearing and capital gains tax policies "do not serve a purpose for the common good".
While those policies are likely to be at the centre of the 2016 election battle, Anglicare also wants to see increasing social housing stock put on the agenda.
"Over time the public housing stocks have dwindled, forcing lower income households further into the private rental market," the report said.
Pointing to research backing that conclusion, it also noted that housing costs, as a portion of income of those living in social housing, have risen. There is now less social housing, and those who get it are paying more.
On the other side of the affordability equation, Anglicare also called for an increase to the Newstart allowance. Earlier in the week Australian Council of Social Services CEO Cassandra Goldie said she had put the matter forward as a top priority in a meeting with Prime Minister Malcolm Turnbull. She said the payment, indexed at a lower rate than the pension, had not seen a real increase since the Keating years.
In its 2015 survey, Anglicare found just one property suitable for a person on Newstart on the weekend it searched.
According to this year's results, households on the minimum wage were substantially better placed to find suitable housing compared to those on Centrelink payments, though still unlikely. A single person working full-time on the minimum wage would find 5.3 per cent of properties suitable.
Anglicare uses the standard '30:40' measure to test the affordability of a property. If a person in the bottom 40 per cent of income earners and they spend 30 per cent or more of their income on housing, they are said to be in rental stress.

Donate To New Matilda
New Matilda is a small, independent media outlet. We survive through reader contributions, and never losing a lawsuit. If you got something from this article, giving something back helps us to continue speaking truth to power. Every little bit counts.