OPINION: By allowing tourists to climb Uluru, Greg Hunt has doubled down on the problem underscoring Indigenous and non-Indigenous relations in Australia from invasion to today, writes Harry Hobbs.
In May next year the Australian public is scheduled to vote on whether our Constitution should be amended to recognise Indigenous Australians. Serious concerns surround the feasibility of that date, the precise form of recognition, and whether recognition is even appropriate given the recent moves towards a Treaty in Victoria. Much of this analysis has — quite rightly — focused on the views and interests of Indigenous Australians.
However, the fate of the referendum will ultimately lie in the hands of non-Indigenous Australians who constitute almost 97 per cent of the country. The broader question therefore, is whether non-Indigenous Australians are ready to fix the historical exclusion of Aboriginal and Torres Strait Islander peoples from the Constitution and treat our First Australians with the equal respect they deserve in Australian society. In recent weeks non-Indigenous Australians have been presented with a number of opportunities to demonstrate that we are—unfortunately we have failed.
One month ago, the Parliamentary Joint Committee on Human Rights released its review into the Stronger Futures legislation, which replaced the Northern Territory National Emergency Response (disclosure: I was part of the Secretariat who assisted in writing that report). Notwithstanding some successes, it found that a blanket application of policies, absence of consultation, and an inability for Indigenous peoples to effectively challenge or seek review of particular measures, both infringed human rights and weakened the effectiveness of the measures. No plan to remedy these problems has been announced.
Two weeks later, on 30 March, the Daily Telegraph 'exposed' the 'whitewashing' of Australian history that was occurring at UNSW. The Telegraph's outrage? A four-year old Diversity Toolkit which noted (correctly) that Australia was not 'settled' but 'invaded'. Radio shock jocks used this as an encouragement to denigrate Indigenous Australians.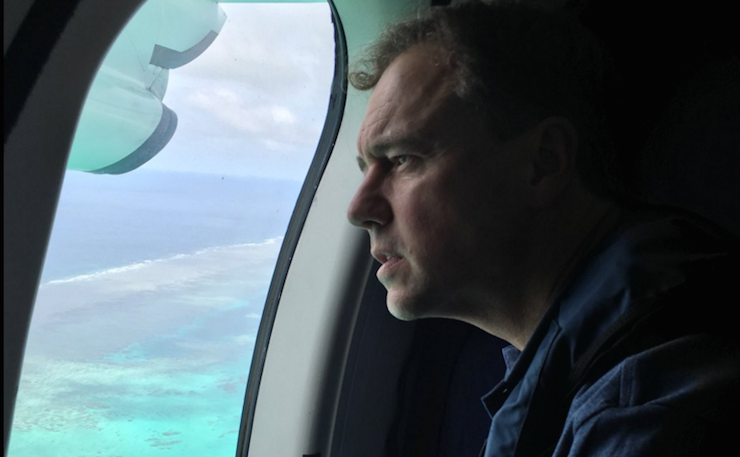 More recently, last week marked the 25th anniversary of the ground breaking report into Aboriginal Deaths in Custody. Despite the promise of this major report, a majority of the Royal Commission's recommendations have never been implemented and research indicates that indigenous incarceration and police custody rates have increased, from 14 per cent of the prison population in 1991, to a staggering 27 per cent today. Incoming Western Australia Senator Pat Dodson has urged the Parliament to focus on rectifying this injustice rather than reconstituting the Australian Building and Construction Commission. The government has not responded.
The latest example comes from the Minister for the Environment, Greg Hunt, who, on 12 April, decided not to ban the Uluru climb.
At the base of Uluru is a sign erected by the Anangu people, the traditional owners. It reads:
We, the Anangu traditional owners, have this to say. Uluru is sacred in our culture. It is a place of great knowledge. Under our traditional law climbing is not permitted. This is our home…Please don't climb. We invite you to walk around the base and discover a deeper understanding of this place.
While Greg Hunt has not yet explained his decision, his reasons can be presumed. Fairfax Media reports that in 2009, Hunt argued that closing the climb would "end one of the great tourism experiences in Australia". Noting his concern that Labor intended to ban the climb, he continued: "Big Brother is coming to Uluru to slam the gate closed on an Australian tourism icon, the climb". Similar concerns were raised by the Northern Territory government and the tourist industry during the negotiations that led to the return of Uluru and Kata Tjuta to the Anangu people in 1985.
The difficulty in reconciling instances where economic interests clash with sites of religious or spiritual significance is not rare in relations between non-Indigenous and Indigenous peoples. However, too often western interests mischaracterise Indigenous claims, or ignore them completely.
The common factor in each of these recent examples is a simple one. Non-Indigenous Australians should listen to what Indigenous Australians are saying. If we do, we may find that resolutions—and reconciliation—are achievable.
Indeed, the case of Uluru is simple. Just as non-Indigenous Australians would not countenance destruction of a Christian church in order to promote tourism, nor should we allow the desecration of a site sacred to the Anangu people, no matter what the apparent economic benefit.
Greg Hunt should reconsider his decision. Failure to do so suggests that even if constitutional recognition is successful, nothing will really have changed.

Donate To New Matilda
New Matilda is a small, independent media outlet. We survive through reader contributions, and never losing a lawsuit. If you got something from this article, giving something back helps us to continue speaking truth to power. Every little bit counts.