The introduction of the Coalition's new program, intended to help people receiving welfare payments find work, has been accompanied by a rise in complaints. Labor and some welfare advocates the rise has been caused by an increased focus on work for the dole, and the outsourcing of jobs programs to for-profit providers. Max Chalmers reports.
The transition to the Coalition's new $6.6 billion job seeker program, jobactive, has been accompanied by an increase in complaints from those reliant on social security and forced into the system in order to meet their obligations.
In response to a question on notice asked by Labor Senator Sue Lines during Senate Estimates, the Department of Employment has confirmed that during the first six months of 2015, before the introduction of jobactive, it received 6,105 complaints from job seekers. But that number jumped to 8,719 for the next six-month period, after the new program came into effect.
As with the system that preceded it, the Department of Employment outsources the case management of job seekers placed in the jobactive system to private companies or NGOs, who are tasked with helping them find employment, training, or education, and must report back to the Department.
Updated statistics provided by the Department to New Matilda show that as of 13 April, the number of complaints recorded during the 2015/16 financial year has already outnumbered those from the previous year.
The Department argues the increase is due the need to transition a large number of clients over from the old system, known as Jobs Services Australia, and the number of complaints has increased steadily over recent years.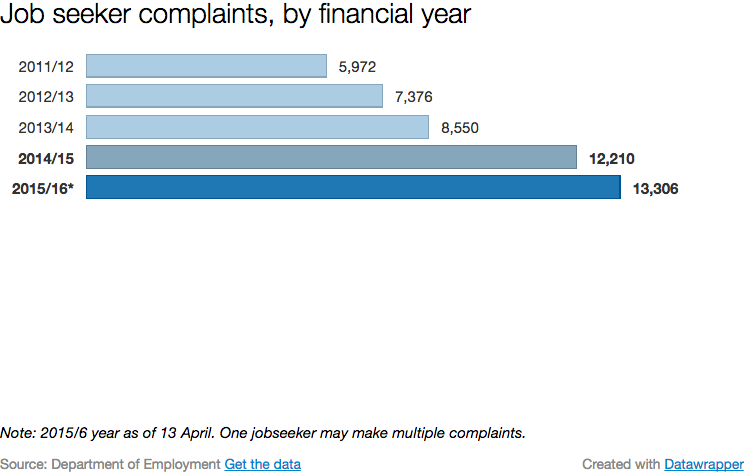 But Senator Lines criticised the government for increasing its focus on work for the dole programs, and said she had concerns about some of the private, for-profit job service providers taking part in jobactive.
She said work for the dole could not be considered a "work program", and that NGOs she had recently spoken with believed it should be converted to a more meaningful scheme that helped people find employment.
"They did not accept that there is a whole cohort of unemployed people out there who don't understand the need to get up and go to work and do all the things you and I do every day," she said.
An academic evaluation found work for the dole programs increased someone's likelihood of moving off welfare by only 2 percentage points.
The Welfare Rights Centre Sydney joined Lines in challenging the Department's explanation for the rise in complaints.
"A key reason for the spike in complaints is that job seekers were dissatisfied with the service and treatment of their employment provider," a spokesperson said.
"The grievances raised highlight longstanding systemic issues over quality and engagement and being listened to and treated with respect. It remains to be seem if the level of complaints declines or rises over time."
A breakdown of the data provided by the Department to Senate Estimates shows major areas of complaint related to:
Inappropriate or inadequate service
Unprofessional behaviour by Provider
Dissatisfied with Employment Consultant allocated by Provider
Dissatisfied with negotiation of Job Plan / EPP
Participation and obligation policy
Jobs Australia, the peak body for non-for-profits who work in the sector, said the increase in complaints was relatively small given the scale of the transition, and that it was too soon to tell how the new system was impacting job outcomes.
"There were around 350,000 job seekers who had to change provider, and the system has more than 800,000 job seekers at any given point in time, so an increase in complaints of roughly 2,600 is quite small, all things considered," CEO David Thompson said.
According to analysis by Jobs Australia, the shift to jobactive has seen the total number of service providers drop, with non-for-profits making up a smaller share of the mix. The new model has also seen a marked shift towards outcome payments, meaning job service providers are liable to miss a significant portion of funding if they fail to tick boxes by helping clients find a job, forcing them to attend work for the dole programs, or undertake other training programs.
Part of the justification for that change was widespread reports of rorting by job service providers under the previous system.
But Owen Bennett, President of the Australian Unemployed Workers' Union, said providers were now pushing people towards 'outcomes' rather than providing substantial support. He said work for the dole had become the "centrepiece" of the government's program.
The Unemployed Workers' Union runs a hotline which people can call to ask for assistance in dealing with Centrelink or job service providers, and Bennett said people were regularly calling with concerns about work for the dole.
"There are a lot of people who feel like they've been bullied," he said.
Bennett also expressed concern about the heavy load caseworkers were taking on, denying them the opportunity to create realistic or tailored job plans for those out of work.
Minister for Employment Michaelia Cash has previously claimed over 200,000 people have been placed in jobs since jobactive was introduced.
"Its unique approach encourages partnerships between providers and employers to ensure job seekers are appropriately matched to employer needs and have a better chance of finding and keeping a job," the Minister said in a release.
But Senator Lines said that under jobactive there was too much pressure on people to undertake work for the dole activities.
"Work for the dole is a bit like the Sydney Tunnel – all roads lead to there," she said.
The Minister for Employment Michaelia Cash was contacted for comment.
Correction: The comments attributed to the Welfare Rights Centre Sydney were originally incorrectly attributed to the National Welfare Rights Network of which the Centre is a member. The story has since been updated.

Donate To New Matilda
New Matilda is a small, independent media outlet. We survive through reader contributions, and never losing a lawsuit. If you got something from this article, giving something back helps us to continue speaking truth to power. Every little bit counts.