Tensions around coal-fired power are reaching breaking point in Bangladesh, after four protestors were shot dead by the police on April 4, and a witch-hunt for more than 3,000 unnamed others began.
Villagers in the coastal area of Banskhali, near Chittagong, admit to burning a vehicle well before the April 4 shootings, but deny they were armed or aggressive when they took to the streets to protest a new coal-fired power plant.
The police have proved impossible to contact, but have admitted to opening fire on the crowd, reported to have been between three and four thousand people. The police claim villagers started the violence, and that 11 police were also injured. Their actions afterwards, however, make it clear they're not planning to back down as tensions mount.
Activists on the ground have told New Matilda that the few who did make it to the hospital after police opened fire – there were at least 30 injured, and likely more – have been cuffed to their beds "like animals", and placed under police guard.
Villagers have for months been railing against the development of the coal-fired power plant, which a Bangladesh conglomerate called S. Alam is attempting to construct using Chinese finance.
They fear it will devastate the local environment, displacing them from the shrimp and salt farming that many impoverished Banskhali residents rely on to eek out a living. Images uploaded to Facebook, as well as news footage of some protestors' injuries shows the heavy price they paid for opposing it.
CTG Banskhali Clash, 05 April 2016: https://t.co/0Ba3CXVueH via @YouTube

— Independent24.tv (@Independent24tv) April 5, 2016
An anthropologist who's currently working at the nearby Asian Women's University, Nasrin Siraj says she spoke with the son of one of the four protestors killed as part of a fact-finding mission in the wake of the shootings.
With protests continuing – even mounting – what he said does not bode well.
"If my father had been taken to hospital, he might have survived," the boy is quoted as saying. "But the Police did not allow us to do so. We have shown enough respect to the law enforcers; no more."
Local Bangladeshi advocates have consistently told New Matilda that three of the four protestors shot were from that same family, but fury at the authorities' indifference is widespread in the community.
According to Suman Mahmud – a member of a left-aligned group of activists and academics known as the National Committee to Protect Oil- Gas- Mineral Resources, Port and Power – the villagers were caught unawares and unarmed when Police opened fire.
"On 4 April [the former chairman of the village]called a procession against the power plant and land grabbing," he said.
"There were around three to four thousand people gathered and before the procession started some people arrived using motorbikes, 20 to 25 people.
They were saying: 'it's a section 144' – that's a law which means people can't accumulate or gather for procession – 'go back to your house or we will kill you'.
"A few minutes after this police, arrived in that place. Villagers were very agitated in that moment, there were some arguments and the villagers were totally unarmed. Most of the villagers are very poor, and the police started shooting.
"Four people died in that place at that moment. Among them three from the same family, there were two brothers and one nephew, and another one was just another villager.
"The police shot while they were carrying their children. After that when people were trying to escape, police were threatening, saying 'We'll kill you here – we will not let you leave this place'.
"There were nearly 100 people wounded… and another one died when he was being brought to the hospital. He died on the road. He was seriously wounded and there was a lot of bleeding."
Mahmud and others New Matilda has spoken to allege that 'goons' hired by the company trying to develop the power plant were dressed in police uniform. In media reports, the company has denied any involvement, but these denials are stacked against allegations that before the protest, hired thugs were actually emerging from the local police station.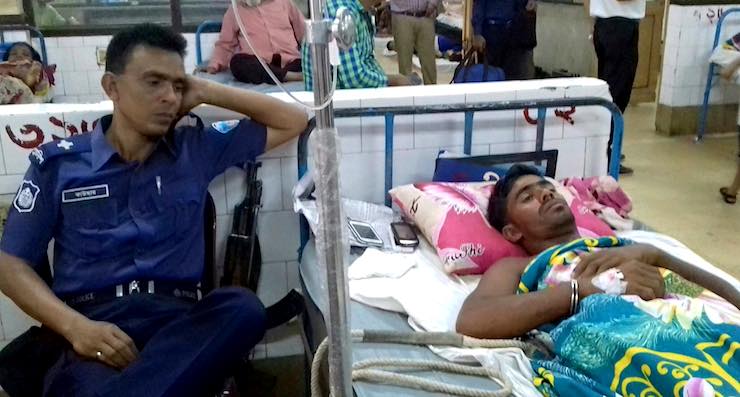 It's important to note that accounts do vary on a range of fronts.
Sharif Jamil, a spokesperson for an organisation which translates roughly to the Bangladesh Environment Movement (BAPA), said that the S. Alam 'goons' are likely to be members of the country's Ansar force. It's a paramilitary group backed by the government, which Jamil said can be hired out to protect development projects.
The BAPA activist said the situation in Banskhali had escalated most seriously a week before the April 4 shootings, after police arrested seven villagers who were accused of assaulting an Ansar member.
Others report April 4 was not the first time shots were fired by police – just the first time villagers were injured. According to Nasrin Siraj, local women have  been getting harassed at night in their homes by police over recent months, and during the April 4 unrest, police went into houses and a woman was shot.
Another victim, she said, was shot at point blank range while "taking tea and eating a bun".
Siraj said villagers in the area are too scared to seek medical help. Police have announced plans to arrest up to 3,200 people, despite the fact they have only identified 57 people for involvement in the protest.
The few who did make it to a hospital after the attack, Siraj said, are "handcuffed, and tied with a big rope like an animal". "It's really horrible to see," she said. "The police are always there doing their rounds. With every person there are two policemen there."
It's unclear whether 'goons' of S. Alam are also standing guard at the hospital.
According to Siraj: "It's quite a tense situation. Another thing is one woman is injured and she is four months pregnant, and she has five more children, and they are really small. One is still breastfeeding. So all the five children are at home and the four month pregnant woman is at hospital, and her husband cannot come to the hospital because the police are arresting villagers."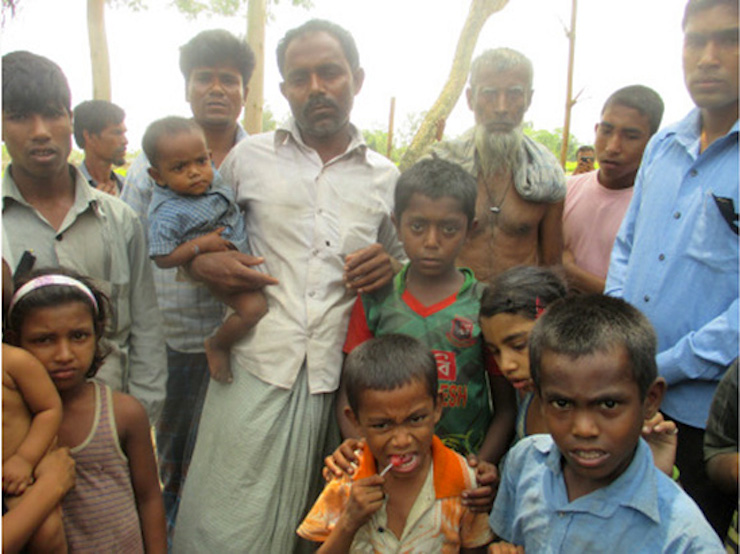 It's a version of events broadly corroborated by Mahmud: "On the 5th of April some people went to  the hospital to see what happened to the wounded villagers. Villagers, they were handcuffed and two police with each patient. They were very sick, they were bleeding… some were waiting for further treatment also. These people were also handcuffed with police, because there was a case brought against them."
But it's clear the tensions cut both ways. New Matilda has been told that police are afraid to enter the village, which is in lock-down, aimed at preventing S. Alam workers from accessing the power plant site, and that this may have fed into their attacks.
"I think police will not enter the village right now because it is a remote area and people are really desperate," Siraj said. "If you understand Bangladesh, and I think in ever poor country, people sometimes are anarchists because they don't care."
It is clear that protestors are not giving up on their efforts to block the coal-fired power plant, though, which is marred by accusations that planning processes have not been followed, and environmental impact statements not completed.
Maha Mirza, another activist with the National Committee, said 10,000 people gathered over the weekend to demand the plant be scrapped, and justice served on those who shot at protestors.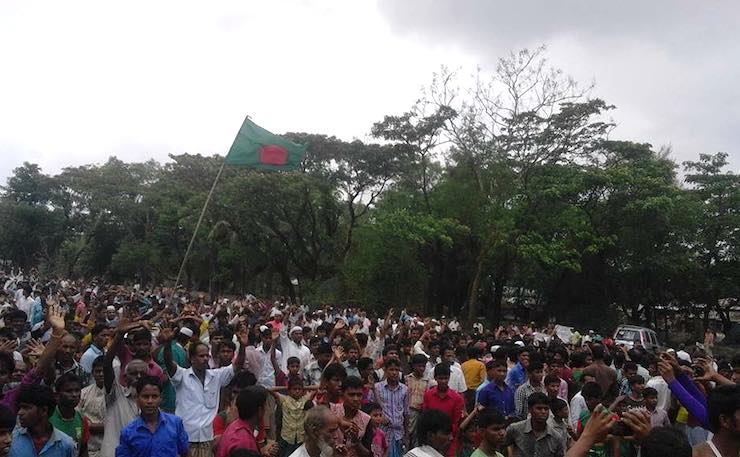 The "ultimatum", he said, was that if the project was not cancelled by Saturday evening, larger protests would be staged.
In the Dhaka Tribune, National Committee member and economics Professor Anu Mahammad demanded an independent investigation into the killings.
"We do not want to see any probe committee that will cover up the whole issue. We will not accept any investigation which will turn out to be a farce," he said.
"S. Alam Group must bear all the medical expenses of the injured and compensate the [families of the]deceased. Moreover, the false and fabricated cases filed against hundreds of villagers must be withdrawn without any delay."
That seems unlikely. The Prime Minister of Bangladesh has all but blamed the protestors, lashing out at their "bizarre imagination" about the hazards of coal. "Some lives have been lost unnecessarily for such imaginary talks," local media quoted her as saying.
Prime Minister Sheikh Hasina made the comments while opening a prison.
According to the advocates that New Matilda has spoken with, 'imaginations' are continuing to run wild. "Villagers are saying it is not about their land," Siraj said. "S. Alam has already bought what they need".
"They're saying 'We will not be able to stay here because the fishes, trees, river, everything will be destroyed. What they're saying is S. Alam can build another project – if he wants to build a salt farm or shrimp cultivation that is fine."
Unless one side backs down, and an investigation opponents will accept is carried out, it's not hard to see how the situation could end up with further bloodshed.

Donate To New Matilda
New Matilda is a small, independent media outlet. We survive through reader contributions, and never losing a lawsuit. If you got something from this article, giving something back helps us to continue speaking truth to power. Every little bit counts.