A decision by a West Australian coroner to suppress video of the final hours of a young woman's excruciating death has re-traumatised a devastated family, writes Amy McQuire
Four months shy of her 23rd birthday, Yamatji woman Ms Dhu lay in excruciating pain, unable to sit up, in a South Hedland watchhouse.
It was a pain she had complained of shortly after she was incarcerated on August 2, 2014, locked up for failing to pay just over $3,600 in fines.
And it was a pain that would later kill her.
Two days after Ms Dhu was jailed, that beautiful young woman was dead.
Hers was yet another black death in custody in a state that jails Aboriginal women at ever-increasing rates, a large percentage of them for failure to pay fines.
It is deeply disturbing that a state that made its riches off the stolen land of Aboriginal people is now jailing and warehousing these very same people for their poverty.
Earlier this month, the inquest into Ms Dhu's death continued after beginning in November last year.
The inquest heard that Ms Dhu had made her pain known very early on after her arrest. South Hedland is not a big town – the nearby health campus takes two minutes to reach from the police station. Even so, it took at least 90 minutes before officers took Ms Dhu for treatment.
It was the first of three visits.
The inquest repeatedly heard testimony of Ms Dhu's pain being interpreted as something else by both police officers and health professionals tasked with the duty to care for her. There were suggestions it was exaggerated to avoid the lock-up, that it was faked, or that it was the result of Ms Dhu coming down off drugs.
It's hard to believe the pain of a white woman would be viewed in the same way. And it becomes even more shocking when you dig through that testimony.
The inquest heard from one doctor who said she believed Ms Dhu's limp was not symptomatic of pain, but instead seemed to be "a little bit attention-seeking".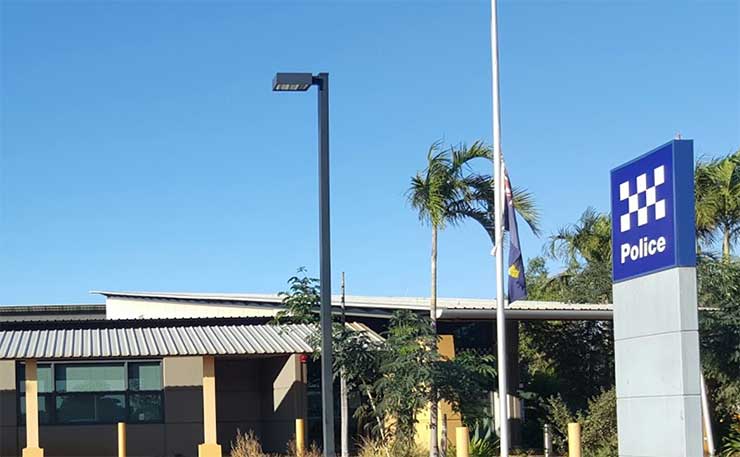 Another police officer told the inquest she had seen a ward nurse roll her eyes when Ms Dhu reacted in pain (the ward nurse – Samantha Dunn – told the coroner she couldn't recall doing it).
That officer – First Class Constable Jamie Buck – said she had believed Ms Dhu's pain was genuine, but there had been a suggestion she "may have been faking it or putting it on".
The inquest also heard testimony from Constable Shelly Burgess, who told the court the South Hedland police station supervisor Rick Bond had complained Ms Dhu was simply a "junkie coming off drugs". It was a claim Bond later admitted, saying he had "probably" called Ms Dhu a "junkie" and it was normal practice to use the word "f**k" at detainees, according to The Australian's reporter Andrew Burrell.
The court heard evidence from Constable Burgess that Bond had allegedly told Ms Dhu, "This is the last f**king time you're going to hospital", which the supervisor later admitted to under cross-examination, according to The Australian.
He was right. It would be Ms Dhu's last time.
After being handcuffed and carried to the police van, she died shortly after her arrival at the health campus.
We now know that Ms Dhu's pain was real. She died from septicemia and pneumonia, originating from an infection in a broken rib that spread to her lungs.
The inquest heard Ms Dhu was a victim of domestic violence, and the broken ribs had been sustained in an earlier incident before her incarceration.
Ms Dhu's grandmother Aunty Carol Roe, worried about her granddaughter, repeatedly rang the watchhouse, only to be told she was fine.
Of course, Ms Dhu was not fine. She was dying, and it has only been through the inquest that Aunty Carol has come to know of the true extent of her granddaughter's pain – not only through the testimony of those who had power over her, but also through graphic CCTV footage that has played throughout proceedings.
The traumatic images are heartbreaking, and many family members have reportedly walked out during the inquest.
An even more heartbreaking fact is that while the extent of Ms Dhu's pain wasn't believed while she was alive, it has still been ignored during her death.
Outlets like The Guardian and The Australian have reported proceedings from the inquest, but Ms Dhu's name remains largely unknown throughout mainstream Australia. It's failed to spark the fury that it should have, a fact acknowledged by human rights lawyer George Newhouse, who attended the inquest on behalf of Death in Custody Watch WA.
"It does surprise me that this case is not more notorious. The circumstances of Ms Dhu's tragic death are shocking," Mr Newhouse told me on 98.9 FM's Let's Talk programme earlier this month.
"And the pain and suffering she went through in the lead-up to her death are gut-wrenching.
"It is a case that should disturb all Australians and the family quite rightly wants to ensure this never happens again to any Australian."
The disturbing CCTV footage of Ms Dhu's last hours was suppressed by the coroner, originally due to a request from the family. But the family has since made a submission to the coroner, asking for it to be made public in an attempt to finally spark broader mainstream interest in the death of their loved one.
Mr Newhouse told Let's Talk he believed Ms Dhu's death had not attracted widespread attention because the footage hadn't been made public.
"…The shocking images that have caused trauma to many of the people inside the inquest have not been released publicly and as a result the public aren't truly aware of the horrors of what happened to Ms Dhu.
"… It's incredibly traumatic vision. A woman that was so obviously in pain and clutching at her ribs, is unconscious, unable to move and dragged like a carcass to police vehicle where she's dumped in the rear of the vehicle and taken on her final ride to the hospital.
"Everyone watching that CCTV footage understood these were the last hours of a 22-year-old woman who was in police custody for a fine default. And those last moments must have been some of the most horrific in that short life."
But last week, the coroner – Ros Fogliani – dealt another painful blow to Ms Dhu's family, when she determined those last images of her death would not be made available to the media.
Ms Fogliani acknowledged Ms Dhu's "suffering was extreme and it was a great tragedy". But that "once the images are released and provided to the media, I cannot control their future dissemination".
Ms Fogliani said: "It may take family members by surprise and it may shock them in years to come…." The images could "retraumatise" family members of Ms Dhu in the future, she surmised.
Ms Dhu's uncle Shaun Harris is outraged by the suppression. He says the footage – as graphic and upsetting as it is for the family – shows the truth of what happened to his niece, and a severe lack of duty of care.
He said the coroner's excuse was unjustified and the idea it will retraumatise family members is "sickening".
In a message to New Matilda, circulated to other outlets, Mr Harris said, "they are afraid that the entire world will see racist Australia for what it truly is".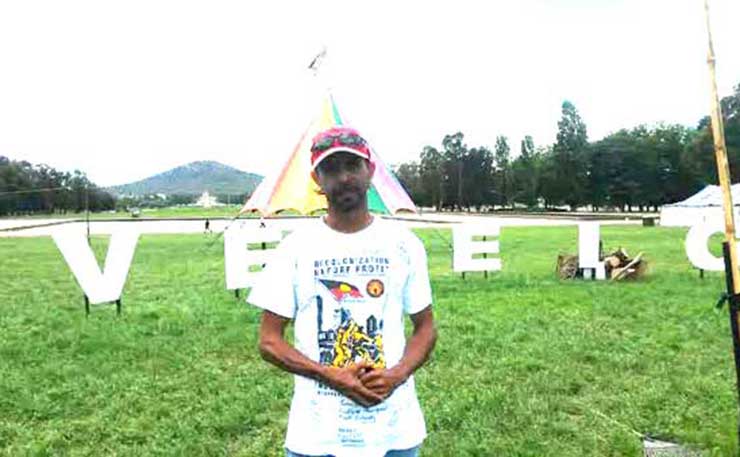 He told Let's Talk the footage was something "I will never forget… which will haunt me for the rest of my life."
But for Mr Harris, ignoring that pain would be even worse.
The simple truth is that the police officers and health professionals who ignored Ms Dhu as she groaned in pain and lay dying on a watchhouse floor engaged in acts of state-sanctioned violence.
And in the same way, concealing the reality of this pain, as the Coroner is trying to do with the CCTV footage, is also a form of state-sanctioned violence. Rather than healing this pain, this concealment could have dire consequences.
Consider the fact that during the Royal Commission into Aboriginal Deaths in Custody there was little outrage or coverage over the deaths of incarcerated Aboriginal women. Unlike the high profile cases of men, the pain of these women remained largely unacknowledged.
Shamefully, many of these cases were eerily similar to that of Ms Dhu, despite them occurring before the young woman was even born.
If the realities of their deaths had been exposed to wider Australia, would Ms Dhu have endured the excruciating last hours of her short life? Would she still be alive today?
Ms Dhu's death was a tragic consequence of the apathetic response that has historically hurt Aboriginal women. In fact, it has killed them.
From the brutal rapes of our women on the frontier, to the unimaginable pain of having a child ripped from you, we have seen how the pain of our women grows in each generation; like the pain in Ms Dhu's rib, it spreads throughout the body of our people and leads to greater trauma.
Ms Dhu's death itself taught us just how devastating it can be when this pain is ignored and disbelieved. It is not up to the coroner to determine what will 'traumatise' Ms Dhu's family. It is not up to her to interpret their pain.
Ms Dhu did not have a voice while she was alive, and so we must ensure her family, who speak for her, have a voice in her death.
The coroner, in her position of power and privilege, claims to know more than them about the reality of their pain. Taking away the family's voice, rejecting their wish to make this vision public, has hurt them even more.
They have already been 're-traumatised' and that trauma will grow every day Ms Dhu's family has to fight for their pain to be properly acknowledged.
The fact there has never been any accountability for black deaths in custody, there has never been justice, is a source of so much pain today.
Taking away that opportunity will not allow Ms Dhu's family the opportunity to heal. It will simply ensure the pain of her death continues to spread like a sickness throughout the generations.

Donate To New Matilda
New Matilda is a small, independent media outlet. We survive through reader contributions, and never losing a lawsuit. If you got something from this article, giving something back helps us to continue speaking truth to power. Every little bit counts.