When a report detailing sexual abuse in Queensland communities was released, politicians and journalists gushed with hyperbole. They were employing the same formula, used time and time again, that helps quash discussion of the deeper causes of abuse and ensures it will continue, writes Amy McQuire.
Earlier this month, the Queensland government finally made public a report detailing the scale of youth sexual violence in two Queensland communities – both with large Aboriginal and Torres Strait Islander populations.
The report, conducted by Professor Stephen Smallbone from Griffith University, had been suppressed three years ago. There were concerns over confidentiality of sources in the small communities, and the potential for it to be seized by sensationalist media and opportunistic politicians. The authors wanted the opportunity to work with local communities to begin laying a foundation for a way forward.
There was good reason for this concern, and it is one that has been validated time and time again with every new 'shocking', 'devastating' report claiming to shed light on the reality of Aboriginal 'dysfunction'. You could make a template of how these stories play out in the media, so homogenous is the narrative. You could substitute a community name, add in a couple of dial-a-quotes from 'leaders' who are often not from that community, and drum up a media hysteria leading to short-sighted policy decisions with long-term implications. Then recycle it the next year using many of the same adjectives. Maybe win a Walkley.
The Smallbone report investigated youth violence and sexual assault in West Cairns and Aurukun, two starkly different communities which nonetheless share a common thread of violence, a symptom and cause of continuing collective trauma.
In West Cairns, Smallbone and the team looked at the three 'M' suburbs – Manoora, Mooroobool and Manunda. They found that youth sexual offences were gendered – 98 per cent of reported sexual offences were committed by men, and 61 per cent by Aboriginal or Torres Strait Islanders. A large percentage of offenders are young, but correlated with similar rates across Queensland.
Victims were also young and female: 72 per cent of victims were under 17, and 40 per cent were Indigenous (there is likely to be under-reportage of sexual offences amongst Aboriginal and Torres Strait Islander women and children, which could blur the real scale). In Cairns, young mothers are more likely to be Aboriginal or Torres Strait Islander. Nearly half of new mothers under 20 were First Nations.
The team heard themes of boys with 'male sexual entitlement and dominance, and disrespectful attitudes towards females'. Girls did not have a "clear understanding about sexual consent" and didn't feel like they had a right to say 'no'.
In Aurukun, where media has largely focused its attention, the situation was worse. The community, near Weipa on the tip of Cape York, has an "alarming" rate of STI notifications, higher than the rest of Queensland. It is 56 times higher than the state rate, and 17 times higher than the average annual population rate in Cairns. There were several cases of notifications for children under 10. The rate of reported sexual offences was three times higher than West Cairns, and 6.6 times higher than the Queensland average. Offenders were young – nearly half involving a person under 18 as the offender, and there were reports of offenders as young as 10. Victims were also young and female – 98 per cent were under the age of 17 and 71 per cent were women or girls. There were concerns raised in the report of the 'normalisation' of sexual offences, particularly by young people.
On releasing the report, the Queensland government announced a steering committee headed by Stanley Jones QC to begin working with community to begin implementing the recommendations.
Nonetheless, the media response was predictable, employing all the elements of sensationalism and providing avenues for opportunism. The report was labelled 'explosive' and 'shocking'. The Courier Mail ran story after story quoting NT intervention-era politicians like Tony Abbott, who said 10-year-old offenders had to be locked up, and Mal Brough, who labelled the communities 'hellholes' that were 'worse than Mad Max'.
NITV's The Point, hosted by Stan Grant, ran amateur footage of street fights in the streets, claiming it was a scene "all too common in Aurukun, a community racked with violence, addiction and sexual assault". It ran comments from two First Nations people – Josephine Cashman and Warren Mundine – who were not from either communities, in fact not even from the same state.
But there was nothing 'shocking' or 'secret' about the report.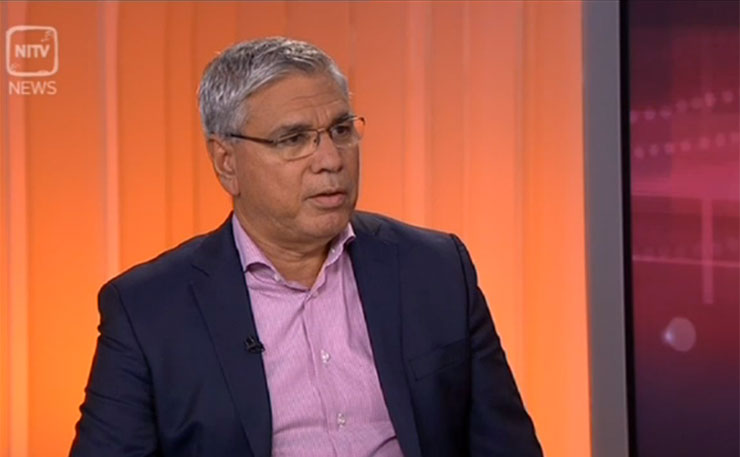 It presented bare facts telling stories about faceless victims, countless bodies blurred into a statistical portrait. It was not new, and presented data and ideas for solutions, but provided no context to the historical forces that have led to this normalisation of youth sexual violence. Tales of dysfunction at Aurukun make the media regularly – throwing 'explosive' or 'shocking' in a headline doesn't mean that there has been any concealment or denial from Aboriginal leaders about the extent of the problem around youth sexual assault.
What it does do is take the onus away from government and media who, despite telling the public continually about the dysfunction in Aboriginal Australia, swim around in circles like goldfish, revisiting 'shocking' stories of Aboriginal poverty every couple of years.
It places that onus back on the shoulders of Aboriginal people who, despite crying out for help and calling for and designing solutions, are told repeatedly they need to break the silence which has largely been imposed by white Australia. Statements of 'shock' conceal the apathy of government, media and the public, and a continuing denial of the catastrophic government over generations.
Media also seemed less willing to delve into the role white greed had played in the problem, particularly in Aurukun. Save for a good piece by Cape York Partnership's Fiona Jose in The Courier Mail. "The Smallbone report is the bitter harvest of this original violence at the hands of the state," Jose wrote. Instead of such introspection, there were attempts to drum-up shock and awe at lawless blackfellas who are descending into the depths of Mad Max-style anarchy (if you follow the hyperbole of Brough). The media campaign by The Courier Mail ultimately aimed to paint a picture of dysfunction of Aboriginal people in Aurukun, at the expense of the extraordinary strength they have displayed in the face of a horrendous history of state sanctioned violence.
This doesn't mean concealing the extent of the problem, but no one has denied that there are problems. What was denied is the cause of those problems, largely because it involves confronting the sordid history of the racism that Queensland is built upon and refuses to own up to. It involves confronting how trauma was transferred and compounded, expressed in differing displays of devastation in each generation.
The young offending population of Aurukun is a testament to this generational inheritance and the solutions can only be found within the community, not outside of it.

Donate To New Matilda
New Matilda is a small, independent media outlet. We survive through reader contributions, and never losing a lawsuit. If you got something from this article, giving something back helps us to continue speaking truth to power. Every little bit counts.