A targeted boycott, divestment and sanction campaign is a much more effective way to highlight Palestinian abuses, writes Michael Brull. This is the second piece in a series. You can read the first piece here.
Back in 2010, the Greens embraced Boycotts, Divestment and Sanctions (BDS) against Israel. I observed that this position was "brave, considering the sorts of attacks one may expect for such action." I reviewed the claims of anti-Semitism and comparisons to the Nazis proponents of BDS had routinely faced.
Within a few months, this banal prediction was vindicated, as politicians and the Murdoch press united in accusing the Greens of anti-Semitism and Nazism, and even compared their policy to Kristallnacht.
I argued that a targeted boycott would be more effective in building a broad coalition against the occupation than a blanket boycott. A categorical boycott would allow Israel's propagandists to divert the debate to unrelated issues (why Israel and not China?), where a targeted boycott would focus on the evils of the thing being boycotted.
By the end of the year, in the face of a strong smear campaign, the Greens abandoned BDS.
It wasn't hard to understand why. There is limited public understanding of the Israeli-Palestinian conflict. Whilst increasing numbers of Australians are critical of Israel's treatment of the Palestinians, I might have been the only person in any large media outlet to critically engage with the relentless attacks on the Greens.
Where campaigns should aim at building support across sectors of Australian society, the Green's embrace of BDS had only served to isolate them. The Greens staked out a radical position on the conflict which was shared by some small Palestine solidarity groups, but had little public support, and virtually no public advocates.
Others BDS campaigns in Australia faced similar backlashes, and had about as much success.
For example, there were the Max Brenner protesters. Once again, the Murdoch press compared the protesters to the Nazis. 19 of the protesters were arrested, and 13 of them were temporarily banned from going within 50 metres of Max Brenner stores. They were able to get some lawyers on board, and successfully defended their right to protest the stores.
The judgment can be read here (PDF). Funnily enough, the Magistrate seems to confuse Socialist Alliance and Socialist Alternative (the defendants whose names I recognise are, contra the judgment, from the latter). You can get a sense of the honesty of the police account from this excerpt (para 79):
Sgt Robinson gave evidence that… he noticed Mr Evans running through the crowd with his hands raised and his right hand in a fist shape which made contact with his jaw. He told the court that he and Mr Evans grappled and at one stage Mr Evans had him in a headlock and he was pushed and fell to the ground. In cross examination, Sgt Robinson gave evidence that when he first saw Mr Evans he was approximately 8 to 9 m away. After viewing the CCTV footage and police video, Sgt Robinson agreed that it does not depict Mr Evans having him in a headlock but rather him having Mr Evans in a headlock. He also agreed that the video depicts a struggle between him and Mr Evans but does not depict any punch being thrown by Mr Evans.
Two more police officers also initially claimed to have seen Evans punch Sgt Robinson.
In paragraph 92, Magistrate Garnett found that a police officer "punched in the ribs" a protester, Omar Hassan, whilst he was handcuffed and being escorted by another police officer. This was "unnecessary in the circumstances and an unreasonable use of force."
He also dismissed claims that Hassan's reaction to being punched was a form of resisting a police officer. Magistrate Garnett held that, "His reaction in falling to the right, was in response to being forcibly struck in the ribs, and not any deliberate act on his part to physically resist being arrested."
Some might say that this should have caused an uproar, and those who demonised the protesters should have been held to account. This didn't happen.
Though most charges were dismissed by Garnett, political trials are rarely ever won, as Noam Chomsky has explained. They drain emotional energy, money, and time. And they divert these resources from the issue that was originally supposed to be addressed.
Even on the comparatively narrow issue of the right to protest Israeli policy, and stores with vague links to the Israeli army, the legal victory did not become a political one.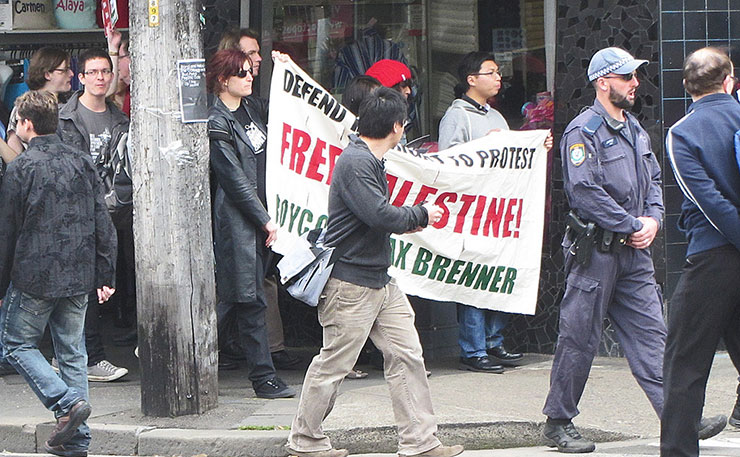 This isn't the protesters' fault. It reflects poorly on the Australian media and intellectuals who didn't care about the repression and demonisation directed at the protesters.
With that said, whilst the protesters can't be blamed for their own arrests, the effectiveness of their campaign can be evaluated.
Many who belong to Socialist Alternative presumably would have had some idea of the smears and repression they would face. Their campaign didn't achieve anything, and drew in no new sympathisers. They remained marginalised, and their enemies remained united.
To illustrate my point, imagine a small group of workers at a large corporation. They decide they want to go on strike. They know that management will react harshly as it has done in the past.
However dreadful their conditions might be, if they don't bring in any support for their strike, and don't reach out to other workers, it is unlikely that any of them will benefit from their action. However laudable their resistance and courage may be regarded by some, it seems straightforward to suggest that such tactics are not particularly sensible, and the failure of such a strike should be learned from, so that future efforts would be more successful.
The other major case of BDS in Australia is that of Jake Lynch, who boycotted the not very progressive Israeli academic Dan Avnon, in response to a request for supporting a Hebrew University-University of Sydney fellowship.
An Israeli organisation which has said it works closely with Israeli intelligence sued Lynch, claiming he had breached the Racial Discrimination Act. The case got nowhere, and was eventually thrown out, with Lynch awarded costs.
Yet once again, this required vast expenditure of emotional energy, time, effort, resources, and significant financial risk.
This coincided with longstanding efforts to demonise Lynch, culminating in attempts to get him fired over gratuitous and false smears in relation to a lecture he attended at the University of Sydney, which was interrupted by protesters.
There was a campaign to have him fired, amid false claims he had been shouting "in the faces of students", abused Jewish students in an anti-Semitic manner, and more.
This was soon disproven by video footage.
Those who had repeated the lies about him did not apologise, but once the footage was out, his critics tailored their criticisms to the footage. For example, the Jewish News complained that he had excessively goaded the woman who had assaulted him, by repeatedly threatening to sue her.
For its part, The Guardian was unrepentant, and continued to publish false claims, running an op ed by AUJS chairperson Dean Sherr which ignored the video footage.
Sherr preferred the account of "witnesses" and Colonel Richard Kemp, implying that Lynch may have "struck" the woman "first".
An editor's note decided to include Lynch's version of events, and observed that there was footage, but didn't think there was any point in identifying what the footage actually showed.
The campaign against Lynch led to a university inquiry into the protests. Though Lynch's critics accused him of anti-Semitism and wanted him fired, he was cleared of the former, and kept his job.
Sherr bravely tried to find a way to claim vindication: "Whatever his motivations were, the fact that a senior and apparently progressive academic was engaged in such conduct ought to be to the shock of all genuine progressives and anti-racists…. That the University did not charge him with an anti-Semitic breach of their code of conduct does not vindicate his behaviour entirely."
Meanwhile, Lynch's Centre for Peace and Conflict Studies still appears to be under attack, as it is apparently being downgraded from a Centre to a Department. And the upside?
Well, if anyone can find the positive effects of Lynch and CPAC's support of BDS, they can let me know. CPACS, the Greens, and the Max Brenner protesters were all completely isolated when undertaking BDS actions. None drew in broader support, and they could hardly even drag in people to defend their right to engage in activities opposed to the Israeli government.
Now, it is not their fault that there is so much opposition to BDS, or that opponents of BDS are determined to combat it through the courts, police, repression of protesters, vicious smears and so on.
Yet the fact that these efforts could have been predicted – and to some extent were – should be factored in to consideration of what kind of tactics should be embraced.
Plenty of activists in America have reached these rather straightforward conclusions. Aaron Steinberg-Madow explained in the American Jewish paper Forward, "In recent years, many of the successful BDS resolutions at universities actually did not call for a boycott of, or divestment from, Israel altogether. Instead, in a strategic decision, student-led Palestinian solidarity groups, often working in coalition with identity-based social justice groups, opted to narrowly focus resolutions on Israeli human rights abuses or companies operating in the occupied territories. A successful 2014 divestment push at UCLA is one of many such examples."
For example, the Undergraduate Senate of the University of Stanford voted in favour of divesting from companies that maintain the infrastructure of the occupation, or facilitate repression of the Palestinians. The resolution specifically distanced itself from the BDS movement, but was still acclaimed as an historic BDS achievement.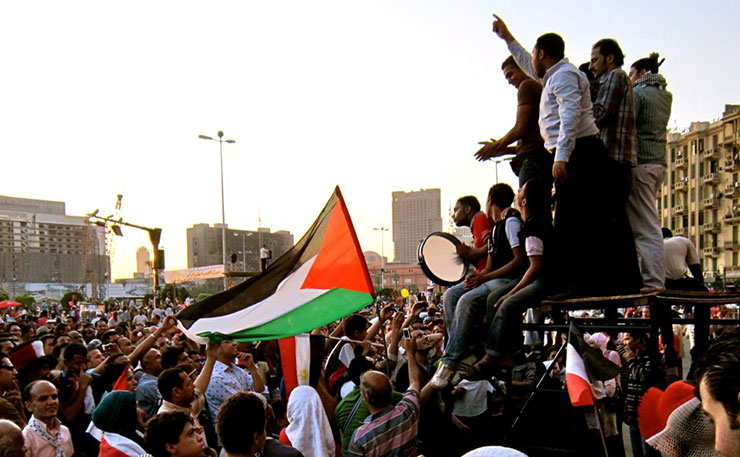 Similarly, the Presbyterian Church voted to divest from "companies supporting the occupation, not Israeli companies in general." Yarden Katz explained that the Church stated "that their action is 'not to be construed or represented… as divestment from the State of Israel, or an alignment with or endorsement of the global BDS (Boycott, Divest and Sanctions) movement.' In fact, the rest of the Presbyterian committee reports—which offer explicit endorsement of a two-state solution and repeatedly assert Israel right to exist as 'Jewish state of Israel' — do not clearly fold into the BDS agenda."
Still, the BDS website responded by acclaiming the decision. So for those determined to remain within the BDS movement, these kinds of tactical changes will still be acclaimed as part it.
In June last year, Nahum Barnea, one of Israel's most influential journalists, wrote a column about the BDS movement. He said that, "Molad, the Center for the Renewal of Israeli Democracy, published a survey recently about the boycott movement. According to Molad, 90 per cent of the boycott demands coming out the West are linked to Israel's activities in the territories. The remaining 10 per cent are aimed at undermining the very existence of the State of Israel, under the flag of the BDS movement."
Why are they targeted at the occupation? Because those boycotts draw on already existing public opinion, which increasingly sees the massacres, the settlements, the checkpoints, the wall, the repression, and recoils.
Perhaps such boycotts aren't endorsed in the official BDS program, which advocates broader targeting. Yet suggesting that an important criterion for choosing tactics is how effective they're going to be really shouldn't be controversial.
For those determined to adhere to BDS orthodoxy, Omar Barghouti, one of the leading figures of the BDS movement, said that
"The three general criteria that the Palestinian BNC recommends in selecting strategic targets are: first, the level of complicity – focusing on companies and products that are most clearly and directly involved in Israel's human rights violations and easiest to explain to a wide audience.
"Second, cross-movement alliance possibility: prioritizing companies or products that enable the creation of broad, cross-struggle alliances. For example, the campaign to stop contracts with the Israeli water company, Mekorot, engages a wide spectrum of environmental and anti-privatization campaigns.
"And third, the potential for success: a BDS campaign should have a realistic chance of success, beyond simply raising awareness, such as persuading an international company or institution to end support for an Israeli company."
These are described as recommendations, because Barghouti presumably realises that a group in Palestine is in no position to micromanage campaigns around the world.
BDS is supposed to be about achieving change. It is not about one's orthodoxy, purity or radicalness.
Effective boycott and divestment movements overseas have been targeted at the occupation. Ineffective campaigns in Australia have targeted chocolate shops and an Israeli academic.
Presumably, Israel's propagandists were also being tactical when they launched anti-boycott campaigns at those who advocated a broader, rather than targeted boycott. They decided to focus on softer targets, which was sensible from their point of view.
This is why I find the Green's new motion so encouraging. They have decided to focus on the occupation, the siege on Gaza, and ending support for the Israeli military.
Those who pick a fight with the Israeli government should be aware of the challenges that will lie ahead. This time, the Greens will be standing on firmer ground when the battle is joined.

Donate To New Matilda
New Matilda is a small, independent media outlet. We survive through reader contributions, and never losing a lawsuit. If you got something from this article, giving something back helps us to continue speaking truth to power. Every little bit counts.