Celeste Liddle, the Arrernte writer, feminist and unionist who has been repeatedly banned from Facebook for posting an image of two topless Central Australian Aboriginal women performing an ancient ceremony is seeking legal advice this morning after she was once again banned from the social media site overnight.
Liddle has been at the centre of a growing social media storm after New Matilda published a speech delivered by Liddle on March 9, to mark International Women's Day. It argued, that Liddle had been suspended before by Facebook for posting cultural images of Aboriginal ceremony, and she argued, among other things, that the female breast does not exist to "satisfy the male gaze".
The main image attached to the published speech was of two Aboriginal women performing an ancient Aboriginal ceremony at a public protest in Central Australia in 2010.
The original story was shared widely on Facebook, but shortly after, Liddle's account was suspended for breaching Facebook's "community standards", along with multiple other accounts of New Matilda readers and Liddle supporters (this writer's account was also suspended). In response, Liddle launched a petition change.org demanding Facebook review its community standards. It's gathered more than 15,000 signatures in less than two days.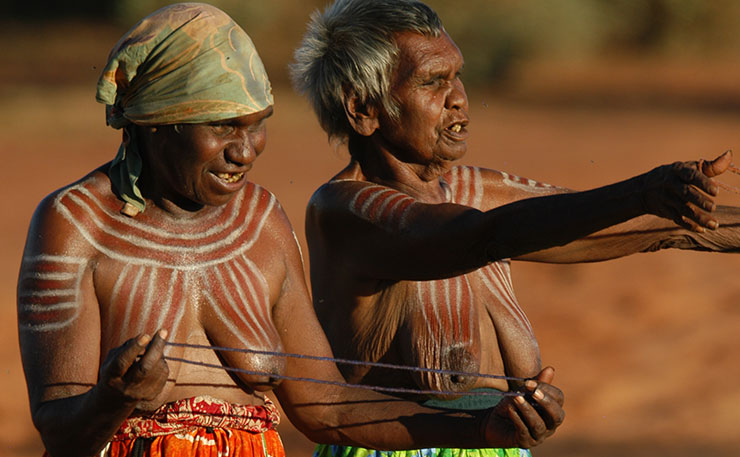 Her account was reactivated late yesterday evening, only to be suspended a few hours later – this time for seven days – after Liddle re-shared the petition, containing the Aboriginal image.
Liddle told New Matilda she would consider legal action over the matter. Interim advice received by New Matilda suggested there may be grounds for a case under both the Sex Discrimination Act and the Racial Discrimination Act.
Here's an excerpt from a statement written last night.
 "Yes, I have been banned again, this time for seven days. In addition, Facebook are now investigating my account and I was required to provide government-issued ID to verify that I am indeed a human.
"The reason I was banned this time was for sharing the Daily Mail coverage on this. Daily Mail Australia, who have also shared this article on their Facebook page, have not been banned. Nor have the ABC who shared a similar article on their Facebook page.
"To recap, my first two bans were for sharing my keynote address, published by New Matilda. I was banned straight up the first time because due to previously posting the clip for 8MMM last year, Facebook have deemed me a repeat offender.
"I am therefore deliberately being targeted. By both Facebook, and by malicious people on a campaign to disable my page."
You can read Ms Liddle's full written statement here. 
ADVERTISEMENT: PLEASE CONSIDER SUPPORTING INDEPENDENT MEDIA BY SUBSCRIBING TO NM TODAY. CLICK HERE.
Meanwhile, the storm continues to grow for Facebook, with an increasing number of angry users reporting nudity on the social media platform, with the aim of highlighting the apparent holes in Facebook's "community standards".
Overnight, Serena O'Meley, a community and union activist based in Melbourne and a union colleague of Ms Liddle's, reported a post to Facebook from Vice magazine, which depicted a naked woman riding a bicycle at the Burning Man festival in Nevada USA.
On the handlebar of the bike is a large dildo.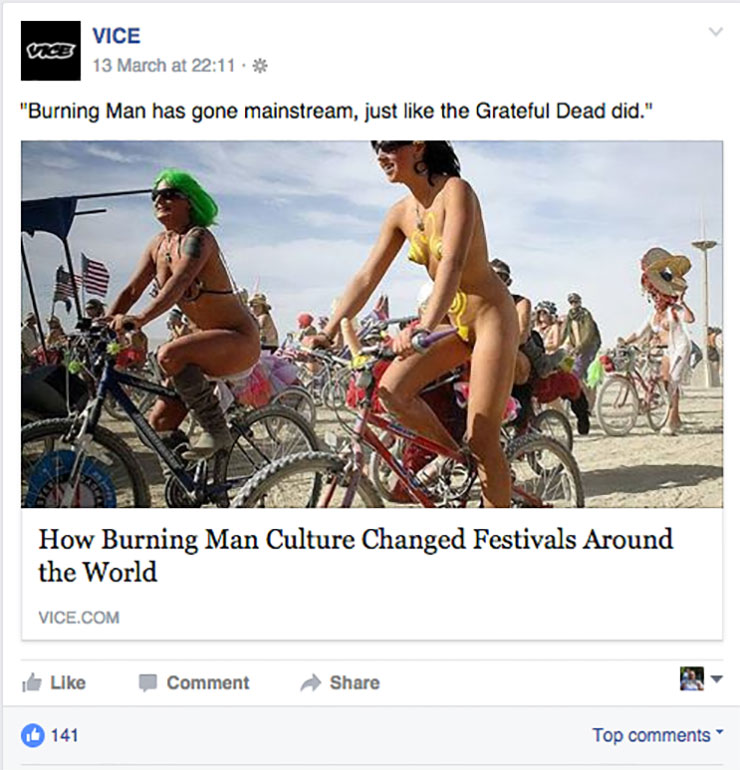 Facebook claims to have "reviewed" the post and found it doesn't breach its community standards, despite the picture clearly showing the young woman's nipple. This is the criteria Facebook says it has used to ban the image of Aboriginal women from Central Australia, and repeatedly suspend Celeste Liddle's account.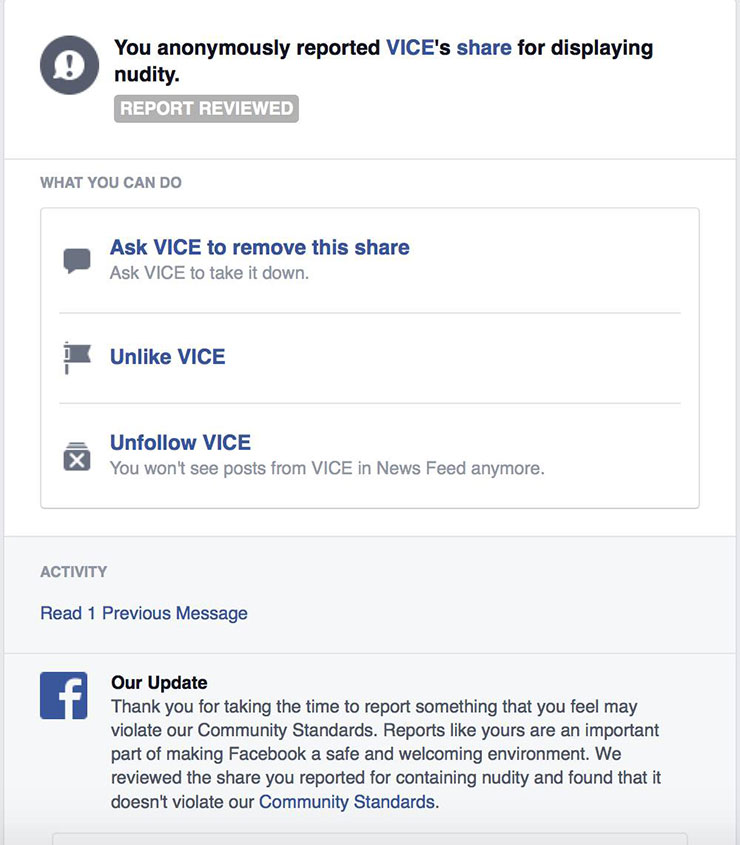 Ironically, like the Aboriginal image, the Burning Man image also depicts the woman wearing body paint, and the headline on the story suggests the woman is engaged in a 'cultural' activity.
Last week, Facebook refused to pull down an image of a naked Kim Kardashian, also wearing body paint, on the same day that it banned Celeste Liddle's article.
"I am not offended by the nudity in the picture," O'Meley told New Matilda. "I reported it to see if Facebook would be consistent in its approach when dealing with reports of nudity.
"I'm much more offended by Facebook refusing to deal with a range of other reports I've made that have been rejected for harassment, graphic violence, and hate speech."
Those 'other reports' include a complaint Ms O'Meley made in January to Facebook, over the now infamous Survival Island 3 game, an App pitched at kids which allowed players to 'beat to death an Aborigine'.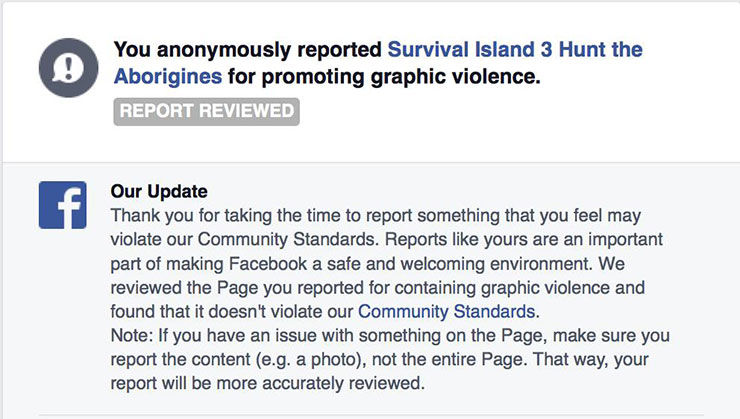 The game was being promoted via a Facebook page, and was available for download via Apple, GooglePlay and Amazon. It was withdrawn from sale after a social media outcry, but Ms O'Meley's attempt to have the page pulled down by Facebook was initially rejected.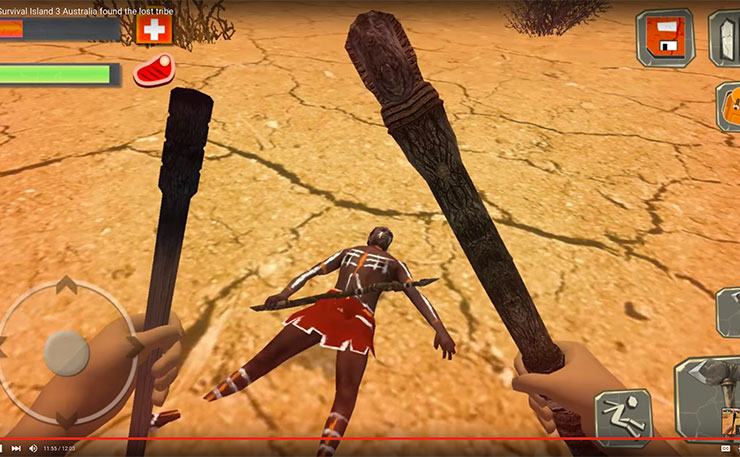 "Facebook is failing to take responsibility for its role in helping to spread racism and hate speech. I've made numerous reports that have been rejected without explanation," she said.
"I am an avid follower of Celeste Liddle's work and I admire her determination to press on with her writing in the face of a never ending racist backlash."
* New Matilda is an independent Australian media outlet. We rely almost entirely on reader subscriptions for our survival. From anywhere in the world, you can help support this sort of independent journalism by subscribing here. Subs start at just $6 per month.

Donate To New Matilda
New Matilda is a small, independent media outlet. We survive through reader contributions, and never losing a lawsuit. If you got something from this article, giving something back helps us to continue speaking truth to power. Every little bit counts.