With less than a week before he's supposed to board a flight to Australia to speak at a major conference about the ongoing struggle for Palestinian justice, a prominent Palestinian-American journalist is still waiting on the Turnbull government to issue him a travel visa.
Ali Abunimah is the editor and co-founder of the magazine The Electronic Intifada, and one of the United States' leading authorities on Palestine, in particular the Boycott, Divestment and Sanctions movement. He's supposed to be a keynote speaker at the annual Marxism Conference in Melbourne, on March 26.
But with five days before he flies out of the US, and despite numerous attempts spanning more than six weeks, Abunimah – a regular speaker at international events around the world – still doesn't have a visa, despite the average time of processing an American application running to just a few days.
"They have said no, and they haven't said no," Abunimah told New Matilda overnight, via a Skype interview.
"I'm a United States citizen, and for most United States citizens visiting Australia, you apply for something called an Electronic Travel Authority (ETA), which you can apply for online or through your airline or travel agent.
"I applied for the ETA online, or I attempted to, back in late January and I was unable to. The website would not take my application. I got in touch with them through their help email, and they said I was using the wrong browser. I tried every possible combination and it still didn't work.
"So I asked a friend to try with his US passport and it went through instantly. That was the clue that it wasn't the browser – it was me."
After a second application through his airline also failed, Abunimah was referred to the Australian Embassy in the US.
He completed a questionnaire in late January, and sent the necessary travel documents, but on February 2nd received an email reply.
"In a small number of cases the department requires that further checks be conducted in order to assess an application," officials wrote.
"In this instance it has been requested that you apply for a visitor visa subclass 600 in order to have these checks completed. Unfortunately we cannot progress your ETA at this stage.
"The Temporary Work (Short Stay Activity) visa (subclass 400) is a temporary visa for people wishing to enter Australia to conduct short-term, highly specialised, non-ongoing work or participate in an event or events on a non-ongoing basis at the invitation of an Australian organisation."
"I had some further communication with them by email, where I said 'You know, I'm really not certain I want to proceed with an application given what appear to be arbitrary and discriminatory procedures, but can you clarify exactly which visa you want me to apply for?'"
Abunimah says he was assured it wasn't a case of discrimination – it was simply because he was being paid to work in Australia… which he's not.
"The conference is paying my airfares and expenses – I'm not being paid to participate in the conference, or any other speaking events in Australia."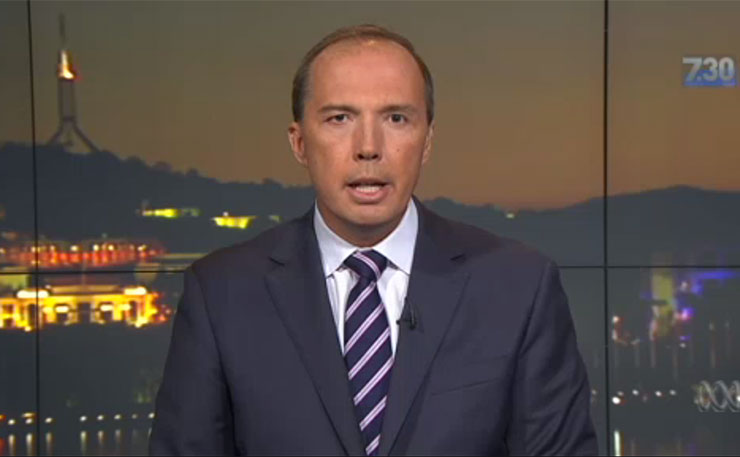 As requested, Abunimah submitted another application, this time for a class 400 visa.
"That application was lodged through their online system on February 13. It's been exactly one month."
Abunimah points to the Australian Government's own website which explains processing times for visa applications. There are 'low risk' applications, and 'high risk' applications – respectively, they take five working days and one month to process.
"It doesn't explain what the 'risks' actually are. It doesn't say whether it's related to the type of work you do, or the colour of your skin.
"I don't know what I am (in terms of risk category), but we know They apparently don't consider me 'low risk' based on the processing time.
"All I can tell you is they know why I'm going, and they obviously know who I am. I was very clear in my application and I sent them my resume, so they know I edit The Electronic Intifada, and that I've written two books.
"They know I'm coming for a conference that has specific dates, and so they know it's coming up fast."
If successful, it wouldn't be Abunimah's first trip to Australia – he travelled here in 2008, and described the welcome as "great".
"I met activists all over the country, and people working very hard for justice in Palestine and justice in Australia and around the world.
"But to be clear, I've never overstayed a visa or violated the terms of a visa, nor have I ever been convicted of anything.
"Those are the criteria which, on face value, would probably result in a severe delay or exclusion, and those don't apply to me.
"There's no known criteria by which I could be considered 'high risk' or excludable."
Abunimah has travelled around the world as a journalist, and spoken publicly across Europe, Asia and South Africa. He's never had a problem obtaining a visa in any other country.
"As a US citizen, I understand that my [international]travel is privileged. It's very easy. So I've been fortunate in that sense," he said.
"I've been to the United Kingdom routinely, all over Europe, South Africa, recently Malaysia, all for public activities related to my work. And I've never had this kind of problem before.
"I haven't been given any reason and I haven't been convicted or accused of any crimes. So I'm left to speculate that this is political or racial or ethnic profiling. There's no other explanation for what this could be."
Abunimah acknowledged that his reasons for travel to Australia were much less vital than others.
"For me, coming to Australia is not a matter of life and death. For many people, it is, and they are being treated considerably worse than I am, in terms of the detention camps Australia is forcing people into, and the mistreatment documented by human rights organisation there.
"But I do think it is a matter of the right of Australians themselves to freely associate, to pursue free speech activities, to pursue political activities and social activities."
"I think there's a question about whether Australians want to allow a government to make decisions in secret as to who they're allowed to speak to, which authors they're allowed to hear from, and which books they're allowed to read."
Abunimah said he didn't know if his work on The Electronic Intifada was in play.
"The Electronic Intifada reports very rigorously on what is happening in Palestine and what is happening in the Palestinian rights movement around the world. I hope they would have a look.
"It's a publication with millions of readers around the world, including many in Australia.
"That would be the easiest way to dispel any of the wild claims that anti-Palestinian groups routinely make about me, or our work… simply read it."
Abunimah also acknowledged the irony that last week, Australia played host to Benny Gantz, the former Chief of General Staff of the Israel Defence Force and the man who led the 2012 and 2014 assaults on Gaza, Palestine.
Gantz travelled freely around Australia, and does not appear to have had any trouble entering the country.
"Palestinians advocating for human rights and the application of international law, and who advocate for non-violent tactics like Boycott, Divestments and Sanctions are treated like pariahs by many people, whereas military leaders including officers who scorn international law, who have been directly involved in a brutal military occupation, who have participated in what many human rights groups described as war crimes, are given the red carpet treatment," Abunimah noted.
"It gives you some idea of the values of the governments that are supposed to be representing us. They seem to value violence and criminality far above those advocating for human rights and respect for international law."
New Matilda is seeking a response from the Department of Immigration and Border Security.
You can get more details on the annual Marxism Conference here.

Donate To New Matilda
New Matilda is a small, independent media outlet. We survive through reader contributions, and never losing a lawsuit. If you got something from this article, giving something back helps us to continue speaking truth to power. Every little bit counts.