The outspoken NSW MP was defiant outside of the court, claiming new anti-protest laws could prevent parliamentarians from attending actions in the future or risk losing their position. Thom Mitchell reports.
New South Wales Greens MP Jeremy Buckingham has escaped having a conviction recorded against his name after appearing in a Sydney court today, charged with trespassing on land owned by mining giant Rio Tinto in August last year.
The Greens' mining spokesperson admitted to jumping a fence and trespassing on the inclosed lands of the massive Mount-Thorley Warkworth Mine, near Bulga, in the Upper Hunter Valley.
While on property owned by Rio Tinto, the politician shot video footage of the mine which he later published on his Facebook page in a bid to warn voters of the threat open-cut coal mining can pose to the environment and nearby communities.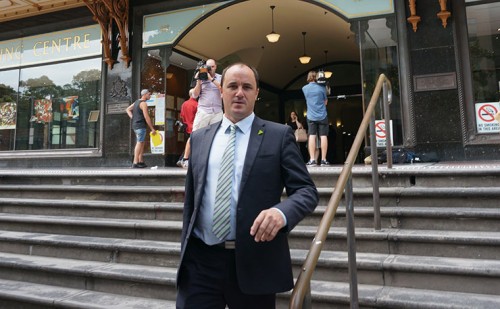 At the Downing Centre Local Court today, lawyers for Mr Buckingham successfully submitted that he had acted on an "altruistic" basis, and that he had intended the act to serve the public interest.
The MLC could have been slugged with a fine of up to $550 for the offence but in declining to record a conviction, the presiding magistrate noted Mr Buckingham's lack of a criminal record as well as the fact the MP had plead guilty at the first opportunity.
A character reference from former Greens leader Bob Brown was also taken into account, and the Magistrate noted "there was no attempt to cause damage" or delay the mining giant's operations.
In fact, it wasn't until more than two months after Mr Buckingham posted the video to Facebook that the police came knocking, on October 29 last year.
After the judgement was handed down, Mr Buckingham held a defiant press conference on the steps of the Downing Centre.
"I don't apologise for holding these coal miners to account and recording what they're doing and what they propose to do to our environment," Mr Buckingham said.
"I'll endeavour not to break the law again – I'll use alternative means to gather evidence going forward – but there is incredible concern at the impact that coal mining is having on land, water and farmers."
"It's clear that what I was doing was in the public interest.
"I was gathering evidence of the destruction that coal mining is reaping across New South Wales: I was just recording the destruction of coal mining in the Hunter Valley but also potentially on the Liverpool Plains."
The Liverpool Plains have been a particular flash-point in the campaign against new coal mines thanks to plans by the Chinese state mining company Shenhua to build a large coal mine in the area, considered a key food bowl for the nation.
While Mr Buckingham did concede one point raised in court by the magistrate – that as a Parliamentarian he should expect to be held to a higher standard than ordinary citizens – he made it clear he would continue to go head to head with coal companies.
"I am here to be accountable to that but I've got a responsibility to reflect and represent the views of the people who elected me," he said.
"They elected me to Parliament to hold the coal miners to account, to end new coal mining, and to actually record what's happening to our environment."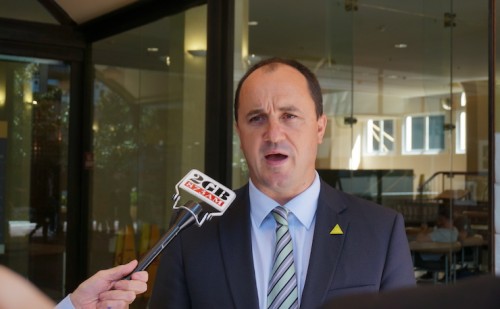 The case comes at a charged moment for mining in NSW, with the state government seeking to legislate for new criminal offences and dramatically increased penalties to deter protests geared at holding up major fossil fuel projects.
Mr Buckingham told New Matilda that despite having faced court today, he supports those protestors who seek to disrupt and delay new coal mining projects and coal seam gas fields.
He said civil disobedience such as this has been "a key part of the democratic process in Australia that's underpinned some of the most progressive and important social movements".
Mr Buckingham also noted that under the new laws proposed by Premier Mike Baird, the same crime would have carried the potential for far more "draconian" sanction.
"I could've been subject to a $5,500 fine and alternative charges that could've seen me lose my job in Parliament and also serve seven years in jail," he said.
"That's how serious it is. If Mike Baird's laws pass I cannot go anywhere near a protest – nor can anyone. It's a massive jack-boot-heel-crack-down on the democratic right of people to protest and dissent and the Greens oppose it utterly."
The Baird government reforms are due to be debated in the New South Wales Parliament, and a large protest action is planned for midday at the state's Parliament.

Donate To New Matilda
New Matilda is a small, independent media outlet. We survive through reader contributions, and never losing a lawsuit. If you got something from this article, giving something back helps us to continue speaking truth to power. Every little bit counts.