It started out as an inspiring 6,000-word speech by prominent Arrernte writer, feminist, unionist and activist Celeste Liddle to mark International Women's Day in Melbourne earlier this week.
Less than a week later, it's rapidly descending into high farce for the world's most popular social media platform, as Facebook continues to ban users who share the speech, which was published on New Matilda on Wednesday. And now, the social media giant is suspending users who share a change.org petition by Liddle demanding Facebook review its community standards' policy.
The problem is not Liddle's words – it's that New Matilda published the speech in full, and added an image we thought reflected the views and values espoused in the speech.
This is the 'offending item' below, which Facebook says breached its community standards on nudity.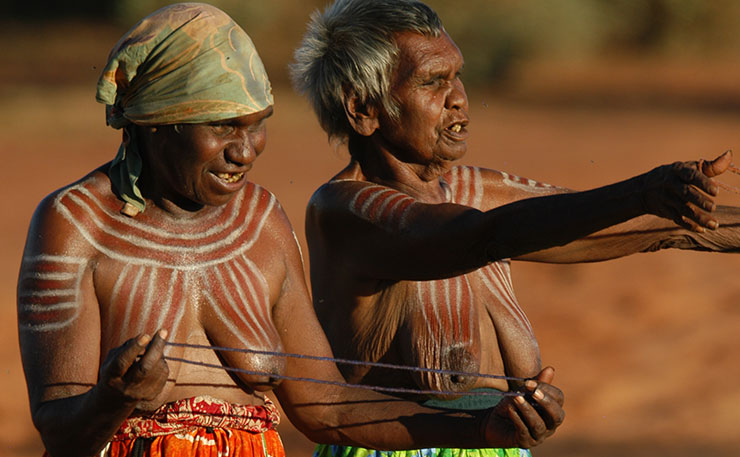 We considered republishing it uncensored, but Facebook would have immediately banned it, and a significant proportion of readers (who arrive via Facebook) would never get to hear about it.
The image saw Liddle's Facebook account suspended for 24 hours (for the second time), along with the writer of this article and numerous other New Matilda readers, and Celeste Liddle friends and supporters.
Liddle has since launched a petition on change.org protesting Facebook's actions… which has naturally resulted in her being re-re-suspended, this time for three days.
Ironically, Liddle's original speech notes: "Aboriginal women are not acceptable. Older women aren't acceptable, particularly if their breasts are pendulous rather than perky. Women being semi-naked for the purpose of taking part in women's culture are not acceptable.
ADVERTISEMENT: PLEASE CONSIDER SUPPORTING INDEPENDENT MEDIA BY SUBSCRIBING TO NM TODAY. CLICK HERE.
"If they are going to be semi-naked, it needs to be for the enjoyment of men."
Liddle's petition appears here on change.org and has notched up more than 7,000 signatures in the first few hours. But a warning – the petition includes the original image, and if you share it on Facebook, you're also likely to get a 24 hour ban… unless, of course, enough people do it, in which case, Facebook might actually be forced to confront the issue and respond to a series of questions from New Matilda. Over to you, readers.
You can read Liddle's original speech here, and our coverage of it getting her suspended here.
And here's Liddle's message to petitioners… and to Facebook.
"Twice now, my Facebook account has been banned for posting 'nudity'. On both occasions, it has been because I have posted a transcript of a professional keynote I gave which had been reproduced on a news website. The only reason I can see Facebook is doing this is because the header image on my transcript, which was added by the editor of the news site and not myself, contains Aboriginal women painted up for traditional ceremonial dancing.
"I fully support the use of this image to accompany my keynote as it is incredibly fitting. New Matilda – the news site which published this keynote – were also temporarily locked out of Facebook when they shared it.
"This is not the first time Facebook has deemed Aboriginal women painted up for ceremony to be 'offensive'. In 2015, the ABC ran an ad for their new comedy show 8MMM on social media to attract viewers. This clip was outrageously banned by Facebook due to the presence of desert women undertaking ceremonial dancing in it while painted up.
"It not only led to an outcry and a call for Facebook to educate themselves, but at this time, my account was also compromised because Facebook allowed me to be set upon by a group of malicious people who repeatedly reported my postings of this video in a bid to get my page shut down.
"It appears that several months down the track, Facebook have learnt nothing, as they have allowed this to happen again.
"Finally, it appears that Facebook only has a problem with 'nudity' when it's female Aboriginal elders taking part in traditional ceremony. As New Matilda highlights in this article http://bit.ly/1MaiwvA Facebook apply their alleged 'community standards' very selectively.
"They are continually comfortable with exploitative images of young, beautiful women being posted everywhere, even when those women are being violated, are under age or are being subjected to violence. Yet an older Aboriginal woman, engaged in women's culture and painted ceremoniously for the task is somehow offensive to Facebook, most likely because she is undertaking culture for herself and not for the titillation of the frat boys who run this platform."
"Facebook's standards are a joke. They are blatantly racist, sexist and offensive. They show a complete lack of respect for the oldest continuing culture in the world. They also show that Facebook continually fails to address their own shortfalls in knowledge.
"Finally, they show that Facebook is more than willing to allow scurrilous bullying to continue rather than educate themselves.
"For those interested, here is the article which keeps getting me banned from Facebook due to Facebook's alleged "community standards". It notes the situation regarding 8MMM's clip last year so my banning on this occasion has a particular level of irony.
"ABORIGINAL WOMEN PRACTISING CULTURE ARE NOT OFFENSIVE, FACEBOOK!"
UPDATE: On Monday morning, a Facebook spokesperson provided the following response.
"We are aware that people people sometimes share content containing nudity for reasons like awareness campaigns, artistic projects or cultural investigations.  The reason we restrict the display of nudity is because some audiences within our global community may be sensitive to this type of content – particularly because of cultural background or age. In order to treat people fairly and respond to reports quickly, it is essential that we have policies in place that our global teams can apply uniformly and easily when reviewing content. As a result, our policies can sometimes be more blunt than we would like, and restrict content shared for legitimate purposes.  We encourage people to share Celeste Liddle's speech on Facebook by simply removing the image before posting it."

Donate To New Matilda
New Matilda is a small, independent media outlet. We survive through reader contributions, and never losing a lawsuit. If you got something from this article, giving something back helps us to continue speaking truth to power. Every little bit counts.