Critics of a New South Wales Government plan to crack down on anti-mining protests argue the reforms are likely to infringe on civil liberties, and weaken communities' ability to register their dissent against controversial projects.
The anti-protest laws follow on from undertakings like those made by Premier Mike Baird at a mining industry dinner in late 2014, where he said his government would "crack down" on civil disobedience and "throw the book" at people who "unlawfully enter mining sites".
His government's means of honouring this promise, though, is coming under fire on day one.
The President of the New South Wales Council for Civil Liberties, Stephen Blanks, said what the state government is proposing appears to be "completely unnecessary and disproportionate" to the challenges thrown up by protests against big mining.
Sue Higginson, Principal Solicitor at the public interest law firm the Environmental Defenders Office of New South Wales, said "the proposed increase to police powers appear to be unnecessary and in part a substantial intrusion on civil liberties".
"The current laws – which recognise the right to peacefully protest – are being applied successfully to protests across New South Wales and have been for many years," Higginson said.
"If a protestor breaks any law as part of their peaceful protest the police have the power to arrest and charge that peaceful protestor for the offence they have committed. This is how the law works. The community is not seeing a strong case for the need to change the existing law."
The reform plan announced today would extend some offences which already exist for coal and other mines to include coal seam gas operations.
In addition, the Baird government plan has three key elements: Increased fines for unlawfully accessing mining sites; enhanced police search and seizure powers; and a third, less clear, discretionary power for police.
Enter Inclosed Lands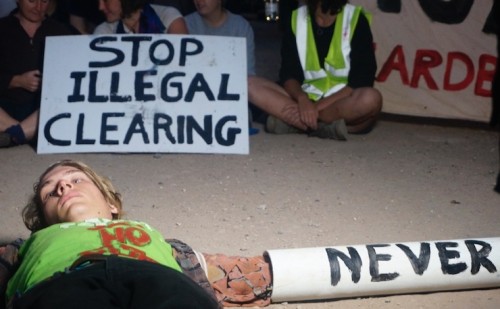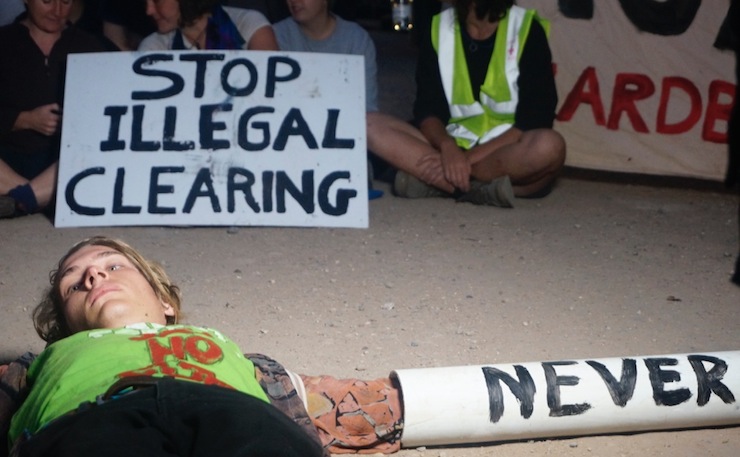 The reforms would create a new offence for 'aggravated unlawful entry on inclosed (sic) lands,' which would see fines skyrocket by a factor of ten, from $550 to a maximum of $5,500.
Blanks said fines of up to $5,500 appear disproportionate to the offence of entering mining companies' sites, and noted that "if criminal activity does take place and miners or coal seam gas proponents suffer loss, then they've always got the ability to sue the protestors to claim damages".
"That should compensate them for whatever loss they've suffered. That's a perfectly adequate remedy. It's been pursued a number of times and there's no reason to expose people to draconian fines in addition to claims for compensation," he said.
"Where people are trespassing," Blanks said, "the law concerning trespass is perfectly adequate to deal with any activity and there's no need to change them."
A spokesperson for Mining Minister Anthony Roberts disagreed. "Just because someone can pursue civil damages – which can be time consuming, costly and often unpaid – does not mean that a serious act of sabotage or damage should not be a criminal offence," the spokesperson said.
Asked what evidence exists that anti-coal seam gas protestors have ever damaged mining equipment, Roberts' spokesperson said only that "there is documented evidence of this at CSG and other mine sites".
New Police Search And Seizure Powers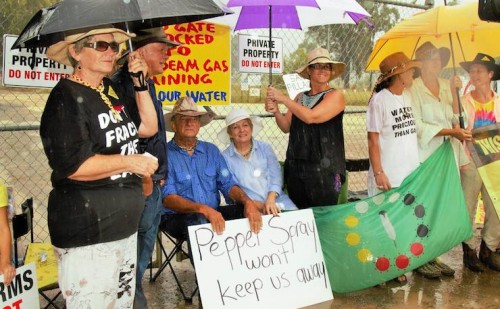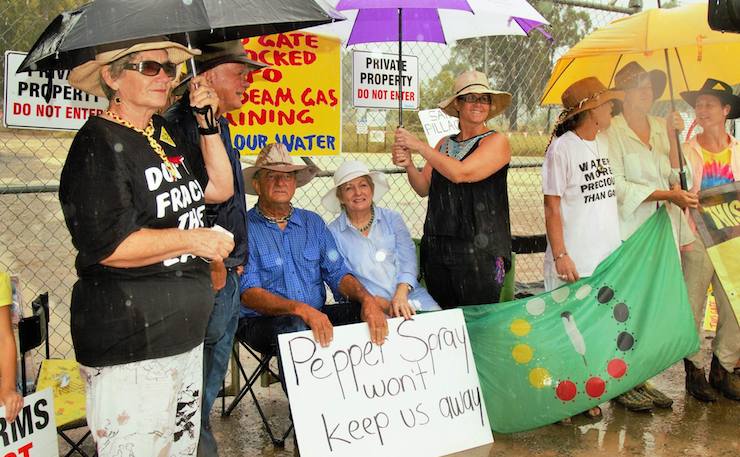 If the reforms are realised, police would also be granted additional search and seizure powers, "to deal with people who intend to 'lock-on' to equipment or structures for the purpose of interfering with a business or undertaking…."
A spokesperson for Minister Roberts said the laws are necessary because "protestors have developed sophisticated tools, such as lock-on devices, which are used with the intention of interfering with the operation of businesses".
"The use of these devices by protestors often requires highly trained police, including Rescue Squad, to remove the protestor from plant or equipment without harm," the spokesperson said.
"Protestors using these devices will cause businesses such as mine and petroleum sites to shut down to ensure that no-one on site is exposed to the additional risks that the protestors have caused.
"The bill improves the ability of police to search and seize such objects before they are used to interfere with or cause damage to a business, and help minimise the likelihood of situations where people's lives, including rescuers, are placed at risk.
"Police will be able to seize objects from people when they have a reasonable suspicion they intend to lock-on or secure themselves to any plant, equipment, structure or vehicle and are likely to create a serious risk to individual or public safety.
"This will allow police to be more proactive in managing risks to public safety caused by protesting activities, and better deploy its resources to respond to other significant matters in NSW."
Again, Blanks characterised this as legal overreach.
"Police powers which are based on their assessment of a person's intention are very easily able to be abused and undoubtedly will be abused in many cases – police shouldn't have those kinds of powers," he said.
And again, asked what evidence there is that protestors have created serious risks to the safety of workers, police or themselves, Roberts' spokesperson said only that "there is documented evidence of this at CSG and other mine sites".
The text of the Baird government's bill is yet to be released, but this component of the reforms has a similar intent to another anti-protest bill in Western Australia where the government is seeking, literally, to criminalise the possession of a "thing".
Other Additional Police Powers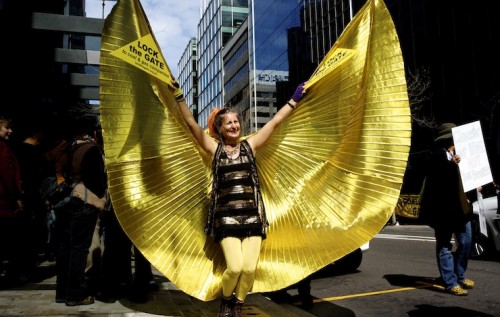 In a media release flagging the reforms earlier today, published by Anthony Roberts' office, a third enhancement of police powers is noted as part of the reform package.
The government will act by "removing limitations" in the legislation governing police powers "to allow police to give directions in public places to prevent obstructions of persons or traffic for a demonstration, protest, procession or organised assembly".
Until the bill is brought before Parliament, it's unclear what exactly that means. However, New Matilda does understand that one – perhaps bizarre – circumstance it could be used in is if a landholder had consented to coal seam gas activities on their land, and subsequently invited protestors onto their land who inhibited the company's lawful business activity.
With the full extent of the bill still uncertain, Blanks said that there's a broader issue within that "police may be seen to be one-sidedly supporting mining interests where there is a legitimate protest going on, which is just going to cause the community to lose confidence in the police".
He said that "the lessons of history are that very often protests which start this way generate a level of community attention to the issue which causes a complete change in community attitudes against the interests of miners and other commercial interests such as forestry".
"Protest has on occasion involved civil disobedience and breaches of laws, and there are very, very many cases where the protestors – even though they've been engaged in illegal activities – have had widespread or overwhelming community support," Blanks said.
The Baird government intends to bring on a bill in the State Parliament tomorrow.

Donate To New Matilda
New Matilda is a small, independent media outlet. We survive through reader contributions, and never losing a lawsuit. If you got something from this article, giving something back helps us to continue speaking truth to power. Every little bit counts.