As the climate warms, the hoary peatlands that blanket Tasmania's west are drying out, and burning up. The cool moist conditions they rely on are disappearing but the peatlands are exacting a small revenge on the species responsible.
While fires have typically burned across peatlands with little affect, Professor David Bowman said that as they dry, the centuries-old organic soils beneath are starting to smoulder.
In turn, public health experts say the smouldering peatlands are letting off nasty smoke, exacerbating the already serious threats posed by bushfires.
According to Prof. Bowman, there's little doubt that human-induced climate change is to blame, and the problem will only grow as temperatures rise.
"A lot of people haven't caught up to how fast climate change is in comparison to the background ecological change," Prof. Bowman said. "What is happening with a warming climate is ecological change is just speeding up, and there's going to be collateral."
"There is damage, and I think these fires are part of that. There have been big fires in the past…but I suspect the trend we're seeing now, of really big fires, and high frequency big fires, often lit by lightning storms, is signalling something different."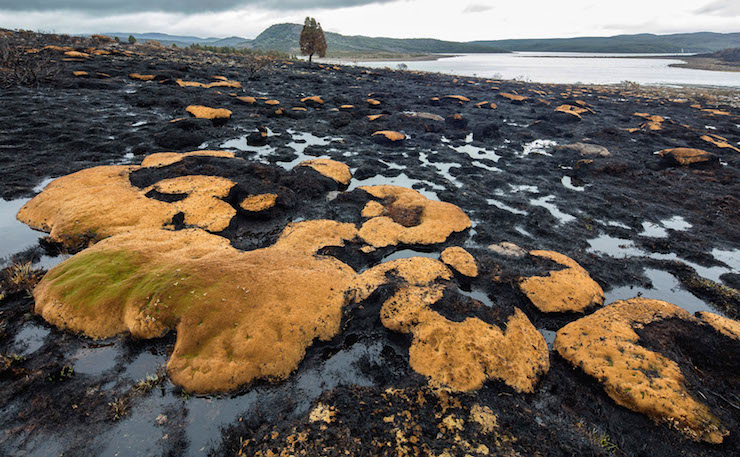 It's unclear how bad the damage is at this stage, but if the organic soils under the peatlands combust, they take centuries to regenerate. During that time, peatland ecosystems also becomes more fire-prone, lessening the peat's chances of regeneration.
Prof. Bowman predicts peat soils will likely be relegated to localised patches along creek lines, and on lower slopes by the end of this century. Outside of these refugia, he expects large tracts of Tasmania's western wilderness, much of it World Heritage Listed, will be replaced by "scrublands on gravelly ridges".
"I actually think at a broader scale – if you believe the climate models, and data – it's pretty simple analysis," Prof. Bowman said.
"That is, that peatlands require a certain climate; the Tasmanian peatlands are right on the margin; and if you warm the world, the peatlands that exist in Tasmania will … be replaced by a different sort of bush that will be more flammable and has a different sort of hydrology."
And out of the ashes of Tasmania's peatlands, a new threat is rising.
"The odd bushfire, you know, every so often, is typical basically anywhere in Australia," said Dr Fay Johnston, a Menzies Institute researcher at the University of Tasmania. "But here we've got vegetation and soil burning that doesn't normally burn. It's more than just smoke from a passing vegetation fire, and that can be bad enough."
"The mixture is more toxic, particularly if you're close to it, and the sheer load of particles, because it's incomplete [and]inefficient combustion, is much greater," Dr Johnston said.
"The smoke mixture has a higher load of toxic ingredients, including suspended particles and products of incomplete combustion – hydrocarbons, volatile organic acids, a whole suite of things – that in their own right are highly irritating."
"With peat fires, you tend to have a bigger exposure and you tend to have an exposure that goes on for longer," she said.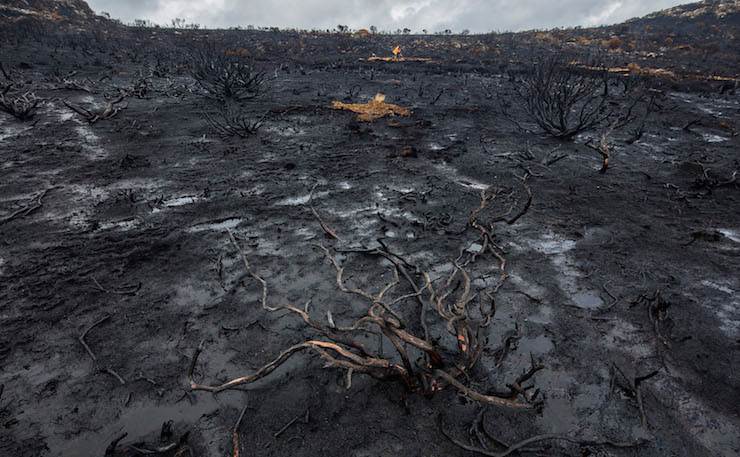 On Friday, when authorities issued their latest stakeholder update, there were still over 70 fires – 30 of them uncontrolled – still burning across Tasmania. Smoke has reached as far as Melbourne, and Dr Johnston said that it's likely around half of Tasmania has been exposed to the damaging haze.
"Everybody in Tasmania, more or less, would've got some smoke, but it was the people who live up in the north west who really got affected. It was quite bad for a good week, and it's fluctuating on and off in some cases since then," she said.
Nicole Anderson is a GP in one of the worse affected towns, Smithton, and she said she "absolutely [has]had a lot of people presenting with complaints".
"It's been a whole range of people, not just the volunteer firefighters. People in the area, both young and old, with a whole range of pre-existing conditions, and also people who don't have pre-existing respiratory and cardiac conditions," she said.
Although widely acknowledged to be a serious threat to public health, the impact of bushfires is difficult to quantify because effects are highly uneven. If a person is generally fit and healthy, their bodies are likely to recover.
The elderly, however, and those with pre-existing conditions like asthma, or heart or lung disease, are at higher risk.
"Even seemingly small increases in particulate pollution could be the thing that precipitates a heart attack, or worsens an existing condition," Dr Johnston said.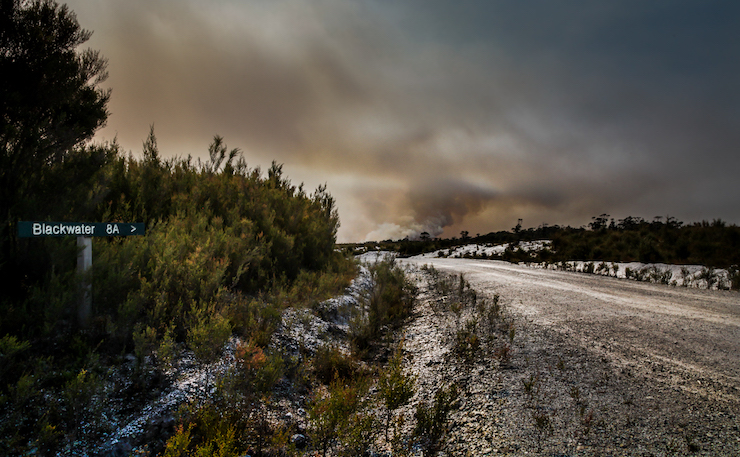 In 2012 the World Health Organisation attributed 3.7 million premature deaths to ambient air pollution, and Dr Johnston said there's a well documented statistical correlation between bushfires, increases in certain health problems, and heightened death rates.
These results typically only become visible when large populations are affected, and studied, but academic works around more extreme events overseas, often involving peat, have attributed thousands of deaths indirectly to wildfires.
Closer to home, a recent paper published by Dr Johnston points to an Australian Environment Protection Association study on the 2001 Sydney fires. Although no deaths were directly attributed to them, the study found fires around Sydney would have been responsible for 16 deaths, and at least 30 hospital admissions for cardiovascular and respiratory conditions.
"I can't see how [the Tasmanian fires]won't have a significant impact," Dr Anderson said. "And that is not necessarily because of the amount of people floating around, but the duration of it.
"The north west of Tasmania has been shown to have the highest rate of lung cancer and cardio vascular disease in the state….
"We now have another influencing factor which has been shown to increase the risk of lung cancers and cardio vascular complaints – I'm going to expect an impact."
It's clear already that pollution at Smithton has exceeded safe levels.
Grant Williamson, a Postdoctoral Fellow at the University of Tasmania who studies the human health impacts of fire, has started compiling data.
At Smithton, damaging fine particle pollution has reached levels more than 18 times the World Health Organisation standard for 24-hour periods of high exposure.
At the major population centre of Launceston, the 24-hour high-exposure standard has been breached by a factor of 10, and even Hobart's pollution levels have also rocketed above the WHO standard.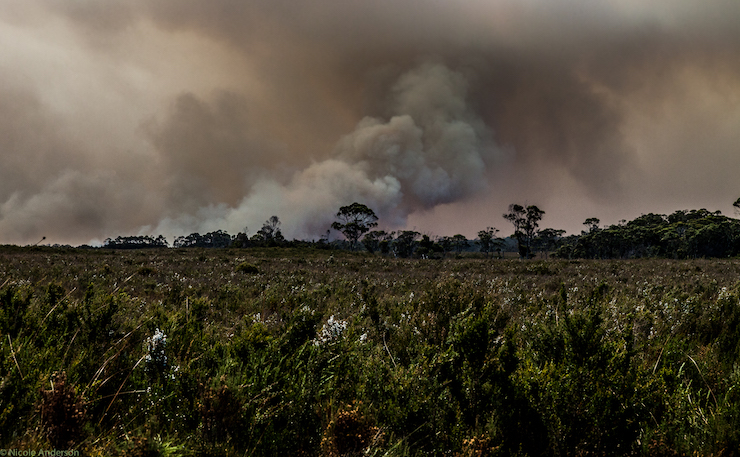 Dr Johnston said that when the fires pass, and more complete data becomes available, she "would expect to see increases in ambulance call-outs" for breathing problems, heart disease, and possibly heart attacks as well.
"It's not cyanide," she said, but it is "an important public health hazard that's becoming more common and at times more severe".
For some of Tasmania's iconic ecosystems – as Karl Mathiesen has written in Guardian Australia – fire is akin to cyanide. Ancient trees, some over 1,000 years old, are unlikely to be seen again in an age of climate change.
And for the peatlands more broadly, which traverse a range of ecosystems across western Tasmania, the future is uncertain, but almost certainly grim.
How grim depends on how much the climate warms, which is directly linked to the growing threat of bushfires, and the hazards they pose to Tasmanians' health.
As Prof. Bowman put it: "At the moment, with people in cities, we're still very insulated from this, but these impacts are coming our way."

Donate To New Matilda
New Matilda is a small, independent media outlet. We survive through reader contributions, and never losing a lawsuit. If you got something from this article, giving something back helps us to continue speaking truth to power. Every little bit counts.