OPINION: Every year, Australia celebrates the slaughter of the continent's First Peoples. Liam McLoughlin provides some background, and a guide to the best places to completely ignore the historical realities of our past. Plus five events that provide a more accurate perspective. 
John Pilger calls it "one of the saddest days in human history".
On the 26th January 1788, The First Fleet, led by Captain Arthur Phillip and including 1,000 officials, marines, dependents and convicts, landed in Botany Bay. The British declared Australia terra nullius, or land belonging to no-one, and dispossessed hundreds of thousands of Indigenous Australians.
Within three years of invasion, the introduction of small pox by the British had decimated 50-90 per cent of the Aboriginal population of Sydney.
While "settlement" was the preferred term of historical textbooks of 1900-1970 and contemporary politicians, the terms "invasion", "occupation" and "warfare" were widely used in letters, diary entries, and newspaper articles of the 19th century.
The 1788 invasion began a 150-year war with Aboriginal people. During this war the invaders were guilty of many massacres.
In 1804, 50 Indigenous people were murdered at Risdon Cove in Tasmania in response to Aboriginal resistance.
In January 1838, 60-70 Aboriginal people were killed at Vinegar hill in north central NSW, and in July of the same year in Myall Creek, NSW, 28 Aboriginal men, women, and children were slaughtered. While eventually seven stockmen were hanged for murder, the public outcry against this decision made later prosecutions less likely.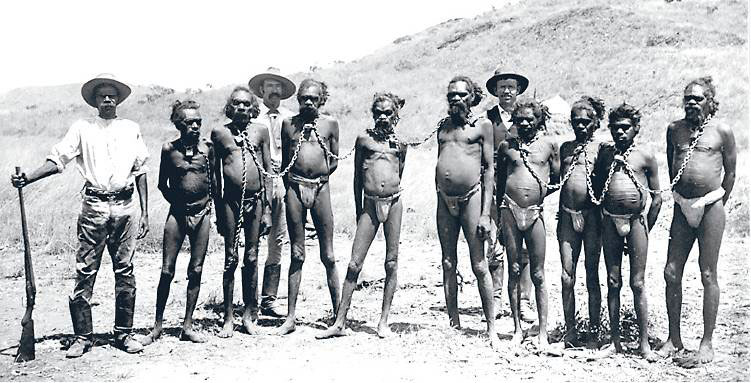 As late as 1928, between 31 and 110 Indigenous men, women and children were killed near Coniston, NT, in response to the death of a dingo hunter.
In Tasmania, between 1824 and 1831, the Aboriginal population dropped from 1,500 to 350. For many historians who have studied the statements and actions of the Tasmanian authorities, this was a clear-cut case of genocide.
HOUSE AD – NEW MATILDA IS A SMALL, INDEPENDENT MEDIA OUTLET. MOST OF OUR STAFF AND WRITERS ARE UNPAID. IF YOU WANT TO HELP SUPPORT INDEPENDENT MEDIA, YOU CAN DONATE A COUPLE OF DOLLARS TO OUR POZIBLE CAMPAIGN HERE WHICH IS AIMING TO RAISE FUNDS TO PAY OUR CONTRIBUTOR'S, INCLUDING THE AUTHOR OF THIS STORY, OR SUBSCRIBE TO NEW MATILDA HERE. 
Through violence and disease the Aboriginal population was reduced from about 750,000 in 1788 to about 60,000 in 1920.
Here are the top five most fun ways Aussies can mourn the day which set off this concatenation of atrocities:
Alternatively you can actually show respect to the 3 per cent of Australians who are Indigenous at the following events:
Until Australia Day becomes Treaty Day, January 26th is a terrible date for a party.

Donate To New Matilda
New Matilda is a small, independent media outlet. We survive through reader contributions, and never losing a lawsuit. If you got something from this article, giving something back helps us to continue speaking truth to power. Every little bit counts.