On his way back from the COP21 talks in Paris, New Matilda's Thom Mitchell files from Spain on the ongoing fight by Catalans for independence.
The Spanish state could be fractured within two years by a new regional government in Catalonia, in Spain's northeast, which is stepping up a years-long campaign to cut ties with Spain and form its own nation, beyond the authority of Madrid.
Late on Sunday the Catalan Parliament sat in the region's capital, Barcelona, and elected Carles Puigdemont as the new Catalonian President. The region of more than 7.5 million currently falls under the power of the Spanish state and constitution, as one of the 17 'autonomous communities' that make up Spain. But Puigdemont's government will attempt to cut ties with Madrid within 18 months.
The struggle for Catalan independence has been raging for years, particularly since mass protests brought more than a million people onto Barcelona's streets in 2010 after the Spanish Constitutional Court curtailed the regional government's powers. Since then, it has garnered staunch mainstream political support.
Regional elections in September last year brought a majority of separatist politicians to power, and by November the parliament had voted up a resolution to begin the process of setting up an independent state.
But Catalans had been expecting to return to the polls in the opening months of this year, because the left-wing CUP [Popular Unity Candidacy] party was refusing to back the incumbent President, Artur Mas. In a shock move on Saturday, though, Mas announced he would step aside to break the deadlock and pave the way to independence.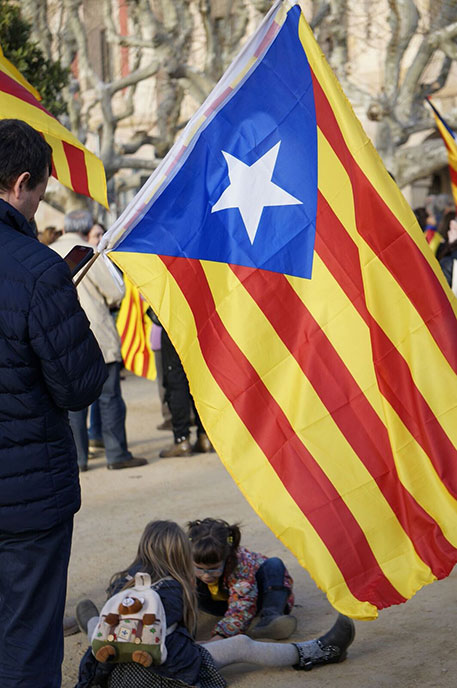 When the Parliament met to officially install him as President late on Sunday, Puigedemont said the government would immediately set about establishing state structures like a tax agency and social security network.
In effect, he will spearhead the execution of a program set out in the November resolution, which specifically states that the Catalan government will not be bound by the Spanish constitutional court or the institutions of the Spanish government.
His elevation to President was greeted with enthusiasm by a large crowd – reaching up to 1,000 people at one point – that assembled throughout the afternoon outside the Catalan Parliament.
"We feel we are not Spanish, we are from Catalonia; we believe we cannot be forced to be Spanish," said Joel Castañe, one of the pro-separatists who had gathered to mark the occasion.
The International Committee Chair for the grassroots pro-independence Catalan National Assembly, Liz Castro told New Matilda "there's a feeling that they can't continue to be Catalan within Spain, that they will basically disappear because there's such pressure against the language, the culture, the way of being; that there's no respect for that".
There's also deep concern about the way that taxes are collected and distributed: "We feel that Catalonia has a lot of economic power, and that Spain is taking advantage of them, and we are paying a lot of taxes that are given to other parts of the country," Castañe said.
According to Castro, who is also journalist and publisher, and contributed some translations for this story, there's an ongoing deficit between how much taxpayers in Catalonia contribute to central government coffers, and the quality of the services they receive even compared to other parts of Spain, which contribute less.
She said that Catalans make up 16 per cent of the population, contribute around 20 per cent of Spanish GDP, but receive only 9 per cent of the infrastructure spend. The Spanish government is widely seen as duplicitous and unresponsive to efforts to negotiate a fairer deal, she added.
The central government has been staunch in its refusal to entertain Catalonian's cries for independence, which have seen crowds of more than a million take to Barcelona's streets multiple times since 2010. Late Sunday the acting President of Spain, Mariano Rajoy, issued some steely words of warning.
"I'm not going to let anyone assign themselves unlimited powers outside the rule of law and democracy," he said. "We have more tools than ever to defend our unity. "The principle political powers agree on this and when our social covenant is put in question, we democrats have known how to put aside our differences to defend the unity of the Nation."
But things have become far more complicated for Rajoy and his People's Party (PP) since national elections were held on December 20 last year, and the traditional two party system which had dominated since Spain's 'transition to democracy' in the 1980s has effectively crumbled.
In a huge shake up, left-wing party Podemos and the centre-right Ciudadanos ran away with 35 per cent of the vote, and it remains incredibly unclear how, or indeed if, any workable coalition might emerge to form a new central government.
Regardless, the major political forces in Madrid are united against Catalonia's independence movement.
Podemos is the most sympathetic, but its support extends only to allowing a referendum on secession, so developments in Barcelona will likely encourage the formation of a coalition designed to block the devoutly separatist Catalan Parliament.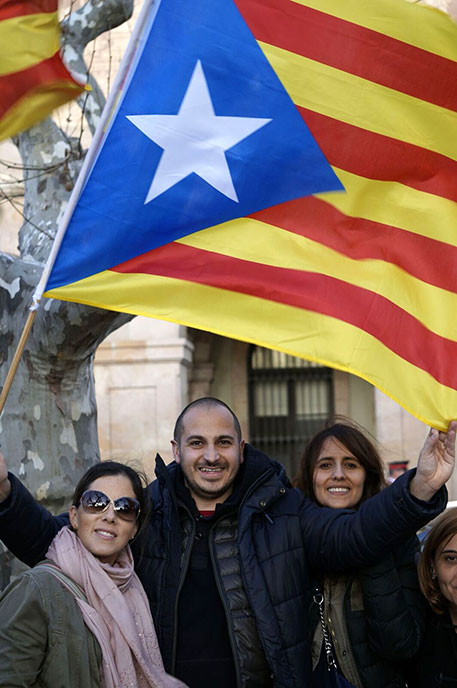 Even Podemos' commitment to allowing a referendum is treated with scepticism by separatists, made cynical by years of concerted hostility to their cause from Madrid, most notably when the People's Party appealed to the Constitutional Court to block a referendum.
As a result, there's no exact figure on how many Catalans want to cut ties with Spain, but the 2015 election was widely seen as a referendum of sorts (despite the many other factors influencing voting) on whether Catalonia should remain Spanish.
Castro said that of the nearly 75 per cent of voters who turned out at the September regional elections, parties which supported separation received 47.8 per cent of the vote, while those campaigning against came in with 39 per cent. There were also 11 per cent who voted for parties which had an unclear position, she said.
At the demonstration outside Parliament on Sunday Carol Torres, one of a handful of pro-unity protestors, said that the vocal separatists "are a minority, not even 50 per cent of the population".
"I feel I am Catalan, Spanish and European… I refuse this process because these people use this process to divide the citizens and not to prioritise the most important things like health and education," she said.
On the other side of a thin police line, separatist Aleix Feliu told New Matilda that "the first thing we have to do is a legal referendum to know if it's real that most of the people here want independence".
"I think that we have to negotiate with the European Union, with Spain, but first of all Spain has to realise that there is a majority of people that want independence," he said.
"If that's true and we win the referendum, I think that that is the first step to starting to negotiate…."
In Parliament on Sunday evening, President Puigdemont said Catalonia will "keep [the]doors open to negotiation with the Spanish state, the European Union and the world".
At this stage it's unclear what form those negotiations might take, particularly if Catalonia eventually starts breaching Spanish law and defying the central government's authority. Separatist Xavier Borras said that the independence movement would be willing to take that path if need be.
"Democracy is based in what people think and what they want at the moment," he said, "and if they think they have to break the law to get the things that people want, and if people want independence, then we have to break the law to get it."

Donate To New Matilda
New Matilda is a small, independent media outlet. We survive through reader contributions, and never losing a lawsuit. If you got something from this article, giving something back helps us to continue speaking truth to power. Every little bit counts.