The final report of the Royal Commission into Trade Union Governance and Corruption — totalling six volumes, thousands of pages and 79 recommendations — has garnered high praise from both conservative politicians and pundits. Yet its politically laden findings reek of election year realpolitik and should be taken with a grain of salt, writes Dr Dustin Halse from the National Tertiary Education Union.
Upon coming to power in September 2013 the Tony Abbott led government announced it would establish a Royal Commission to 'shine a spotlight' onto the so-called 'dark corners' of the trade union movement. The Commission would expose the criminality and impropriety that allegedly blights 'militant' trade unions. Abbott became the third successive Liberal prime minister to launch a trade union inquiry — a pattern has certainly emerged.
Led by septuagenarian and former High Court Judge Dyson Heydon, the Commission, which officially commenced proceedings in February 2014, focused its attention on the activities of five powerful trade unions. It called more than 500 witnesses in 189 hearing days and cost the public nearly $50 million (a figure that will likely rise).
More than a million documents were collected and multiple task forces set up around the states and territories (dubbed 'Heracles' in Victoria)* to assist the commission. Looking back 30 years, the inquisition, was nothing if not extensive!
Heydon's final report likened unionists to 'louts, thugs, bullies, thieves, perjurers, those who threaten violence, errant fiduciaries and organisers of boycotts'. Forty-eight alleged criminal matters together with 43 civil matters have been referred to a range of authorities for further investigation.
Apparently this is just the 'tip of an enormous iceberg' of systematic union corruption floating about.
Needless to say, the Commission did uncover evidence of theft, bribery, intimidation and dubious union arrangements with employers that may have left workers ripped off.
Senior officials at the New South Wales branch of the National Union of Workers (NUW) believed it appropriate to spend union money on everything from sex toys to tattoos.
Former low level Construction, Forestry, Mining and Electrical Union (CFMEU) organiser Halafihi 'Fihi' Kivalu is alleged to have received at least $60,000 of kickbacks from subcontractor Elias Taleb for preferential treatment.
Cesar Melham, the former secretary of the Victorian branch of the Australian Workers Union, it seems issued false invoices to a number of companies and engaged in unethical fundraising conduct.
And of course then there is the sheer absurdity and corruption that infected the upper echelon of the Health Services Union.
To be clear, the utter betrayal of rank and file union members by corrupt officials is absolutely abhorrent.
However, many of the Royal Commission's findings and referrals are particularly weak and would not meet the evidentiary test in a court of law. Some rely on clouded recollections of certain individuals who have an interest in curbing the influence of unions — the alleged self-inflicted wounds of Andrew Zaf are a case in point. Others were simply explored to publicly trash the image of labour movement identities.
Perhaps the starkest example of the Commission's political expediency is found in the case of CFMEU organiser and rugby league legend John Lomax.
In October 2015, the Australian Capital Territory Crown Prosecutor was forced to embarrassingly drop charges of blackmail pursued on behalf of the Commission against Lomax as 'no evidence' could be presented.
Lomax was seeking better pay and conditions for low paid workers through an Enterprise Bargaining Agreement with employer Nel Trading Pty Ltd — which according to the AFP charge sheet constituted 'an unwarranted demand with menace… with the intention of causing a loss'.
Bargaining for $26 dollars an hour was equated with blackmail. It should be noted that the company wanted to pay its employees $17 dollars an hour (below the award rate).
Political expediency was also writ large in the failed attempt to bring down Bill Shorten and Julia Gillard. Both were hauled over the coals for days before being ultimately cleared of committing any act of criminality.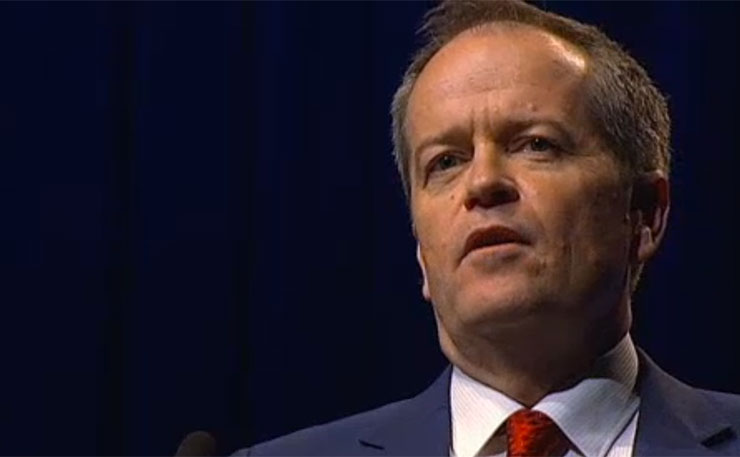 In one extraordinary interjection, Commissioner Heydon publicly questioned Shorten's credibility as a witness, yet offered no evidence to underpin his contention. Neither Gillard nor Shorten received any form of an apology.
And then there is Dyson Heydon agreeing to join the Liberal Party fundraising circuit — it's so obvious, let's just move on.
A great number of the Commission's 79 recommendations also fail to place the alleged improprieties and malpractices of particular individuals in the context of Australia's vast union movement.
It is accepted that stricter auditing processes and further checks to stamp out conflicts of interest that undermine the interests of members are sensible and should be explored in conjunction with the Australian Council of Trade Unions. As should further provisions to protect whistleblowers who shed light on union corruption.
But how restricting the access of health and safety officers to job sites is in the best interests of workers is perplexing.
During proceedings, the Commission's counsel assisting, Jeremy Stoljar QC, failed to mention that more that 150 construction workers have died on the job in the previous five years. That a colleague dies on the job every 10 days in the construction industry might, in part, explain the militancy of the CFMEU.
It is simply appalling that the occupational death rate in Australia across all industries is among the highest in the developed world.
Another especially disturbing recommendation would allow a new union watchdog to apply to the federal court to disqualify union officials for breaches of industrial law if they have 'failed to take reasonable steps to prevent the contravention'.
Union members should be allowed to democratically determine who runs their organisations. Individuals should not be disqualified from holding office for minor breaches of industrial law, as this would only de-democratise unions. Such a measure, if enacted, would impose a higher standard individual responsibility than that which is applied to corporate directors and executives — to say nothing of our federal politicians who are permitted to write off just about any fiscal contravention.
Australian unions operate in a regulatory environment that is among the strictest in the developed world. Continental Europe retains strong principles that the state should refrain from overly interfering in the management of democratic non-trading associations.
Of course in Australia such ideals are less pervasive as a swathe of commentators continue to argue that unions must be regulated as businesses are under the Corporations Act.
However, again this is a politically motivated or vacuous proposition as unions are fundamentally different from corporations. They do not operate for profit and their potential to financially harm members is limited. Additionally, unions do not have shareholders who can be exposed to financial ruin from a mismanaged or underperforming investment.
Where there is competition and incentive for individuals to take shortcuts it is inevitable that at some point corruption will be uncovered. Parliaments, corporations, religious organisations, sporting clubs and yes, trade unions, have all had to deal with instances of financial malpractice.
Nonetheless, in a movement that has 1.8 million members, more than 5,000 employees, and tens of thousands of officials and delegates, the Commission – a non-judicial arm of the executive government – has only unmasked a few dozen examples of potential corruption.
And as we know from examining the outcomes of previous trades union inquiries, most of the allegations will not result in convictions of any sort.
In releasing the Commission's final report Prime Minister Malcolm Turnbull commented the 'union movement will be stronger' if the imbedded recommendations are adopted.
Yet the Commission's real purpose has been to provide the Coalition government with political cover so that it can undermine the ability of unions to organise.
The whiff of election year realpolitik is heavy.
* Correction: This article originally reported that there was a 50-strong AFP taskforce set up to investigate matters out of the TURC. The AFP does not have a 50-strong taskforce – instead, police forces each state and territory have set up their own task forces to deal with issues as they arise.

Donate To New Matilda
New Matilda is a small, independent media outlet. We survive through reader contributions, and never losing a lawsuit. If you got something from this article, giving something back helps us to continue speaking truth to power. Every little bit counts.