The case that an American militia led by the 'Bundy boys' are terrorists – not patriots – is overwhelming, argues Chris Graham.
Overnight, up to 150 armed militia men have taken over a federal government compound in the north west of the United States, and are pledging to hold the facility for years unless their political demands are met.
In other news, here's how Fox News describes the terrorist attack: "Controversial Nevada ranchers teamed up with a militia Saturday to occupy a national wildlife refuge building in Oregon."
Make no mistake – the siege at the Malheur National Wildlife Refuge is a terrorist attack. It just happens to have been perpetrated by white American patriots… so media aren't calling it that. Yet.
The facts, however, are undeniable. Their goals are political, and their methods are the same.
JOIN THE CONVERSATION ON FACEBOOK >>
One of the brainchilds of the assault – and I use the term 'brainchild' loosely – is Cliven Bundy, a racist old American rancher whose been in dispute with the US government for years over his right to graze his cattle on publicly-owned land.
Bundy and others are using the jailing of fellow ranchers Dwight and Stephen Hammond for five years, for illegally setting fires that spread to public land, to make their 'final stand'.
The Hammonds have already served three months and one year and one day respectively, and admitted their offences. But a successful federal appeal against the leniency of the sentences mean the Hammond's must present themselves to a federal prison on Monday to serve the additional five years.
Cliven Bundy and his mob are determined to stop that happening… well, sort of. What they're actually more interested in is seizing land from the control of the US government, and then ruling it themselves, with a "people's militia" where everyone can "feel safe"… surrounded by wide-eyed gun nuts who, I'm not kidding, turned up to the siege looking like they'd just ambled off the set of a bad Clint Eastwood western.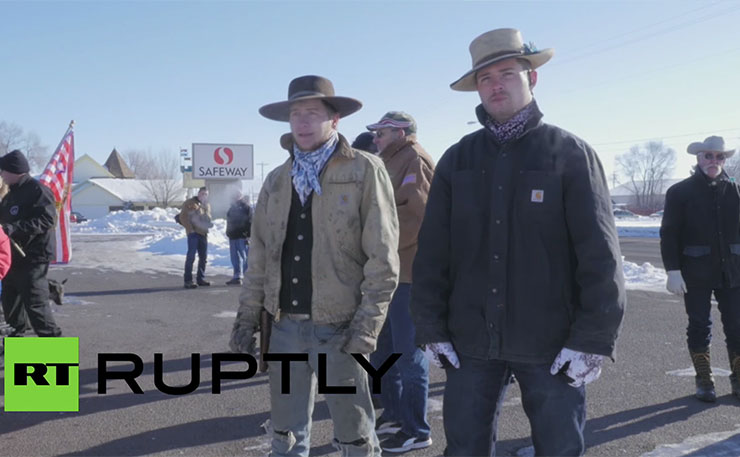 Like good terrorists everywhere, Bundy and his family are using social media to urge others to join their fight, with the elder statesman of the family posting a video on his Facebook page urging militia from around the nation to get to Oregon and join the fight by providing "back up".
"**ALL PATRIOTS ITS TIME TO STAND UP NOT STAND DOWN!!! WE NEED YOUR HELP!!! COME PREPARED" wrote Bundy, in a message to go with his video.
In case you missed the obvious link, Islamic State also uses social media to urge jihadists around the world to join their fight.
Bundy's son Ammon, who is inside the government compound, has also released a series of videos promoting their cause. In one, he's surrounded by armed men in military fatigues… which is how every single terrorist video always starts.
Here's Ammon explaining his actions: "We have basically taken over the Malheur National Wildlife Refuge. And this will become a base place for patriots from all over the country to come and to be housed here and live here. And we're planning on staying here for several years."
Islamic State is trying to do exactly the same thing, by taking over lands owned by someone else, to create a 'safe haven' (a caliphate) where Muslims can live free of tyranny from the west (read 'American government').
Ammon's brother, Ryan, is conducting phone interviews from inside the compound. His demands include an end to the "tyranny" of the US Government by relinquishing control of the Malheur National Forest.
Man Honis, the lunatic who perpetrated the Sydney siege in 2014, also used media to outline a series of demands from inside the Lindt Cafe.
Another of the patriot terrorists is a man named Blane Cooper, a former US soldier who has long railed against governments, and for patriot-based militias.
Cooper appears in one of the videos with Ammon Bundy, and announces: "It doesn't have to stop here (at the wildlife refuge). This could be a hope that spreads through the whole country."
Which sounds suspiciously like every video ever put out by every terrorist organisation, hoping their particular brand of fanaticism will take hold.
Another of the terrorists, Jon Ritzheimer, posted a video to Youtube shortly before joining the raid. The first few minutes are a farewell to his family, followed by almost 10 minutes of ranting about a tyrannical government.
Anders Breivik – the Norwegian far-right terrorist posted a video on Youtube promoting his manifesto, shortly before massacring 77 people, to stop governments allowing the 'Islamisation' of Europe.
None of these men, of course, consider themselves terrorists. But then Breivik, Honis, Islamic State et al don't consider themselves terrorists either. They're 'freedom fighters'… who just happen to use terrorist tactics to try and get what they want.
The only difference here is that no blood has yet been shed. But that seems like an unsustainable proposition. The men involved in this siege are zealots of the tallest order. They are unlikely to go quietly.
The last time Bundy and his band of patriot terrorists forced a showdown with government officials, it ended peacefully (well, almost – two of Bundy's supporters subsequently drove to Florida and randomly shot dead two police officers, because, of course, that's how you start a revolution) but only after the government officials withdrew at the threat of bloodshed.
It's less likely the Malheur siege will end the same way. Previously, Bundy and his crew were trying to prevent his cattle from being removed from public lands. But this time, his mobsters have taken control of a government facility.
It's no coincidence, of course, that that facility happens to be a national wildlife refuge.
What this dispute is actually about is environmentalism – the patriots believe in their God given right (via the US Constitution) to treat the environment any way they see fit, and to not have to adhere to government regulations which are designed to protect not just the environment, but everyone's interests.
Here's Ammon Bundy again, in one of his manifesto videos, explaining their real motivation (note the plight of the soon-to-be jailed Hammonds doesn't get a mention): "While we're here, what we're going to be doing is freeing these lands up, and getting the ranchers back to ranching, getting the miners back to mining, getting the loggers back to logging, where they can do it under the protection of the people and not be afraid of this tyranny that's been upon them. What will happen is Harney Country will begin to thrive again. At one time they were the wealthiest county in the state, now they're the poorest. We will reverse that in just a few years by freeing up their land and their resources. We're doing this so the people can have the land and their resources back where they belong, and it's really that simple."
Which is precisely what Islamic State is promising. Or in this case, the Bundy's are pledging to ensure that industries which damage a national estate are able to operate freely, for the enrichment of (almost exclusively) white Americans.
It's all a pipe dream, of course. The ranchers, the militias, and the Cliven and Ammon Bundys of the world have relatively little support in the US. While many Americans can sympathise with the Hammonds – five years in jail does seem excessive for two burning off operations that got out of control – seizing a government compound and pointing automatic weapons at peace officials crosses a serious line.
In a nation with a changing racial mix, many Americans are tiring of the wild west mentality of predominantly white patriots, Tea Partiers, and conservatives. There's a growing consciousness about the inherent danger of this movement, and a growing feeling they need to be pulled into line.
And more and more Americans are making the obvious comparison: How would the government respond if 150 black Americans armed themselves to the teeth and stormed a federal government building?
Of course, the American media aren't making that comparison, at least not yet. By and large, the American media still doesn't yet have the courage to call this latest outrage by the patriot militias what it is.
As Americans themselves would say, it's terrorism. Period.
New Matilda is an independent Australia media outlet. We survive primarily on reader subscriptions. You can help keep us alive by subscribing here. Subs start at just $6 per month.

Donate To New Matilda
New Matilda is a small, independent media outlet. We survive through reader contributions, and never losing a lawsuit. If you got something from this article, giving something back helps us to continue speaking truth to power. Every little bit counts.