The new climate framework that's been negotiated in Paris relies on ambition at the national level, and a burgeoning civil disobedience movement is planning to push for it on a global level. Thom Mitchell reports from Paris.
Activists have drawn a 'red line' under a new global climate regime decided in Paris overnight, arguing it's a compact inked in the interests of big polluters, rich countries, and without regard for scientific reality.
Crowds approaching 10,000 defied a French ban on political gatherings to march from the Arc de Triomphe to the Eiffel Tower, in a prelude to a campaign of civil disobedience which they say will continue until concrete steps are taken to solve the climate crisis.
Negotiators who've spent the last two weeks at a sprawling 18-hectare conference centre at Le Bourget, on Paris' outer fringe, claimed on Saturday that they had cleared the way for a clean energy future free of fossil fuels.
They received qualified but enthusiastic support from major environmental groups, which framed it as a good deal, and the best that could realistically have been hoped for in the context of international negotiations involving nearly 200 countries.
But Naomi Klein, a Canadian activist, author, and board member of climate advocacy group 350.org, echoed the sentiments of thousands assembled in the shadow of the Eiffel tower when she told them the "agreement, as we knew it would, puts us on a course towards disastrous levels of warming".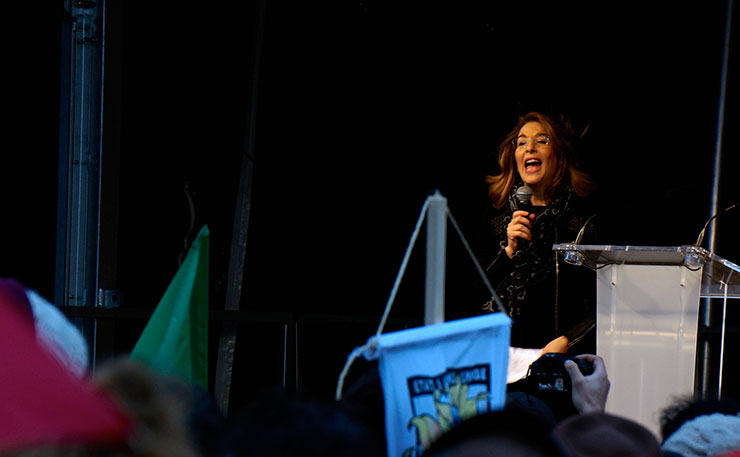 "We heard our leaders say many of the right things over the last two weeks in beautiful speeches," Klein said, "and yet despite their words, they remain trapped in a broken system and a crashing worldview based on dominance of people and the planet".
"That world view simply does not allow them to align their words with their actions. And so the gap is immense between the rhetoric and the goal of safety, and the reality of the epic danger they are allowing to unfold."
Earlier, as demonstrators occupied a bridge leading up to the famous French monument, one organiser had declared the text "a big f*ck you from Le Bourget". "We say f*ck you too," he said, to rapturous applause from the crowd.
As it became clear in the afternoon what the final form of the text would be, another organiser noted "they have dropped any reference [in the main text]to human rights, to Indigenous rights; they have locked us in to a three degree world".
Demonstrators had endorsed calls for a lower threshold for temperature rise of limiting warming to 1.5 degrees, chanting the call for "1.5 to stay alive" which was issued most strongly at the conference by Pacific Island leaders and other climate-vulnerable nations.
Protestor Gwendolyn Grey told New Matilda that the three degree temperature rise which current national commitments would add up to is a clear failure.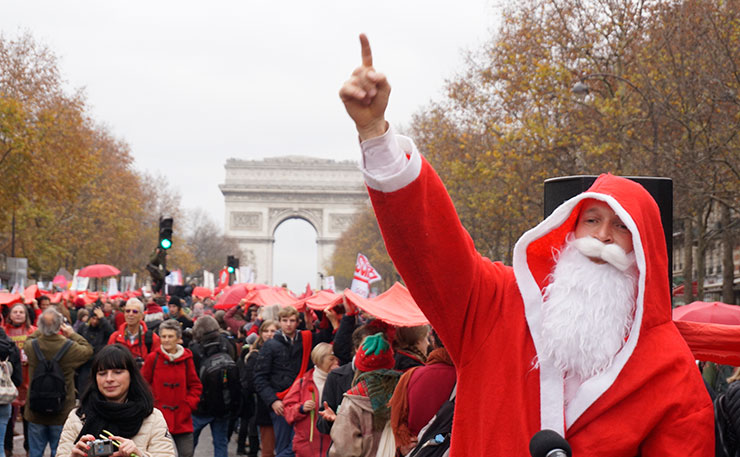 "For me it's like, just set your house on fire and get ahead of the game," the seasoned Canadian climate campaigner said.
"If you're young, you don't realise a decade is like nothing," she said. "It's like the snap of a finger. It's like having ten dollars. It's not much money, and it's not much time. We're on borrowed time, and it behooves us to start acting now like all the people here today."
Another activist, Sam Castro, from Australia, said "people are understandably angry". "This is our future and there's no more time to mess around with this," she said. "This falls back on the leaders of the world which have been unable to reach an agreement which is actually stop our Pacific brothers and sisters from drowning.
"It's their fault that we're all out on the streets. So if it's an inconvenience, we're sorry, but the people are pretty determined to express themselves."
The deal which was done in Paris sets out a pathway towards closing the gap between the two degree target, and the at least 2.7 degrees current plans would lock in, and it includes an aspirational reference to staying below 1.5 degrees warming.
But the 'bottom-up' approach the United Nations process took, asking individual nations submit increasingly ambitious climate change plans over time, offers no concrete assurance that these targets will be met.
The plans that countries do put forward are not legally binding in terms of their implementation, but environmental campaigners elsewhere have welcomed the "balanced" plan which includes periodic reviews that will "inform" governments with a view to "updating and enhancing" their efforts.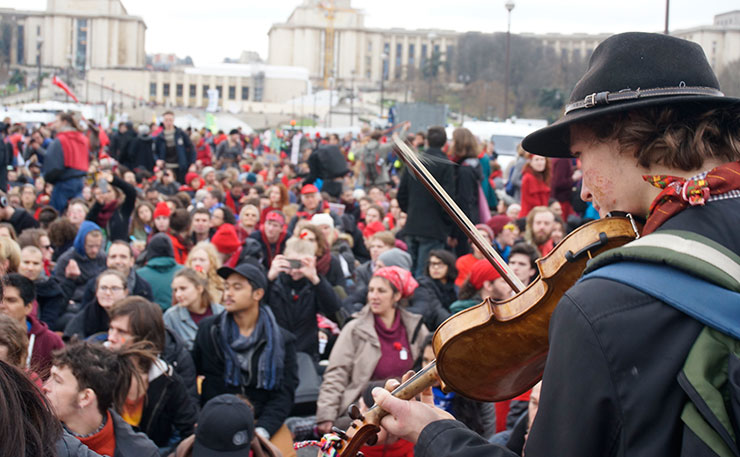 The activists who descended on the Eiffel Tower yesterday are determined to ensure that the large-scale expression of urgency they represent also informs national level policies.
"It even says it in the text itself," Klein said. "What it says is 'we note with concern' that the commitments that governments have brought to not bring us to 2 degrees celsius, or 1.5 deg celsius.
"We note this as well, but not just with concern; we note this with alarm, and we say that our leaders have shown themselves willing to set our world on fire, and we will not let them," she said.
"And that our mood today, here in front of the Eiffel Tower, earlier at the Red Lines event, is not one of despair but rather our mood is one of clarifying purpose and commitment.
"We knew that those were not the real leaders: We knew that the leaders were in the streets, that the leaders were in the fields, that this city is filled with climate heroes."
"It's our responsibility to keep [fossil fuels]in the ground" was one of the most common refrains of the demonstration, but there was also widespread concern that the climate regime which has been codified in Paris does not address many of the systematic root causes which gave rise to the climate crisis in the first place.
"System change, not climate change" has been an overarching message at political demonstrations in Paris during the course of the two-week climate negotiations. Yesterday, demonstrators diverted occasionally from climate-related chants, launching instead into refrains like "say it loud, say it clear, refugees are welcome here".
Again, Klein captured the mood when she said "the gap is immense between the expressions of solidarity with the most vulnerable, and the reality of those leaders consistently putting the interests of the rich and the powerful before those interests of the vulnerable, and indeed all of humanity".
"I did a search," she said. "I did a word search on the final text, and the words 'fossil fuels' do not appear once in the text. What that means is that our leaders have none of the courage it takes to stand up to those corporate interests that are responsible for this crisis.
"They can't even say the words. So it is up to us to do what they so clearly refuse to do, which is stand up to the polluters and make them pay, and we will do this everywhere, using every tool that we can," she said.
"We will do it in the streets with protests like this, and we will do it in the face of every single polluting project that they decide to try to roll out."
A major program of civil disobedience is planned to take place across 12 countries between May 7 and 13 next year, 350.org announced at the Paris climate summit.

Donate To New Matilda
New Matilda is a small, independent media outlet. We survive through reader contributions, and never losing a lawsuit. If you got something from this article, giving something back helps us to continue speaking truth to power. Every little bit counts.