Negotiators are wringing their hands – and quite possibly each others' necks – in what's tipped to be the last night of closed-door sessions before the post-2020 regime for international climate action emerges. Thom Mitchell reports.
A deal looks imminent at the Paris climate change summit, with consensus around a draft text that was published late Thursday said to be solidifying as negotiations continue through Friday evening and into Saturday morning, when it's hoped a final global agreement will be inked.
The document released Thursday has been widely welcomed for its balance, but there is also a sizeable cabal of civil society organisations, and realistically individual nations, who are unenthused for a variety of reasons.
But there's little doubt now that the Paris climate talks, which have been four years in the making, will produce some sort of global compact with an element of legal force.
Whether that will actually happen by the morning remains to be seen, and a number of key sticking points must be resolved in what is hoped will be the final leg of marathon closed-door sessions which have characterised the two week summit's final days.
Since New Matilda's last report, a number of major hurdles have been jumped. However the direction of travel has been towards a weaker deal, although large segments of the environment movement have welcomed the draft agreement as the best that could have been hoped for.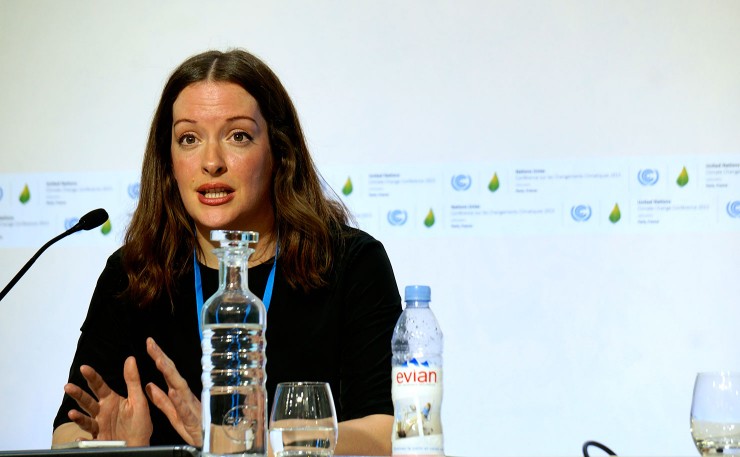 "To some extent it's balanced, I wouldn't necessarily say it's fair," said Liz Gallagher from the environment group E3G. "It's the fairest we can get with the political space we have at this time," she said. In contrast, Friends of the Earth International's Asad Rehman rejected the deal as "a great escape for the polluters, and a poison chalice for the poor".
Since Wednesday afternoon, key pointers towards a low carbon future have been culled.
Perhaps chief amongst the casualties is an option for an ultimate global warming 'guardrail' of keeping the rise in average temperatures below 1.5 degrees celsius, which has been replaced instead with an aspirational statement insisting parties should "pursue efforts to limit the temperature increase to 1.5 °C".
As things stand the goal of keeping temperature rise below two degrees celsius, which emerged from talks in Copenhagen half a decade ago, remains the ultimate objective of the climate compact being drawn up in Paris.
The 'collective long term goal' which underpins this target has also lost some lustre, with a more ambitious and objective option for percentage reductions in global greenhouse gas emissions replaced with the wooly aim of achieving "greenhouse gas emissions neutrality in the second half of the century".
There is no peak date associated with the latter, and most current goal, which in combination with the distant date of 2100 waters down the signal the deal will send to industry to decarbonise in the near term.
Top climate scientists just called draft text "deadly" https://t.co/VbrhWWC7X7 #COP21 @aruptom @lenoretaylor @Thom_Mitchell @GilesParkinson

— Hamish McKenzie (@hamishkenz) December 11, 2015
The Foreign Minister of the Marshall Islands, Tony De Brum, has emerged as a prominent figure at the talks because he's chairing a 'Coalition of Ambition', and he warned on Friday that there were still countries intent on weakening the "imperfect" deal at the last moment.
"We all helped to build it, and it contains the ambition essential to ensure a pathway to the survival of all countries," De Brum said. "Our leaders gave us the strongest possible mandate last week, and last night we sat in the negotiating room listening to a coordinated campaign to gut the text of ambition," he said.
The Norweigan Minister of Climate and Environment, Tine Sundotft, sounded a similar alarm when she said "there is now a very real danger that we will lock in low ambition for decades to come".
Civil society has given some form to these political allusions, with Gallagher telling media "we've seen countries like China, India, and Saudia Arabia take measures to downgrade the quality and detail of the text".
Some of these tensions went public on Thursday when senior negotiators from South Africa and China, which are both part of the large group of 130 developing nations known as the G77, took a swipe at the self-appointed Coalition of Ambition. But on Friday, De Brum hit back, suggesting the group is "not going to be a green shower for just anybody that wants to enter".
"We have said time and again that we welcome other countries to join the coalition …[but]they must bring with them higher ambition and uphold some of the principles upon which this group was formed," he said.
China is uncomfortable with a system of reviews, most likely on a five-year cycle, which are geared at progressively driving up the ambition of countries' nationally determined climate change plans that were submitted for the first time to the United Nations ahead of the Paris conference.
The world's largest emitter, China's plan stretches out to 2030, and it is extremely hesitant about endorsing a process it feels could force a revision and possible upscaling of that commitment before then.
India is understood to hold similar reservations, but has also been accused of blocking an ambitious deal because of its intransigent stance on transparency and accounting measures associated with the reviews.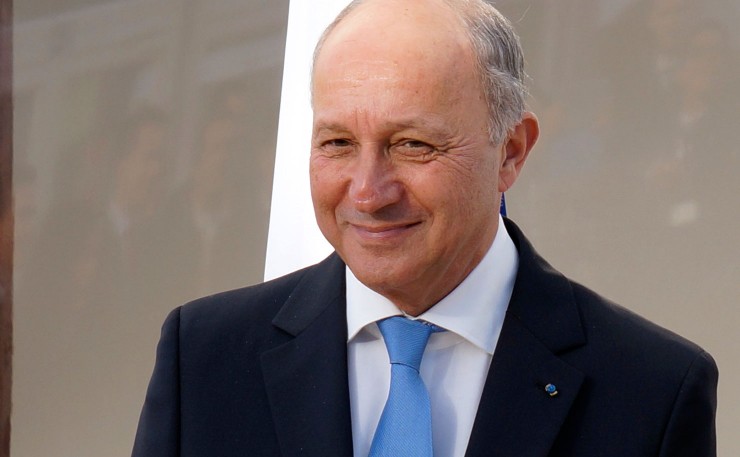 The Paris text will not be legally binding in terms of implementation, but this review process will almost certainly be the component which does carry some legal force. Nations will not be bound to implement their plans, but they must have one.
There will, however, be some level of transparency and accounting standards around that, which is why the reviews are seen as critical to beefing up nationally determined contributions across the board.
Given the plans currently on the table would engender warming of something along the lines of three or four degrees, rather than the Paris agreement's aim of limiting global warming to less than two, its effectiveness as a sort of 'name-and-shame' mechanism which enables analysis by civil society and other countries is vital.
These questions around the details of the targets, and the mechanisms to achieve them, take place against the broader backdrop of fresh notes in the perennial discord between developed and developing states over the concept of 'common but differentiated' responsibilities.
The talks have seen a push by developed countries like the United States and Australia to modify the clear split between the two groups, a system enshrined more than two decades ago by the United Nations Framework Convention on Climate Change.
Developing countries have railed against what they perceive as an attempt to redraft the rules.
At a press conference on Thursday, German Environment Minister Barbara Hendricks said the Coalition of Ambition, which also includes developing nations, "are not against differentiation, but we are for a fair and modern system of differentiation where all players contribute as much as they can".
China has already provided some 'south-south' finance, and developed states are looking for a way to bring it into the climate finance fold, to help in the task of funding adaptation programs in the poorest and most vulnerable nations.
According to Gallhager, countries including the European Union and 'Umbrella' group nations like Canada, Japan, New Zealand and Australia, are continuing to "play it tough on finance".
As the chair of the Umbrella group, Australia's Foreign Minister Julie Bishop spent Thursday meeting with European Ministers and the Paris Conferences' President, French Foreign Minister Laurent Fabius, discussing "the final issues that still need to be resolved".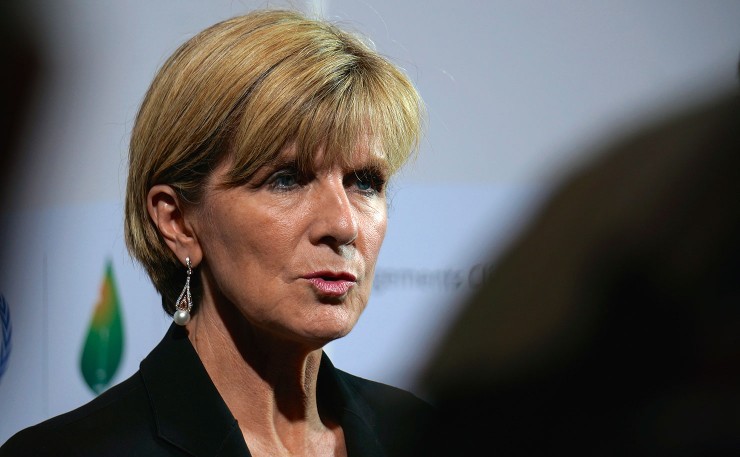 She said she's happy with most parts of the text, and told media she is hopeful a deal "will be concluded by tomorrow, and we will have a global agreement, and then we'll be able to go home".
Bishop appears to be taking a hard line on the concerns of big developing states, arguing that "if there needs to be a compromise, I think the compromise will be to accept the five yearly review".
And on concerns around transparency, held in particular by India, she said, "Australia says what it will do, and then it does what it says, and we want to make sure that other countries are held to that standard".
She was similarly terse on differentiation, arguing "we believe that there should be room in the text in relation to financing for those countries who are able to contribute to be able to contribute, and [that]the old developed-developing country divide that was set in 1992 is not relevant to today".
However countries like China and India have played a firm hand on differentiation, and would likely disagree. American President Barack Obama put in a phone call to Chinese President Xi Jinping on Thursday, in a clear signal of how diplomatic cogs are grinding towards a solution at the highest levels.
The conference has already run over time, and could well continue through until Sunday. As some commentators have noted, the second last text is usually stronger than the final document. So in these unpredictable and complex international negotiations, and with time already technically up, it's possible significant backward steps could emerge from tonight's closed sessions.
The deal is already imperfect, and insufficient to greet the climate crisis head on. Instead, the commitment to action has been largely pushed back until at least 2019 when the first review of countries' climate plans, cast rather mollifying in the current text as a 'facilitative dialogue', is scheduled to take place.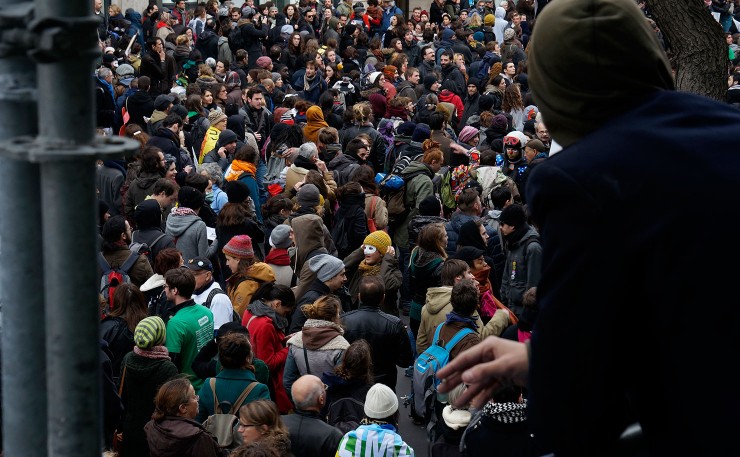 Activists are planning to defy a ban on political gatherings in Paris tomorrow (Saturday AEST), to highlight the need to take immediate and urgent action in a major day of civil disobedience being called D12. They'll be focusing on fossil fuels and the companies that profit from them, which have so far escaped any mention in the new international climate change regime.

Donate To New Matilda
New Matilda is a small, independent media outlet. We survive through reader contributions, and never losing a lawsuit. If you got something from this article, giving something back helps us to continue speaking truth to power. Every little bit counts.