President Anote Tong, of Kiribati, has criticised the Australian government's response to climate change, in stark contrast to the soaring rhetoric Australian politicians have been dishing up on the international stage. Thom Mitchell reports from Paris.
The President of Australia's island neighbour Kiribati has slammed the Coalition Government's "selfish" response to climate change, suggesting "they don't care" about the grim future his Pacific Ocean atoll is facing as crucial United Nations negotiations draw towards their end in Paris this week.
In a wide-ranging interview with New Matilda, President Anote Tong rubbished key claims senior members of the Australian government have continued to make at the international negotiations in the French capital.
"They don't feel it, they don't know it, [and]they don't care: They care about the next election," President Tong said, adding that since the Coalition took office in 2013 "there's been quite a loss of faith" in Australia.
"When we voted in Australia for the UN Security Council membership, it was on the basis that they would put climate change on the agenda, but with the change of government that was changed and we felt cheated on that issue," he said.
The outspoken advocate of climate action also took aim at Australia's continuing encouragement of coal exports, bristling at Prime Minister Malcolm Turnbull's "silly argument" that they "would make not the blindest bit of difference to global emissions" because importers would simply seek new supply.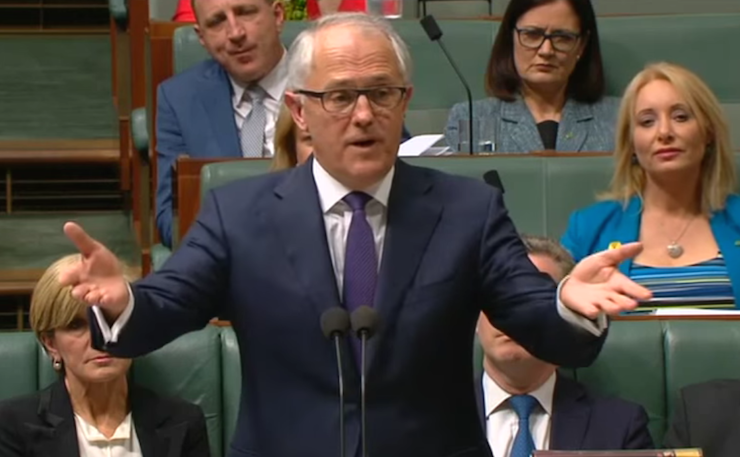 "I think what they should be doing is not doing it, and encouraging the others not to do it, rather than have a competition to do it," Tong said. "They should not be competing to do it [by saying]'if I don't do it, he'll do it'; they should be saying 'if I don't do it, he wont' do it'," he said.
President Tong also said Environment Minister Greg Hunt's argument at the Paris climate talks – that coal exports should continue because Australia is not a "neo-colonial" country and developing nations should be allowed to decide their own "energy future" – is without "moral justification".
"What about the poor people in my country? They're doing it, so we go underwater," Tong said. "What's the moral justice in doing it so those people who are living and surviving can become better off, while we will lose our home?"
One of the world's most climate-vulnerable countries, Kiribati is an extremely low-lying atoll nation in the Pacific Ocean which is home to just over 100,000 people. Nearing the end of his Presidency, Tong is in Paris continuing his decade-long mission to secure an ambitious global agreement that will lock in deep cuts to greenhouse gas emissions and deliver "resources that will allow us to survive".
Asked what could be done to increase Australia's ambition on climate change, Tong said, "It is a job for you people in Australia. If you don't believe your government is doing the right thing, then change your government," he said.
The comments come just a day after Foreign Minister Julie Bishop took to the international stage touting Australia's "ambitious" emissions reduction target, which was earlier this week ranked third last in an assessment of 58 countries' climate policies, limping in ahead of Saudi Arabia and Kazakhstan.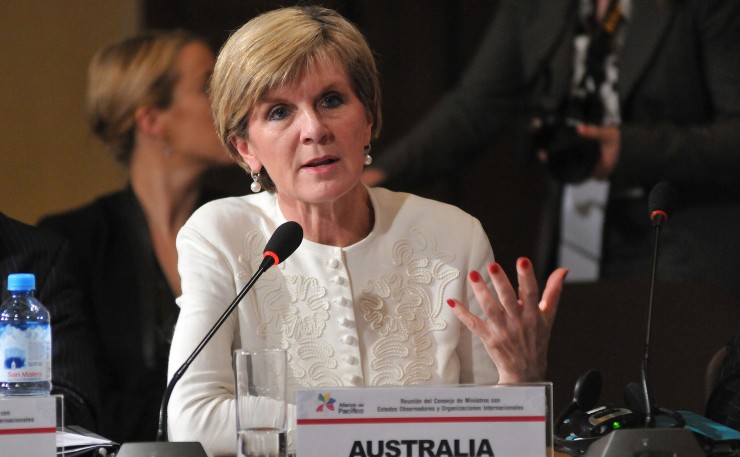 It's a legacy of the Abbott-era which Turnbull has continued, but Tong said he is "seeing some indications that he may well change" Australia's position on climate change. "I've heard what he's been talking about previously," he said, "and I don't believe he has changed".
"I believe he is just doing what he thinks is more politically expedient, but a man of that intelligence doesn't change his mind overnight, so yes I do expect that things will change," he said.
Australia has given some ground at the Paris climate talks, with Hunt claiming negotiators are acting as a "shuttle between different countries" and trying to "broker" an ambitious agreement, particularly in respect of the needs of Australia's vulnerable Pacific Island neighbours.
As part of The Alliance of Small Island States – a sort of negotiating block within the United Nations process around climate change – Kiribati has been a leading voice in the mounting push for a more ambitious goal for limiting increases in average global temperatures.
Last week, Hunt confirmed that Australia is willing to back the calls of more than 100 mostly developing nations for the international effort on climate change to be geared in some way towards limiting temperature increases to less than 1.5 degrees, rather than the two degree target landed on at the Copenhagen summit in 2009.
Tong said that "we all need 1.5 degrees," not just the most vulnerable states, and "the lower the temperature the better for all of us in the longer term". "What we are doing here," he said, "is we are negotiating with nature. But nature does not negotiate, it destroys you if you don't do right".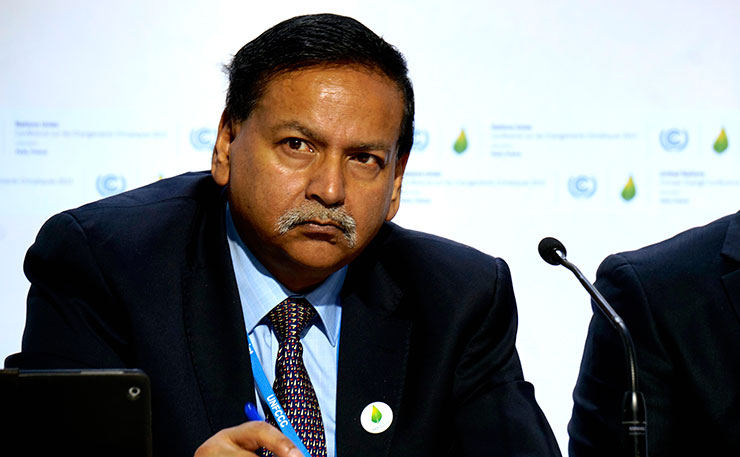 More than half of the countries represented at the talks now want a 1.5 degree target. On Tuesday Dr Saleemul Huq, who Chairs a grouping known as the Climate Vulnerable Forum, told media there has been a "tremendous amount of momentum and support" towards greater ambition on this front.
The Philippines' Cabinet Secretary for Climate Change, Emanuel de Guzman, said he had met with religious figures from the Vatican and they were "very receptive of our 1.5 goal" and that he hoped to "hear something from the Pope within this week".
As New Matilda reported earlier this week, Tong visited the famed Catholic Cathedral of Notre Dame on Sunday seeking a divine intervention of his own. His nation faces an existential crisis even if temperature rises are kept below 1.5 degrees, and he said that "is where we begin to tick off our list of what we can let go, and what we can't".
"The reality that I keep saying is even if it's 1.5 we have a problem. We will still go under water, so our need is actually about adaptation," he said. "This is the comment that I make, your emissions don't remain your emissions; they become mine, and I have the right to determine my emissions which you create."
One of the key questions which has long plagued international climate change negotiations is how developing countries will be assisted by rich nations to deal with the havoc their historical emissions are already wreaking, and will continue to inflict on those who did little to engender climate change.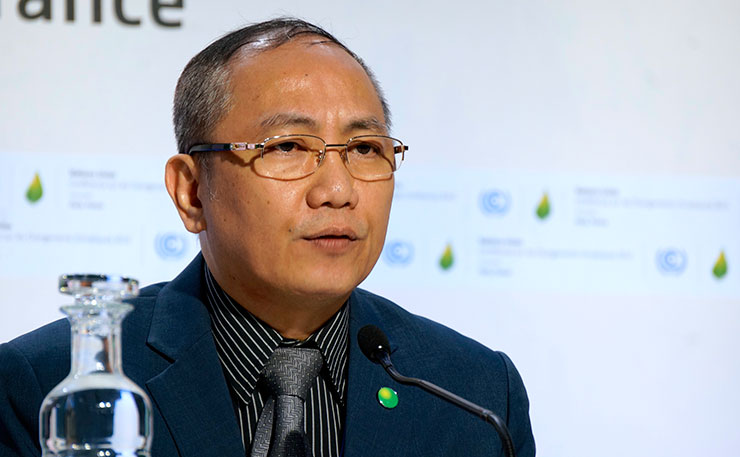 Overnight a row over where the money will come from – which has festered at the Paris climate talks – burst open. China, South Africa and Brazil have joined India in dismissing a report from the Organisation for Economic Cooperation and Development which suggests rich countries are two thirds of the way towards meeting existing climate finance commitments.
On finance, though, Tong said his needs are clear: "The bottom line is that we would like to be able to go home with some guarantee that resources will be available in order to allow us to survive."
"I need to go back with some practical solutions," he said.

Donate To New Matilda
New Matilda is a small, independent media outlet. We survive through reader contributions, and never losing a lawsuit. If you got something from this article, giving something back helps us to continue speaking truth to power. Every little bit counts.