When men and women don't play the roles assigned them, trouble sometimes follows. Emily Day explains.
One is a feminist and one is a footballer, but there are similarities between writer Clementine Ford and athlete Adam Goodes. Both are highly visible public figures – Ford is a media personality and Goodes soared to the top echelons of AFL football, leading the Sydney Swans to a premiership in 2011-12. He also devotes himself to community work and is outspoken on the topic of racism.
And this last point is where, in the eyes of many, he went wrong. An Aboriginal person who excels on the sporting field is something Australians can handle, and even applaud, but an Aboriginal person who points out, with passion and eloquence, the inherent racism in Australia will attract furious hostility from a vocal stratum of our society.
The muttering, expressed online and in the media by the usual right-wing suspects, and on game day by football fans, exploded after a girl in the crowd called Goodes an "ape" in May 2013. On hearing the slur, Goodes pointed the girl out and she was ejected from the stadium. His detractors slammed him for "picking on" a young girl, while all he did was literally point out that her behaviour was offensive and unacceptable.
The abuse grew feverish and he was booed in every match. The insults "whinger" and "sook" were often used, with the message being that Aboriginal and Torres Strait Islander Australians have to endure racism – in that same way that they have endured the destruction of their land, lives and culture since colonisation.
During Indigenous Round this year, Goodes celebrated a Swans' goal with a brief war dance – several seconds of graceful pride which sparked an excessive amount of vitriol. As the harassment and booing intensified, Goodes was forced to take a break from the game to cope with the stress.
In a similar disturbing trend, feminist writer Clementine Ford has also been the target of abuse, most of it posted to her Facebook page by (mostly) white men. Like Goodes, Ford refuses to be content with inequality, and regularly speaks out on topics such as abortion, rape, domestic violence and equal pay. She doesn't preface her statements with appeasements such as "I love men, but wouldn't it be great if we all got paid the same?" or "Not all men are bad, but some have beaten and killed their partners this year". Her refusal to dilute the truth and call out everyday sexism has sparked a backlash from those incensed that she does not fit in with their ideas of how a woman should act in public – beautiful and docile. They hurl bile at her Facebook page, with their names and profile pictures clearly visible.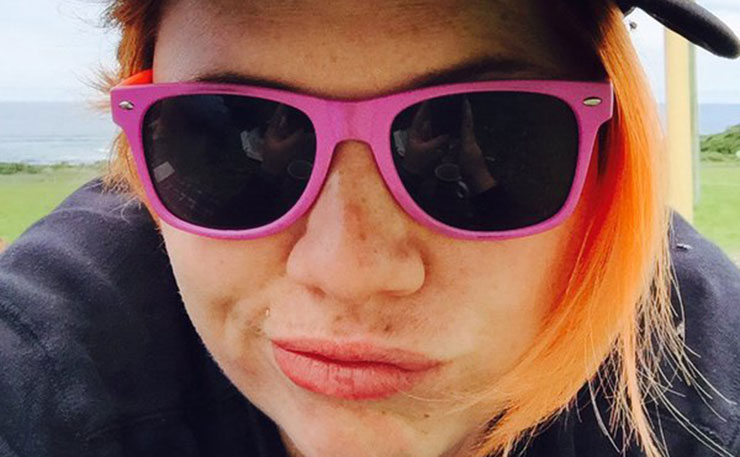 If, however, Ford reposts the abuse, she is howled down as "ruining people's lives". After Sunrise blamed victims of nude photo scandals for having their images leaked online, Ford responded by posting a picture of herself with "Hey Sunrise Get F—ed" scrawled on her bare chest. Her message was that women should not be blamed for crimes committed against them, and for this she received a torrent of hatred.
One abuser called her "lesbian scum" and threatened to bash and rape her. When she reposted his comments, he claimed he hadn't sent the message, before finally admitting that he had "jumped on the bandwagon" of harassing Ford. He argued that he "thought it was pretty obvious it was an empty threat, but I guess she didn't", and added that he feels Ms Ford could have messaged him, instead of sharing the message. Like those who booed Goodes, this man felt that he could be violently threaten a woman and she would accept it.
The attacks on Ford spiked again this week after a man called her a "slut" on her Facebook page and was later fired from his job after she informed his employers of his behaviour, including other racist remarks he had made on his Facebook page. The response she has received from countless men has been alarming, with many accusing her of acting unjustly for reporting his insult.
Ford is made of stern stuff and somehow maintains her resilience under this onslaught. Many would crack under the strain, and I'm sure that's what these men want – for her to shut up, and (as many of them bawl on her Facebook page) get back into the kitchen. They desperately need her to assume the docile submissive position that allows them to maintain their position of privilege.
After years of abuse, the AFL finally intervened and told supporters to stop booing Goodes. Facebook, on the other hand, seems unwilling to stem the harassment Ford receives every day. Bizarrely, Ford herself was banned from reposting the abuse.
The attacks faced by outspoken critics such as Ford and Goodes show that there is much that needs to be done to tackle societal inequality.
Change is always difficult and often needs a revolution. Those like Ford and Goodes are staging revolutions of their own by refusing to accept the status quo. Their strength is inspiring. I stand by them both.

Donate To New Matilda
New Matilda is a small, independent media outlet. We survive through reader contributions, and never losing a lawsuit. If you got something from this article, giving something back helps us to continue speaking truth to power. Every little bit counts.