Malcolm Turnbull's first day in Paris confirms the dinosaurs are still in charge of Liberal climate policy, writes Ben Eltham.
Australia's Prime Minister is in Paris for the COP21 global climate change conference.
I suppose we should be grateful he is there at all. One struggles to imagine what Tony Abbott might have said and done at such an event. Abbott was always at his worst when the opportunity came to sow discord and create hostility; at the very least, we can be thankful that the decidedly more urbane and diplomatic Turnbull is there in the place of his predecessor.
Sure enough, Turnbull told delegates that Australia now comes to the talks "with confidence and optimism." That is indeed a different approach to Abbott's love affair with fossilised carbon.
Turnbull also made some very modest announcements. He pledged Australia to the final years of the Kyoto protocol – an agreement that is lapsing anyway, but which will allow Australian firms to resume purchasing overseas carbon abatement permits, potentially a big saving for the government's Direct Action spendathon.
$800 million is also being promised to developing nations for climate adaptation. In keeping with the Coalition's well-demonstrated contempt for foreign aid of any kind, the money is being taken from the existing foreign aid pot, already savaged in recent budgets. In contrast, Canada's new Prime Minister Justin Trudeau pledged $2.5 billion.
Unfortunately, friendly gestures and some modest announcements leave Australia well behind the rest of the world when it comes to climate action.
For instance, Australia's emissions reduction target of 26-28 per cent is risible, and based on some rather dodgy accounting procedures that date all the way back to the first Kyoto conference itself. Back at that event, Liberal Environment Minister Robert Hill negotiated an 8 per cent increase for Australia from 2008-2012. Greg Hunt's claim that Australia is meeting its obligations is therefore misleading (in keeping with pretty much everything Hunt says).
In any case, 28 per cent is nowhere near enough. Because Australia's economy is so dirty, we need to decarbonise quickly if we are to cope with the economic dislocations of a warmer, cleaner world. But Foreign Minister Julie Bishop is firm in her insistence that the target will not be increased.
Nor will Australia sign a communiqué aimed at phasing out fossil fuel subsidies. Given the government claims to care about balancing the budget, you would have thought whopping subsidies like the $7 billion-a-year fuel tax credit handed out to mining and agriculture would have been top of the list.
The communiqué wasn't even a binding treaty, by the way – just a statement of intent. The conservative government of New Zealand's John Key had no trouble signing up to it.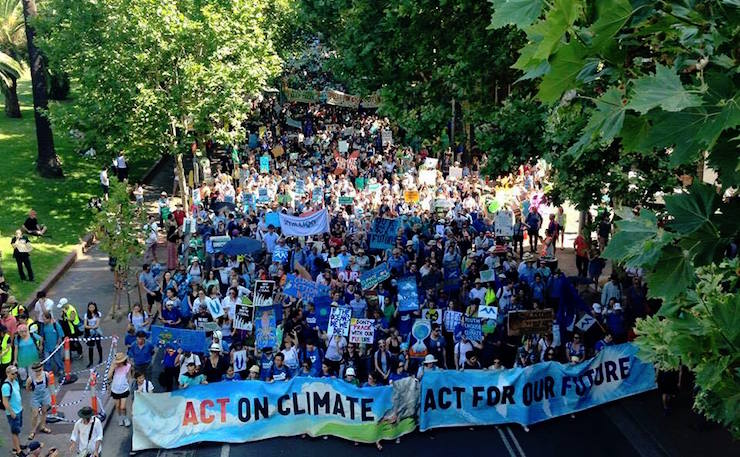 But a rebellion from the Nationals (remember them?) and on the Liberal backbench scuppered even that. Just to make sure everyone knows who's in charge, a representative of the Minerals Council apparently attended a Liberal Party backbenchers meeting to press home their case. So the diesel rebate stays, despite it being terrible policy that costs the environment and the taxpayer.
It's worth taking a minute to unpack just how absurd the argument for keeping diesel fuel rebate arguments really is.
The key argument behind the fuel rebate is that the tax is meant to be "hypothecated" – that is, fuel taxes are supposed to fund federal road projects. If you're not using your fuel to drive around on public roads, the argument goes, you shouldn't be eligible to pay fuel tax.
"There's a tax that goes on your road usage, now if you're not on a public road why should you pay a tax on road usage?" the Nationals' Barnaby Joyce said today.
The only catch is this: fuel tax is not hypothecated, and hasn't been since 1959.
Fuel tax goes into consolidated revenue, not road spending. As John Howard's inquiry into fuel taxes discovered back in 2001, "since 1991-92, successive governments have set road funding in the budget process, discontinuing the practice of hypothecating a proportion of fuel excise to roads."
If fuel tax credits are not actually a rebate for not driving on the highway, that tells you they are really a subsidy. And they're not alone. The government gives money to fossil fuel companies all the time, for things like accelerated depreciation for mining and drilling equipment, and a concessional rate of tax for aviation fuel.
Then there's the biggest subsidy of all: the right to spew toxic gases into the atmosphere. Since Tony Abbott abolished the carbon tax in 2014 it hasn't cost polluting companies a cent. Take it all together, as the Climate Institute has, and fossil fuel subsidies in Australia could be in the range of $14 to $39 billion every year.
Perhaps inevitably, Turnbull is being compared unfavourably with Canada's Trudeau, who came to Paris with an electoral mandate to reverse the doleful anti-climate policies of his predecessor Stephen Harper.
As usual with climate politics, most Australians have little understanding of just how out of touch the Turnbull government is compared to other major nations.
The successful British Conservative government of David Cameron has a pledge of an 80 per cent reduction by 2050, and 40 per cent by 2030. The Chinese government recently announced an economy-wide emissions trading scheme will be in place by 2017. Even India has pledged significant reductions in the emissions intensity of its economy. The contrast with Australia, which has just abolished our own emissions trading scheme, could not be starker.
Malcolm Turnbull's less-than-triumphant turn in Paris tells us a lot about his prime ministership. He can be as charismatic as he likes when he's spouting off about "agility" and "innovation", but when it comes to the crunch, the far right of his party still holds the whip hand.
Turnbull lost the leadership of the Liberal Party in 2009 after a backbench revolt over his plans to negotiate with the Rudd government to implement a carbon permits scheme. It looks as though he's learned from that experience.
All in all, it's not much to write home about (not that that's stopping New Matilda's correspondent in Paris, Thom Mitchell). On current indications Australia will lag the rest of the developed world, and even some of the developing world, in our efforts to stop global warming.
That's depressing, but it's not surprising. As long as the Coalition is in government Australia will never have a meaningful climate policy.
The reason is simple: large numbers of Liberal and National Party politicians put their conservative loyalties ahead of rational science and the self-interest of their country. They don't believe climate change is real, and they'll do everything in their power to stop Malcolm Turnbull (or anyone else) from doing something about it.

Donate To New Matilda
New Matilda is a small, independent media outlet. We survive through reader contributions, and never losing a lawsuit. If you got something from this article, giving something back helps us to continue speaking truth to power. Every little bit counts.