Tens of thousands marched around the country this weekend to call for solid action on climate change in Paris. In Sydney, small pro- and anti-nuclear groups gathered on either side of the event. Max Chalmers reports.
Organisers responsible for the Sydney leg of the massive international climate change marches that took place over the weekend have distanced the event from a pro-nuclear group after Aboriginal representatives pulled out the night before the protest.
Members of the Redfern Aboriginal Tent Embassy and representatives of the #SOSBlakAustralia movement issued a statement on Saturday night rescinding their support for the event, citing concerns about the presence of pro-nuclear groups and the lack of consultation and time allotted for speakers.
Aunty Jenny Munro, from the Redfern Tent Embassy, had been billed as a speaker but did not appear at the Sunday event.
Uncle Ken Canning, also a member of the Embassy, told New Matilda concerns had been caused by the lack of speaking time offered to Munro, the location of the Aboriginal groups in the march, and the organising committee's failure to denounce nuclear energy and uranium mining.
"Where the uranium rich places are, it's where Aboriginal people live," Canning said. "We get removed from the lands for them to mine, then get removed from the lands for them to dump the waste – we get a double whammy."
In response, the People's Climate March organising committee eventually distanced the event from nuclear groups in a statement posted on Facebook.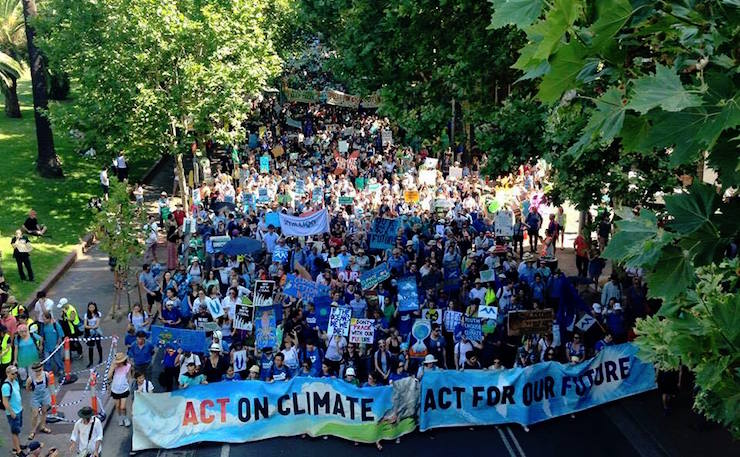 "While we don't agree with or in any way endorse their position, we could not actively stop the pro-nuclear group from attending the rally because it's not within our power to stop anyone attending. We also felt that to make a public statement about the involvement of Nuclear for Climate in the lead up to the march would give this this group more public exposure and attention – and we didn't want their voices to draw attention away from the other groups and messages in the march."
The commotion didn't deter a small group of nuclear advocates joining the tens of thousand who marched from Sydney's Domain to the Opera House on Sunday, calling for climate action as world leaders converge in Paris to negotiate a plan to limit future emissions.
Among the bright costumes –anemones, coral, and even a giant melting ice-cream – the small contingent of pro-nuclear protesters stood together in plain white t-shirts.
Rob Parker, the President of the Australian Nuclear Association, said the group had formed to mirror a similar organisation in France.
"We're here to present this theme as part of the solution to climate change," he said.
Parker said the group had not had any dialogue with the event organisers about their presence at the rally.
"We're here, like very other Australian, expressing a position. The [organisers]didn't want nor not want us here, it was just never discussed," he said.
Parker said his organisation had not consulted with Aboriginal people in relation to their advocacy for nuclear energy, but that it would be "a really good idea" to do so.
On the other side of the Domain – which was drenched in sunlight, as if to make a point – was Natalie Wasley, coordinator of the Beyond Nuclear Initiative. She hadn't eyeballed Parker but knew who he was.
"Nuclear is unsafe and unnecessary, it can never meet the demand we need for rapid transition for our energy needs," Wasley said. "It could never come online in time, it's far too expensive, it's dangerous, and it's dirty."
She said people could not be prevented from attending open community rallies but that the People's Climate March had presented itself as progressive movement interested in just transitions for the environment and workers, and that nuclear energy did not tick those boxes.
Between the two groups, on the event's main stage, former Australian of the Year and Climate Council member Tim Flannery said the rally was the biggest climate change protest he'd seen, and that it needed to be taken as a message by Prime Minister Malcolm Turnbull, now in Paris for the talks.
"We need to see success at Paris," he said. "Unless we can get a steep cut in carbon pollution coming out of the Paris meeting we'll put a lot of things at risk that we don't want to lose. One thing we stand in great danger of losing right now is our Great Barrier Reef, one of the great treasures of this country".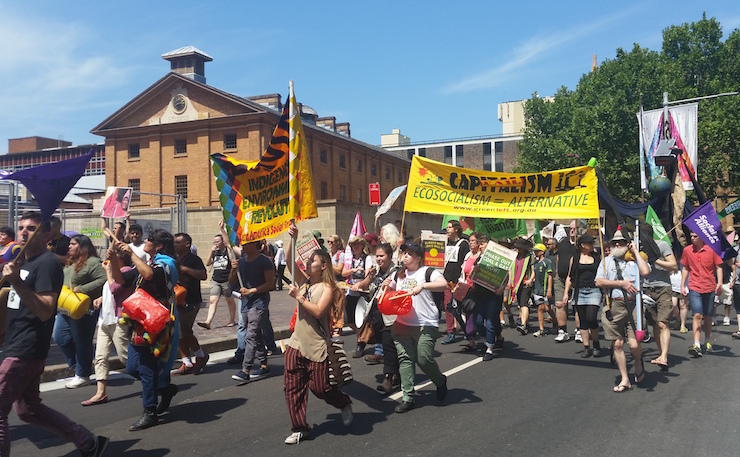 Further back in the crowd Pamela Reeves, from the Ryde-Gladesville Climate Change Group, was looking on with friends and family members.
"We're here because we are concerned about the inaction on climate change and reliance on fossil fuels. We're here for our families, we're here for the planet, we're here for the Great Barrier Reef, we're here for our farmland," she said.
Organisers put attendance around the 45,000 mark, a few notches below that set by Melbourne two days earlier at what looks to have been one of the biggest events anywhere in the world.
Canning, who did not attend, said the response from the organisers had not addressed the issues he and others had raised, and reiterated concerns about First Nations people being deployed 'tokenistically' at such events.
"We've been fighting these battles for 200 years, some of these activists have been around for 5 minutes," he said.

Donate To New Matilda
New Matilda is a small, independent media outlet. We survive through reader contributions, and never losing a lawsuit. If you got something from this article, giving something back helps us to continue speaking truth to power. Every little bit counts.