The Opposition leader has announced a 'bold plan' to tackle climate change. New Matilda's Environment Reporter Thom Mitchell prefers the 'wait and see' approach.
Environmental groups gushed, they really gushed, in response to Opposition Leader Bill Shorten's mooted climate direction yesterday. And fair enough, he's signalled a good north star, which is markedly higher and brighter than the Coalition's.
But if Shorten wants us to thank him for not being Tony Abbott, he's missing the point.
The truth is that both Labor and green groups want to wedge the government ahead of the crucial climate change negotiations which kick off in Paris on Monday, and Shorten's announcement could very well just be clever grandstanding.
He was careful with his language.
Labor has a new "objective", to reach net-zero pollution by 2050. Sort of, via "sequestering, offsetting and purchasing," whatever that actually means. The party has "goals". It will "use the Climate Change Authority's recommendation of a 45 per cent reduction [in emissions by 2030]as the basis for consultations with industry, employers, unions and the community".
Labor does not, on the language of Shorten's speech, have an absolute commitment to these things.
In this way, it's not dissimilar to Labor's aspirational target of 50 per cent renewable electricity by 2030. Back in October, I spoke with Tony Maher, the National President of the Construction, Forestry, Energy and Mining Union, and he offered some very incisive insights. And it's not as though Maher's been dragged kicking and screaming to a future Christmas without coal. He seconded the 2030 renewable energy "goal" at the recent ALP National Conference.
Here's what he told me:
HOUSE AD – NEW MATILDA IS TRYING TO RAISE MONEY TO HIRE A YOUNG ABORIGINAL CADET FOR OUR NEWSROOM FROM MARCH 2016. WE NEED YOUR HELP – PLEASE BACK OUR FUNDRAISING CAMPAIGN HERE
"…Don't get too carried away about 50 per cent renewables. The truth is that Labor's adopted a policy that says 'we'd like to get there'. That's all it is, that's as high as it is. It actually says that will be by consensus. That means by bi-partisan coalition. Will that happen ultimately? Perhaps. Even without governments doing anything, I think that by 2030 renewables will get to about 40 per cent anyway."
And he's right. Ambition on climate change is becoming easier and easier as the technology improves. As Shorten himself noted, "In 1976 the cost of a solar cell was $79.40 a watt. Today it's less than 70 cents. In the past five years solar photovoltaic prices have fallen by 75 per cent. The cost of battery storage has been halving every 18 months."
I think it's fair to say the edge on Shorten's rhetoric became doubly hard in a single day, yesterday, too. That's pretty auspicious, given he decamped from the Lowy Institute to take a flight which will land him in Paris on Sunday.
Suddenly, after visiting Pacific Islands that stand to be among the worst affected by climate change, Shorten is arguing that "paradise is drowning". Prosaically, he said: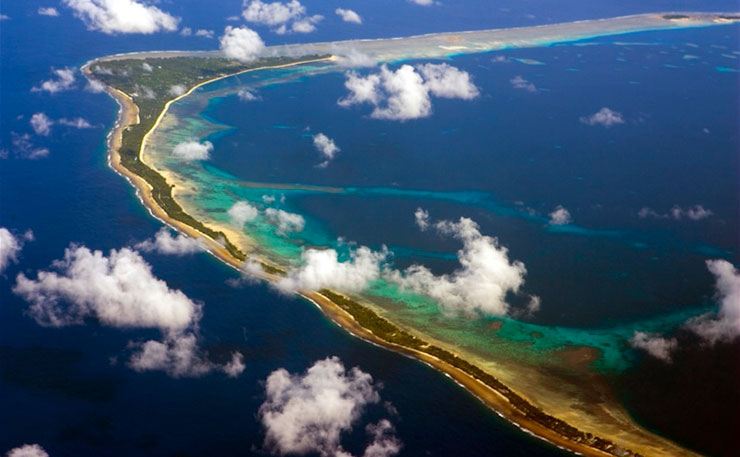 "We are talking about a crisis unprecedented in human history. And massive, permanent displacement of people. We met with Prime Minister O'Neill from PNG, President Loeak from the Marshall Islands and President Tong from Kiribati. They told us and showed us the threat climate change poses to the nations of the Pacific. For these island nations, climate change isn't a 'political' argument or an 'economic' dilemma. It is an existential threat – a matter of survival. A violation of basic human safety and basic human rights."
The thing is, Pacific Island leaders, and others, have been telling rich polluting countries like Australia this for a very long time.
The other thing they've been telling Australian politicians – and the thing which Shorten and Labor ignored during their recent trip, and in his speech yesterday – is that they demand a moratorium on new coal mines to evade the very impacts Shorten's heart now bleeds for.
With both Australia's major political parties, the sad and obvious truth is that climate change is absolutely a "political and economic dilemma". If it seems a droll, semantic assessment, that's because in politics the semantics are important.
Labor is singing the right song, but from the luxury of opposition it could very well be lip syncing.
As Maher pointed out, technology is likely to save Labor by the time it weathers what seems reasonably likely to be Turnbull's long Prime Ministership. But if it doesn't, the gelatinous language could provide an escape. It wouldn't be the first time, which is why civil society should demand an end to any equivocation around the need to meet at least the targets Shorten has flagged.
In 1990 the Hawke Labor government flagged emissions cuts of 20 per cent by 2005, based on 1988 level pollution. The caveats attached to this aspiration were not met, and so neither was the goal. Similarly, the Rudd government in 2009 set conditions for when Australia might move beyond its minimum 5 per cent cut on 2000 level pollution by 2020, to 15 or 25 per cent.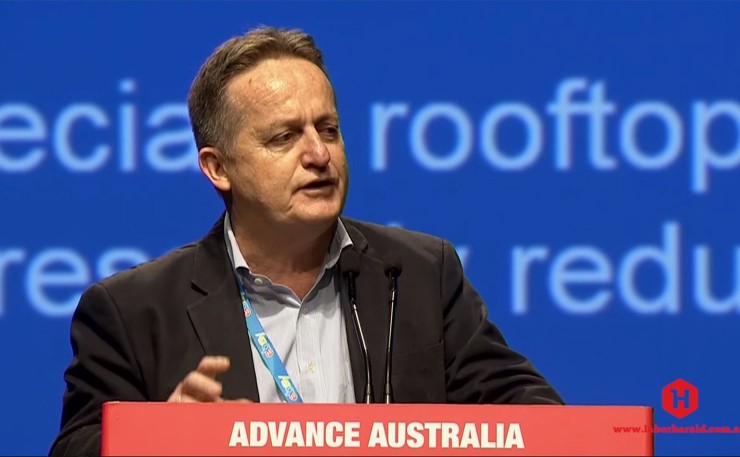 Of course, that also quickly dropped off the political radar.
Labor continues to support only the bare minimum five per cent cut. And yet, the Climate Change Authority – which Shorten now says will inform Opposition policy – has said "the conditions for moving beyond 5 per cent have been met".
Of course, Shorten was mute on that in the same way he was mute on Australia's addiction to coal exports. Fundamentally, he's also silent on how Labor's latest aspirations would be achieved.
There is simply no policy detail to support his words outside of a vague promise of an emissions trading scheme.
Quite obviously, Shorten is waiting for a more politically opportune time. But as he, and large segments of the Labor Party should understand, climate change runs to a hard and fast scientific deadline. It waits for no Opposition leader whose daily focus is political opportunism.
"So let's not pretend we have an obligation to give equal weight, coverage and credence to the babble of denialist militia," Shorten urged yesterday ahead of jetting off to Paris to, quite reasonably, embarrass the government.
I don't want to rain on the parade. Really, I don't. Labor has taken a big step in the right direction, but let's not pretend we have to give wedge politics the same weight as fully formed policies and absolute commitments.
* THOM MITCHELL IS CURRENTLY IN PARIS, PREPARING TO REPORT ON THE UNITED NATIONS CLIMATE TALKS. HIS TRIP WAS GENEROUSLY FUNDED BY NEW MATILDA READERS AND SUPPORTERS. YOU CAN ALSO BACK A NEW NM CAMPAIGN HERE – WE'RE TRYING TO RAISE MONEY TO HIRE A YOUNG ABORIGINAL CADET FOR OUR NEWSROOM FROM MARCH 2016.

Donate To New Matilda
New Matilda is a small, independent media outlet. We survive through reader contributions, and never losing a lawsuit. If you got something from this article, giving something back helps us to continue speaking truth to power. Every little bit counts.