Caught in the middle of the South Australian bushfire crisis I headed to meet my wife, who had been rescued by a neighbour. Then the direction of the wind changed, writes Sam Shetler.
On Wednesday the skies turned black, it rained ash, and South Australia burned. I was genuinely afraid not only for my own safety but for those closest to me as well.
I left Freeling and went to the Barossa, not for wine but to service our only car. I didn't see or smell any smoke until I arrived at the mechanic's.
The mechanic told me that the service would take twice the time I'd planned. He wasn't alarmed; I wasn't alarmed. So I went for a coffee.
I asked the women serving me, "how are you today?" and she said, "worried about the fires" as the skies grew more menacing. Concerned, my wife Lisa called, and while speaking on the phone the skies turned midnight black on her end.
As quickly as possible I ran through the strong winds back to the mechanic. I didn't know if the car was done but the car was coming with me. When I got there the mechanic had already left to attend to his own at-risk home. Another man gave me my keys and I started driving toward the fires.
As I drew nearer and exited at Nurioopta a mass of birds flew overhead. I entered what felt like a dark tunnel of smoke. Now on the Sturt Highway I started to see glowing in the distance. My exit to Freeling was interrupted by the Country Fire Service (CFS): the only way to get to my wife was blocked. My heart dropped.
I called her, and we agreed she needed to get in the neighbour's car now. Most had already evacuated and she had to wave down a neighbour driving by. They were driving a ute and didn't have room for any of our well prepared bushfire kit or even our pet rabbit. Devastated, she jumped in.
"Where to go?" They didn't know and I didn't know. I continued driving past Freeling and now the dark became a fire tunnel with glowing crops radiating heat on both sides of the highway. Emerging out of the smoke is a silhouette of a woman with a baby carriage. Closer now, I see there are two kids on foot with her too. She pleads, "I crashed my car. Help."
I say of course and flag down one of the line of vehicles that can fit the whole family. I keep driving through the enveloping fire. I can't see past my nose as the smoke is so thick. It forces me to drive slowly.
Luckily I have time to stop as the fire truck parked sideways in the middle of the highway comes into view. The CFS crew tell me to turn around. "Do I cross over?" on to the other side of the highway, I ask. "No, just drive slowly," they say.
Turned around and driving into potential oncoming traffic I approach a crossover point. I stop to relay that the Sturt Highway is now closed off to twenty odd cars.
As I pass the exit I needed to take only minutes ago I think of how my wife is on her way from Freeling to Kapunda. Is that road safe and is Kapunda safe? Lisa calls. They are in traffic, trying to enter Kapunda. Safe for now.
The wind is blowing northeast, 891AM ABC Radio blares, volume up high. Waiting for any other announcements it takes a minute for the news to sink in that the wind is pushing the fire towards Kapunda.
Both stuck in traffic now trying to get into different towns, Lisa and I decide it's best if she tries to get to me. Arriving in town I pull into a vacant parking lot. I'm with a few others and we listen for emergency updates on the radio.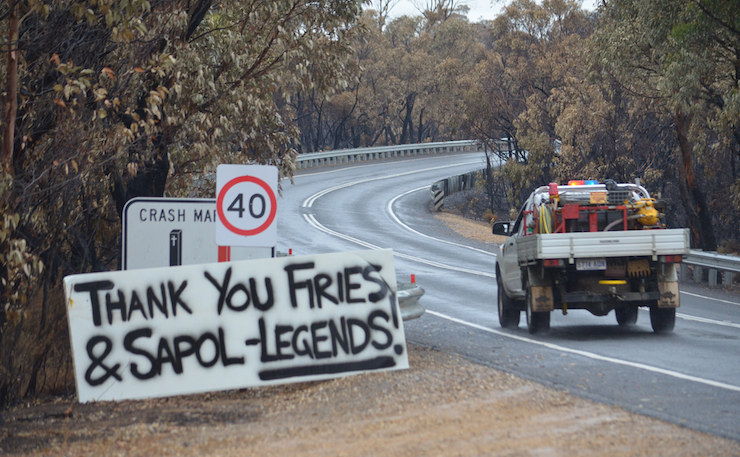 My wife arrives safe after what seemed like a lifetime. Ash is sprinkling from the sky as I hug her and the neighbour. My heart is still there.
With a moment of relief, I try to reach out. I contact friends within reach of the fires to see if they're okay and to relay emergency messages through social media. All are okay but the winds are still strong and unpredictable.
The bushfire emergency warning message now lists our place of refuge. We decide to leave and to move in the opposite direction of the wind and go far away from the fire's front.
Now safe with family, the normalcy seems surreal. As I'm writing the reality is starting to sink in. South Australia is particularly at risk to increased heatwaves, droughts and bushfires.
We know the bushfire season started earlier this year and we are experiencing record-breaking spring temperatures. So much so, we are likely to surpass 2014 as the hottest year on record, not only here but worldwide.
The fires continue to rage as I write. My town lost several houses but the fires have passed for now. Roads around my town are still closed. Can't go home. Other towns have had great losses too.
Several people have died, hundreds of animals, hectares of crops and more than a dozen homes burned. CFS members have been injured too. Reinforcement fire crews and equipment are coming from Victoria as the fire is still out of control.
The fires are expected to go into the weekend and South Australia will still be smouldering during the nation-wide climate rallies.
Update: The Pinery fire has now been contained.

Donate To New Matilda
New Matilda is a small, independent media outlet. We survive through reader contributions, and never losing a lawsuit. If you got something from this article, giving something back helps us to continue speaking truth to power. Every little bit counts.