It looked like another day of dry court proceedings and delays. But then a message from out of the blue turned a 26-year campaign for justice on its head. Wendy Bacon, who has followed the story for 16 years, on the day NSW finally ended its pursuit of Roseanne Beckett.
On Monday afternoon I was on my way home from the NSW Supreme Court when into my inbox popped an unexpected message from the media advisor for the NSW Attorney-General Gabrielle Upton. "Attached is a statement which might be of interest to you."
I read the first words. "The State has agreed to pay Roseanne Beckett nearly $4.092 million in damages. This relates to two counts of malicious prosecution. Payment for Ms Beckett will be made shortly."
After 26 years, Roseanne Beckett had finally triumphed. I read it again and immediately rang Beckett who told me she had been downloading an urgent message on her phone. At first she did not absorb the news. But when I said this means you never have to go to court again, she began to sob.
This is highly unusual for a woman who has stood strong under enormous pressure. Like all of us, Beckett's mood and manner changes with her circumstances. I have seen her angry, elated, charming, steely, irritated, demoralised, and scared. There were grim moments during the fifteen years that I have followed the case, such as when no lawyer could be found to adequately represent her, or when she received tapes of Barry Catt screaming threats against her and another women. Beckett, her family, and other witnesses remained terrified of Peter Thomas – the former detective who framed her for a number of offences – until he died last year.
She was deeply distressed and humiliated when Channel Nine's 60 Minutes aired false allegations that she was a child abuser after her release in 2001. But only once before have I heard her voice break into sobs and that was when her daughter Julie, who had stood by her side during the 2004 Inquiry into her convictions, became a quadriplegic after a tragic car accident in Canada.
Before the news came through a Monday hearing in the case of Roseanne Beckett against the State of NSW had been an anti-climax. The Crown Law department sent two barristers and a solicitor to inform the Court that the State of NSW would withdraw its application to Justice Harrison to put a stay on his judgment awarding Roseanne Beckett just over $4 million in damages.
Beckett, her lawyers, and supporters left the court expecting that an appeal and possibly an application to stay the judgment would still be lodged in the Court of Appeal. For an appeal that will take several days, the waiting time can be more than a year. If the Crown had appealed, Beckett's team intended to cross-appeal against the decision in the malicious prosecution counts that she did not win. For Beckett, who is now in her late sixties, it looked like she was looking forward to a future of more tense days of court preparation and hearing. The fact that if the Crown failed to pay the damages interest would start to accrue was not much comfort.
As we left the court the jubilation of the victory several weeks ago was muted.
However, behind the scenes political pressure was building. Supporters had begun sending letters to the Premier Mike Baird and NSW Attorney-General Gabrielle Upton. The feminist online campaigning group Destroy the Joint had posted New Matilda's story on its site while 2GB broadcaster Alan Jones has been calling for justice for Beckett for some time. A formidable combination if ever there was one.
It was also clear at recent court hearings that the Crown was scrambling to find legal points on which to mount an appeal.
I was mulling over these events when the email came through. Upton's statement read, "This is the right thing to do. [Beckett's] case is extraordinary and requires a sensitive response after so long including 10 years of imprisonment for Ms Beckett. Roseanne Beckett has been through enough and should not have to fight the government anymore. She deserves the right to move on."
Finally the Crown law department, that has so consistently refused to accept responsibility for any of the misdeeds of those acting on the state's behalf, has been instructed to concede. The fact that the news is welcome should not obliterate 26 years of failure.
Beckett, who soon recovered her equilibrium, told New Matilda: "The hardest thing about the fight was the very fact the people in positions of power such as the NSW Director of Public Prosecutions and the Crown were aware Thomas was a criminal from day one, they had more than enough well-documented evidence to that very fact, yet they restlessly pursued me with the public purse at their disposal. How can any person match that?"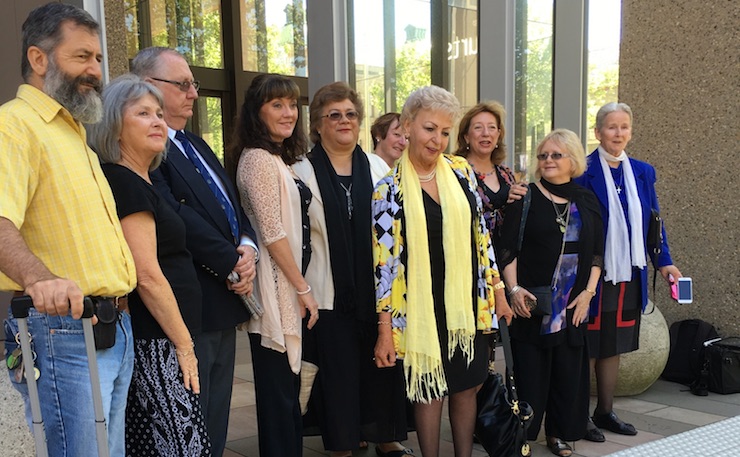 Not long after Beckett's arrest the Manager of Family and Community Services in Taree Greg Baggs had reported that he had been threatened and stood over by the detective in charge of the case, Peter Thomas. Baggs had criticised Thomas for handing Beckett's step-children, who had alleged their father Barry Catt had abused them, over to one of his close friends. In a later report to the NSW Ombudsman he noted the sinister under-tones running through the case and recent allegations of a police liaison officer's involvement in abuse of Aboriginal children. He noted how much Beckett cared for the children and protected their interests. All of this material was available at the trial but was never handed by the NSW Police or Director of Public Prosecutions to the defence lawyers.
Even before her 1991 trial, Thomas had resigned from the police while charges against him had been recommended but not pursued. Right up until the end of the malicious prosecution trial the State was actively working to prevent evidence of Thomas' numerous wrong doings being presented in court.
Beckett hopes that her "difficult journey, will now make it much easier for many innocent victims to obtain justice – that they don't have to suffer and fight as I have."
But that will only happen if there is reform that allows miscarriage of justice cases to be considered by a non-adversarial body that has the purpose of establishing the truth in order to deliver a just result.
Yesterday, miscarriage of justice researcher and campaigner Dr Bob Moles called for national reform.
Moles' organisation Networked Knowledge has already won reforms giving potential victims of miscarriages of justice more rights to appeal in South Australia and is now campaigning for a new Right to Appeal act in all states, and the establishment of a national Criminal Cases Review Commission. (For more, see his timeline).
Moles has been involved for many years in seeking the release of Henry Keogh who spent 21 years in prison for a murder conviction that was finally overturned last year. The office of the SA Director of Public Prosecutions announced last week that it would drop a further attempt to prosecute Keogh. As in Beckett's case, senior officers were aware of evidence raising doubts about Keogh's conviction ten years before his release.
In a letter to me Moles wrote, "What happened to Roseanne is a perfect illustration of the systemic and deeply entrenched 'mates' network which can be called upon to protect the perpetrators of such illegal activities."
Moles also wrote that findings by Judge Davidson, who found after his inquiry into Beckett's convictions in 2004 that key Crown witnesses were likely to have fabricated evidence against her, "should have sounded alarm bells and brought urgent assistance to deal with this issue. Instead, Roseanne has had to battle with the legal system for just over 10 years since then to attain justice. It is clear that police officers, who were duty bound to assist Roseanne, used their powers to distort the investigatory and judicial process and to secure the conviction on multiple serious charges of an innocent woman."
"This is the worst possible type of miscarriage of justice – when the legal process is hijacked by the legal officials (police officers) who consciously and deliberately use the legal system to inflict serious harm on innocent citizens. The shame here is that there should be inbuilt checks and balances with systems of peer review to identify such aberrations at the earliest opportunity."
Moles agrees with Roseanne Beckett that domestic violence was at the heart of her matter. "Barry Catt was a very violent person, he was protected, I was the victim, yet I was the one persecuted," said Beckett.
Roseanne Beckett's case will be remembered for the way she was vilified, the amount of compensation she was awarded, the years she spent in prison and the length of her fight for justice. If she had allowed domestic abuse to continue she might well have ended up dead. If she had fled, she would have left Barry Catt's children in danger. She tried to exercise her legal rights to hold Catt accountable for his actions but she was outsmarted by Barry Catt's mate Peter Thomas and ended up in jail herself.
During the years Beckett spent in prison a very successful community feminist refuge operated in Taree. Over that time Catt harassed and abused several more women including one who ended up with serious injuries in the refuge. It is disturbing that last year the NSW government removed funding from the community refuge and handed it to another charity organisation that had no experience in running women's refuges.
The ex-manager of that Taree refuge Leonie McGuire said yesterday, "In my opinion the Baird government's seizure of specialist women refuges last year is tantamount to criminal negligence – women no longer have a safe haven 24 x 7 when threatened by male partner violence." She is now campaigning for secure funding for new refuges, especially in rural areas where the need is great and the services now poor.
There are many unresolved questions that have not yet been answered in this case. Whether or not they are answered will probably depend on justice campaigners and journalists. Roseanne Beckett herself can finally move on – but being the fighter that she is, I suspect we will still hear her voice calling for action against domestic violence and for miscarriage of justice reform.

Donate To New Matilda
New Matilda is a small, independent media outlet. We survive through reader contributions, and never losing a lawsuit. If you got something from this article, giving something back helps us to continue speaking truth to power. Every little bit counts.