It's been a bad week for probity in the Coalition, writes Ben Eltham.
In a different week, news that two key figures in the Liberal and Liberal-National parties are being investigated by police for fraud and official misconduct would be pretty big.
The details are not attractive. In Melbourne the former state director of the Victorian Liberal Party, Damien Mantach, is currently behind bars.
Mantach has been remanded in custody on multiple charges of fraud, totalling $1.5 million. Police allege Mantach swindled his own party to fund a lavish lifestyle, siphoning off funds to an account controlled by his wife. The fraud was discovered by Liberal factional supremo Michael Kroger, who called in the forensic accountants earlier this year.
These are serious charges, to say the least. Mantach's missing mill-and-a-half apparently should have been spent on the Liberal state election campaign in 2014, a campaign that Denis Napthine and the Coalition lost. In so far as it contributed to the defeat of a sitting government – albeit through mendacity rather than design – the alleged crime could be said to have had significant political consequences.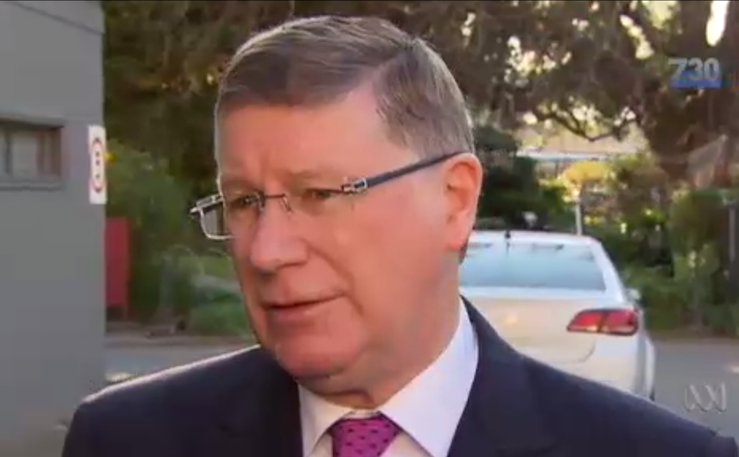 Of course, as when discussing any case, the usual caveats should be stressed. Mantach is merely charged and awaiting further proceedings. He is innocent until proven guilty.
Having said that, the Mantach case has to raise serious questions about the probity of the Victorian Liberal Party. Mantach came to the Victorian branch from Tasmania. While a Liberal official there, he was forced to pay back a sum spent on party credit cards.
The revelations that more than a million dollars of party funds went missing and that the fraud took months if not years to come to light will not be comforting to Liberal voters, let alone party donors.
It has potential to blow back on current state leader Matthew Guy, who is generally thought to control the Victorian party's factional politics (Guy engineered the coup that replaced the hapless Ted Ballieu in 2012). In the middle of a key campaign, critical funds were apparently running low. If Guy didn't know about that, that's concerning in itself.
Guy, Kroger, and the Victorian Liberals have thus far been at pains to describe Mantach as a rogue official. Back in August, Guy told reporters that he was "gutted" about the fraud, adding that "we want our money back."
Where the money went, and whether the Liberal Party will get any of it back, remains to be seen. More intriguing details will undoubtedly be discovered as this case winds its way through the courts.
As the increasingly discredited Trade Unions Royal Commission grinds on, the news about Mantach jibes uncomfortably with the Coalition's continuing attacks on the ethics of the union movement. Yes, it was Liberal Party itself that called in the police. Even so, malfeasance and fraud of this level rather blunt the party's credibility when it comes to fighting corruption.
But the woes of the Victorian Liberals may soon be overshadowed by a probity scandal in the cabinet of the Australian government.
This time, the trouble hails from Queensland, in the form of James Ashby, the notorious former staffer for former House of Representatives Speaker Peter Slipper.
Ashby's house in the Sunshine Coast exurb of Beerwah was searched this week by Australian Federal Police. It would appear that Ashby was raided in connection to the suspicion he passed confidential documents to a current Cabinet minister, Mal Brough.
These, it would seem, are the diaries of Slipper that Brough has already admitted receiving. Sure enough, Brough was raided too. He has issued a statement saying he is cooperating with Federal Police. Wyatt Roy has also been named in a search warrant – the first time Roy has been dragged into the imbroglio. As Assistant Minister for Innovation, Roy is also in the outer ministry.
It's too early to tell if this warrant will lead to an eventual arrest or indeed any further action at all. But the current investigation certainly places Mal Brough under considerable scrutiny.
Brough is the Special Minister of State – ironically, the cabinet minister charged with responsibility for things like Parliamentary travel entitlements. He has already faced plenty of questions about the Ashby affair, notably after his disastrous 60 Minutes interview a year ago. One of my favourite regional newspapers, the Sunshine Coast Daily, has followed the scandal since the beginning.
Should charges against Ashby be laid, it is hard to see how Brough can continue in Malcolm Turnbull's Cabinet. When Arthur Sinodinos got caught up in a New South Wales corruption investigation into Australian Water Holdings, Sinodinos was stood aside by Tony Abbott. He was benched from the Cabinet for the remainder of the Abbott government.
Malcolm Turnbull can hardly be impressed with developments, even if Paris has kept the Ashby and Mantach investigations off the front pages. Asked in Manila about Brough today, Turnbull was not exactly vocal in his support. "There are rules relating to ministers and Cabinet ministers, but at this stage there's nothing to suggest that Mr Brough should stand aside or do anything of that kind," said Turnbull. It doesn't sound like the most wholehearted confidence.
The 'Ashbygate' affair has a long and tortuous provenance, reaching up into the higher levels of the Queensland Liberal-National Party.
It goes all the way back to 2011 and the Coalition's rage at Peter Slipper's treacherous acceptance of the Speaker's job during Julia Gillard's minority government.
Ashby and Brough have been at the centre of the swirling scandal ever since. In 2012, a Federal Court judge said Ashby and Brough acted "in combination" to try and blacken Slipper's name. In the end, Ashby walked away from his lawsuit, long after Slipper had left the Parliament. Slipper also fought and beat charges of rorting his taxi travel entitlements.
The problem for Brough is that the evidence of those previous cases clearly establishes that Ashby gave Brough details of Slipper's diary – potentially a criminal offence.
With the Prime Minister's support apparently conditional at best, Brough's future hangs in the balance. It's hard to see him surviving as a Cabinet minister in the longer term.
Australia is lucky to suffer from relatively low levels of official corruption by international standards. But the record of both major parties in recent years is hardly spotless. Recent corruption investigations have uncovered major scandals in both the New South Wales Labor and Liberal parties, as well as the Health Services Union and New South Wales water utility Australian Water Holdings.
At the federal level there are a number of recent low-level corruption cases, such as the Australian Bureau of Statistics insider trading scandal, the Reserve Bank's Securency swindle, and, a bit further back, the massive AWB oil-for-wheat scam.
The Mantach and Ashby affairs are not necessarily evidence of wholesale wrongdoing in the Liberal Party. But they do show, once again, why a federal corruption agency is desperately needed.

Donate To New Matilda
New Matilda is a small, independent media outlet. We survive through reader contributions, and never losing a lawsuit. If you got something from this article, giving something back helps us to continue speaking truth to power. Every little bit counts.