The former Australian PM also praised British leader David Cameron for school privatisations, and quoted a favourable editorial about himself, writes Max Chalmers.
Tony Abbott may have promised no sniping from the sidelines after his messy dislodgement from the office of Prime Minister in September, but he never said anything about holding off on self-aggrandizement.
The Member for Warringah was at it again today, doing what he could to resurrect his political image in a piece penned for conservative British magazine The Spectator, lavishing himself and conservative allies with praise.
"While in Britain, I caught up with Sir Michael Hintze, perhaps the most successful Australian businessman in London; Alexander Downer, who's hugely enjoying a second stint of public service; Rupert Murdoch, who arguably has had more impact on the wider world than any other living Australian; Tony Blair, by far British Labour's most electorally successful prime minister; and Prime Minister David Cameron who's still savouring his against-the-polls win in this year's election, assisted by our very own strategist Lynton Crosby," the former PM wrote.
Abbott used the piece to downplay David Cameron's support for same-sex marriage and climate action, arguing the Prime Minster's best decisions had been his cuts to welfare and transformation of education "in effect, privatising public schools".
Though unable to achieve such feats at home, Abbott did manage to limit Federal funding for schools by slicing up the Gonski plan, cutting off the program's future funding despite promising to be on a 'unity ticket' with Labor before his election.
In the Spectator column Abbott dedicated a significant portion of his comments to praising his government's efforts at stopping the boats, as he did recently during his oration at the Margaret Thatcher Lecture.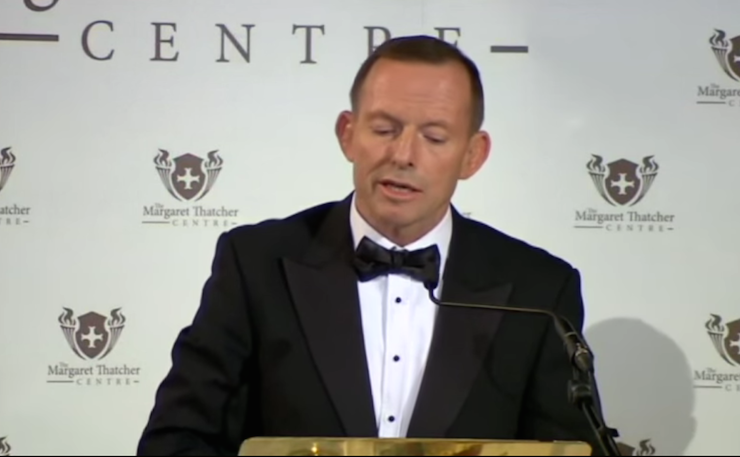 "It had to be an issue of consequence and it had to be a subject where I had standing – so perhaps unsurprisingly, I spoke of the challenge of illegal migration that Europe is struggling with but that Australia, at least for the moment, has largely solved," he wrote.
In a move of daring self-reflexivity the one-time leader of Australia then quoted from a Spectator editorial about himself.
"Amidst carping from the usual suspects, gratifyingly, the UK Spectator editorialised that 'Abbott (had) explained what so few European policy makers seem able to grasp'."
That's Tony Abbott writing in the Spectator quoting the Spectator praising Tony Abbott. Much like a meeting between Tony and Rupert, it made a perfect conservative circle jerk.
While Abbott may have plenty of love for the international conservative cadre, his comrades back home haven't been getting on so well.
After reports emerged that Julie Bishop's chief of staff attended an 'anti-Abbott plot' meeting shortly before his demise, Liberal Senators Eric Abetz and Cory Bernardi both hit out at their party's deputy leader.
But that skirmish – or should we say, sniping – is far from Abbott's mind, it seems.
Now relieved of the strains of leadership, and any pretence of accountability to the people, Abbott is able to fully outline his quirky dystopian vision for the future, a place without safety nets or public schools, where even the endless highways can't take you out of the sights of the mass-surveillance state.
"The real challenge, in Australia as in Britain, is how responsibly to spend less on short-term consumption and more on long-term investment in infrastructure and national security," he wrote. "How, in short, can government best foster the economic growth that makes everything else so much easier? That always makes for a good conversation between conservative leaders."
Who exactly Abbott is leading these days was not made clear.

Donate To New Matilda
New Matilda is a small, independent media outlet. We survive through reader contributions, and never losing a lawsuit. If you got something from this article, giving something back helps us to continue speaking truth to power. Every little bit counts.