If you're a lover of animal cruelty, then look no further than the 'Sport of Kings'. Jordan Sosnowski explains. WARNING: This story contains disturbing images of animal cruelty.
With all that's been exposed in the greyhound racing scandal, it's a wonder "the race that stops a nation" hasn't been stopped – or at least been paused for thought.
Perhaps it's just the business-as-usual bipolar attitude Australians conveniently adopt towards animals. But given its popularity, there must be something more to the 3-minute horse race than meets the eye.
Like most Australians, I have fond memories of the Cup. As a 10-year-old, I remember our teacher stopping class mid-English so we could all watch the race – and this wasn't even in Victoria. I was enthralled by the glitz and glamour of the "Sport of Kings".
The race's royal pedigree is certainly a drawcard. There's nothing that screams "majestic" quite like sculling champagne in the Mumm marquee and then throwing up on your hired dress in the portaloo.
Plus, you get to see horses and wear something truly ridiculous on your head without anyone raising an eyebrow.
Even on the shameful, drunken bare-foot walk home, you can lightly touch the lopsided, wilting, feathered abomination on your head, and an air of aristocracy instantly overcomes your formerly boozy demeanour.
That's quite a bit to consider. Throw all these together and you've got a trifecta of Melbourne Cup plusses.
But what I didn't consider until recently, is that 20 minutes away from Flemington racetrack is Laverton knackery.
No place that kills animals is pretty, but I challenge anyone thinking of attending the Cup this year to sit through the whole of this undercover investigation. I couldn't get past the two-minute mark.
Any prestige or lingering glamour that horse racing might once have mustered, died when I saw this footage. It shows horses at Laverton repeatedly being hit on the head and one ex-race horse being shot point blank. The worst part is that thoroughbred "Nature's Child" doesn't die instantly. Her neck breaks on the steel kill box gate, she is dragged along the concrete whilst still alive and then finally, her throat is slit.
Despite obvious evidence of suffering, this behaviour is clearly routine in Victoria as the RSPCA didn't prosecute the knackery workers. The relevant government department didn't even bother investigating.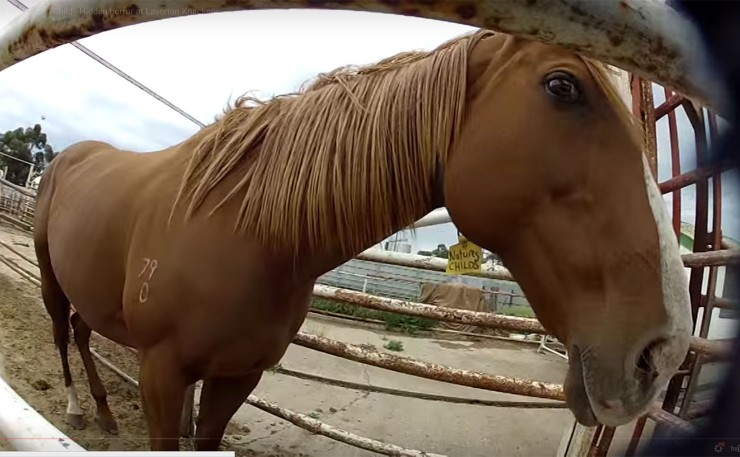 Racing Victoria turns a blind eye to the fact that most race horses either end up as dog food or exported to Belgium for human consumption. It's not really the sort of thing you'd advertise in a Spring Carnival spruiking campaign.
Even though most Melbourne Cup partiers would likely never visit the greyhound track, the two sports bear a striking resemblance. Racehorses' careers last three years on average. There has been more than 100 deaths during or immediately after races in the past year. Once worth thousands, tired racehorses are sold to the knackery often for as little as $150.
It's estimated that up to 12,000 young thoroughbreds a year are "discarded" in Australia. Two horses lost their lives at the cup last year, one due to a heart attack and the other because of a broken leg.
The sad truth is, both thoroughbreds and greyhounds are bred for no other reason than to win. As a result, thousands are killed every year as industry "wastage".
Despite all this horror, horse racing has some friends in pretty high places. Fancy corporate sponsors such as Emirates, Longines, Gucci, Lexus and Myer will crowd the track. Last year, the Myer racing ambassador wore a fascinator worth $3 million, so you can only imagine how much Myer makes in overpriced headwear throughout the carnival.
Football stars also make up the Cup entourage. Former Lions player Jonathan Brown is fronting the online gambling #ubetwecan campaign. Browny's apparently "righting one of the great injustices" by calling on Cup day to be declared a national holiday. But when the social cost of gambling to the community is almost $5 billion a year, it's all rather tasteless, even for an ex-footy player.
But I'll admit Browny is right about one thing. There is a great injustice that needs to be righted, but it's got nothing to do with holidays.
We've been duped into believing the Cup is a prestigious Aussie tradition. Like Phar Lap, the race is entrenched in the Australian psyche. It's been carefully constructed as a genteel event – so awe-inspiring that the nation simply has to stop to admire it.
And it is difficult to see the race without all the faux pomp and ceremony. To do so, reveals that our annual assumption of royal airs and graces is all an embarrassing and cruel charade.
But when we do pause for thought, we see that horse racing is, first and foremost, about profit.
And no matter how good the odds on race day, the horses never really have a fighting chance.

Donate To New Matilda
New Matilda is a small, independent media outlet. We survive through reader contributions, and never losing a lawsuit. If you got something from this article, giving something back helps us to continue speaking truth to power. Every little bit counts.