Even the Israeli Government's greatest friends in Australia appear to be no longer taking much notice, writes Michael Brull.
In my last article, I wrote about the silly talking points handed out by the Israeli government, and recited by organisations like the Executive Council of Australian Jewry (ECAJ), Australia's peak representative body.
The same speeches, the same rhetoric, the same slavish devotion to the propaganda line of the Israeli government. How could anyone find it persuasive? It's really just a matter of enough words to be repeated over and over in short speeches and brief op eds.
But is anyone listening? The answer seems to be… not really. On October 20, Alex Ryvchin, the public affairs director of ECAJ wrote a post on his Facebook account. Much of his media advocacy is publicly viewable by anyone:
The post read: "Last night in our nation's parliament, Michael Sukkar MP – Member for Deakin, rose to deliver a powerful condemnation of Palestinian terror, to denounce the incitement of their clerics and political leaders, and to convey condolences to the people of Israel and the Australian Jewish community.
Please contact Michael and thank him for his support. At a time when much of the media inverts or ignores the daily attacks on Jews in Israel and some political leaders have appallingly sought to attribute this terror to Israeli settlements or events in Gaza, Michael's moral clarity should give us immense comfort.
Please also circulate this far and wide so that Michael's powerful words reach the largest possible audience."
Included was a link to Hansard. The post received 18 likes. Two people commented favourably, one saying "Thank goodness" for MPs like Sukkar, the other saying she had contacted Sukkar to thank him. Ryvchin's Facebook page has over 1400 friends, so presumably a major, if not primary purpose of the account is promoting his media advocacy.
The speech Ryvchin linked to began as follows: "In regional communities, there has been healthy scepticism about the National Broadband Network. Will it ever arrive?" It was delivered by Liberal MP Angus Taylor.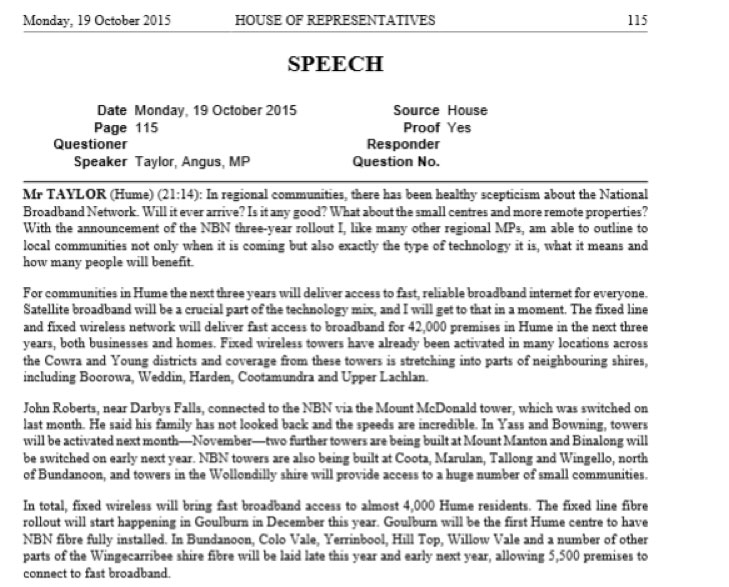 Oops.
The fact that Ryvchin made an error in linking isn't significant in and of itself. Lots of people make mistakes on social media. The fact that it passed unnoticed, received various likes and a few favourable comments is interesting. Because it indicates the kind of relationship ECAJ has with its supposed constituents.
People might appreciate ECAJ upholding the party line on Israel, and saying how great the Israeli government is. But there is little interest in the facts and arguments. Even when ECAJ loyalists approve of the message, they can't be bothered finding out what the message is. The important thing is that it says how right Israel is and denounces Palestinian terrorism. Anything else is boring detail.
The ECAJ Facebook page has 592 likes. On Twitter, ECAJ has 810 followers, whilst its following over 1,000 accounts. Ryvchin's Twitter account has over 1,400 followers.
Though few people seem to listen to ECAJ, it still gets plenty of space to have its say. Ryvchin was given the opportunity to defend the Israeli government in the Daily Telegraph. On Facebook, he summarised his article on the violence in Israel and Palestine with this attack about the "sick and corroded Palestinian society".
More recently, the Guardian gave Ryvchin relatively generous space to set out his position that whilst some "repugnant" Muslims might not want to be forced to sing the national anthem, Judaism is totally consistent with Australian values. In the same article he wrote that he has "no interest in bellicose displays of patriotism or blind loyalty to a kind of 'Fatherland'." A bold claim for someone paid to blindly defend the Israeli government.
Right now, the major trends within Israel are dismantling the vestiges of the rule of law and the most basic liberal principles. Racist chauvinism has swept the country, and is getting more overt and unapologetic.
The Israeli government is increasingly isolating itself from public opinion in the West. Sadly for Israel, at this crucial time, its most devoted propagandists aren't very effective.
Their propaganda has apparently gotten so tedious that even their greatest loyalists aren't paying attention anymore.

Donate To New Matilda
New Matilda is a small, independent media outlet. We survive through reader contributions, and never losing a lawsuit. If you got something from this article, giving something back helps us to continue speaking truth to power. Every little bit counts.