A new report confirms the dismal truth: Australia's education system has too many students and not enough funding. If Malcolm Turnbull wants to change that there's a plan ready to go, writes Ben Eltham.
When it comes to the opportunities that top-class education can provide, you can't get a better example than Malcolm Turnbull.
Unlike so many of his colleagues in the Liberal Party, Turnbull was not brought up in wealthy surrounds. His mother and father separated when he was nine; Malcolm was brought up by his father Bruce in modest middle-class circumstances.
Bu Turnbull did enjoy a first-class education, first at Sydney Grammar School (where he was a scholarship boy) and then at Sydney University and Oxford. Turnbull was always a gifted student, but he also acquired plenty of intangible benefits from his education: confidence, social connections, and a well-rounded speaking voice that would soon be put to lucrative use at the bar.
Needless to say, few Australian children of his generation enjoyed such riches of cultural and educational capital. When Turnbull attended Sydney University, tertiary education was the preserve of the lucky few; most Australians didn't even finish high school.
In 2015, times have certainly changed. Most Australians do complete year 12, and more than half go on to university or some other form of tertiary education.
But despite the progress we've made in the past four decades, the old inequalities and social divides still remain. While there are plenty of precocious young minds thriving at their schools and universities, a new report by the Mitchell Institute reveals that perhaps a quarter of young Australians are being left behind. The report poses big questions about the equity of our education system, and the sort of Australian society our children will inherit.
Authored by Stephen Lamb, Jen Jackson, Anne Walstab and Shuyan Huo, it doesn't pull punches. The numbers are consistent across the age range: around a quarter of Australian children are missing out.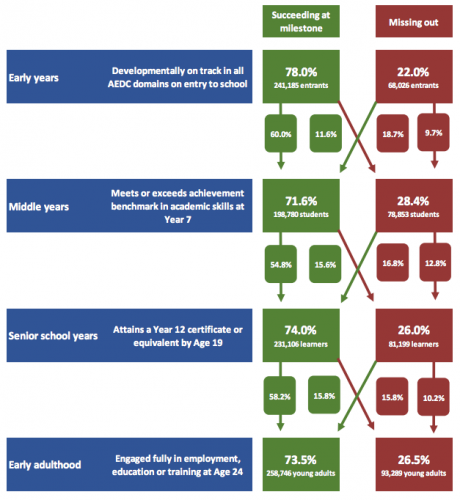 The problems start right at the beginning of schooling, with many students not ready to begin prep and first year. And it continues: more than a quarter of year seven students don't acquire basic reading skills, as shown by the NAPLAN results. By the time those children grow into teenagers, many are struggling to stay in school. 26 per cent of 19-year olds don't have a high school certificate or equivalent. 26.5 per cent of 24-year olds are neither employed or engaged in education.
Of course, education is not destiny, and many students can catch up quickly from a slow start, given the right assistance. But it's also true that some students can lose their way after showing early promise. The overall picture is decidedly mixed.
Who's missing out? The answer is depressingly familiar. Those least likely to finish school are, overwhelmingly, children from poor families, from Indigenous backgrounds, and from regional and remote areas.
This inequality ramifies right through our education 'system' (which, as anyone who has studied Australian education policy will know, is really eight or a dozen systems – one for each state and territory, plus Catholic schools, independent schools and a riot of religious and specialist institutions).
Inequality is the driving force behind much of this. Poor students are less likely to do at well at school than students from rich families. Students with well-educated parents do much better than students whose parents didn't finish school. Students from poor suburbs and poor regions, and especially remote and Indigenous communities, do much worse than students from the inner city and affluent leafy suburbs.
The Mitchell Institute report says that only 60 per cent of students from the poorest suburbs finish year 12, compared to 89 per cent for those from the richest postcodes. The gap is even bigger for Indigenous students: "over 30 percentage points," according to the 2011 Census. Just 42 per cent of Aboriginal students in mainland Australia finished year 12 in that year.
If you've heard this argument before, that's because it's not new. The Gonski Review covered this in excruciating detail during the Rudd-Gillard years. It concluded that our education system needed wholesale in the way it was funded and delivered, in order to make sure the resources that we have go to the students that need them the most.
The crux of the Gonski recommendations was to give each student a guaranteed amount of funding, but then to top up funding depending on need. Indigenous students would get more support, as would students with disabilities, with learning difficulties and from poorer backgrounds.
But the Gonski reforms have withered on the vine. After some initial enthusiasm from Kevin Rudd and Julia Gillard, Labor was able to implement only a small and incremental improvement in school funding, often subject to crippling negotiations with the states and territories.
Almost as soon as the Abbott government was elected, Christopher Pyne effectively walked away from the whole process, breaking an election promise.
As a result, nothing like the extra money that Gonski said was needed ended up flowing through to the neediest schools. And the rich stayed rich: independent schools and the Catholic system negotiated handsome agreements that ensured that they retained current levels of federal support. The Commonwealth now spends more on non-government schooling than it does on universities.
As the Mitchell report notes, things are getting worse, not better. It tells us that the share of government funding being directed to non-government schools has increased from 16 to approximately 21 per cent since 2001. "The growth in funding for non-government schools has far outstripped growth in enrolments," the report points out.
Why does education matter? The answers are many and various, but they boil down to an individual's life chances in an increasingly competitive and insecure society. While we've all heard the stories of PhD creative writing graduates driving Ubers, the general relationship between education and employment still holds: the higher your level of educational attainment, the more likely you are to be employed.
The latest Australian Bureau of Statistics data tells us that 80 per cent of people with a Bachelors degree were employed in 2014. This dropped to 75 per cent for those with a diploma, certificate or similar qualification, and 66 per cent for those that had finished year 12. But for those who only finished year 11, the figure drops to 46 per cent.
Of course, employment is not everything. A meaningful life can be rich in learning outside of formal schooling; a job is hardly the only measure of a fulfilling existence. We shouldn't measure education simply by the earnings of graduates, or the sorts of workers schools and universities churn out. Huge changes in the global economy are making even highly-skilled and educated workers increasingly redundant.
But none of that should matter to the education debate, because a high-quality education should be a basic right of every Australian. A good education helps citizens in the incredibly tough labour markets of the future. It also helps governments in the form of higher tax revenues, as graduates earn more across their careers. Finally, and most importantly, education is important because it enables human beings to flourish.
If anyone should know this, it's Malcolm Turnbull. The fine education he received helped him hone his sharp thinking skills, skills that he has variously applied to journalism, banking, the tech sector, politics and the law. Perhaps that's why Turnbull has been so keen on saying he wants Australia to be "agile."
The time is right for Turnbull to restart the Gonski debate. He'll never get a better chance to give back to the society that has afforded him so many opportunities.
Donate To New Matilda
New Matilda is a small, independent media outlet. We survive through reader contributions, and never losing a lawsuit. If you got something from this article, giving something back helps us to continue speaking truth to power. Every little bit counts.