Women are allowed in the military, but they're not allowed in combat roles. Claudette Yazbek takes on the big male elephant in the room.
On an unexpectedly stormy Tuesday evening, 20 bars across Sydney hosted 20 public lectures. Raise the Bar, a New York-based initiative, intends to make education a staple of a city's popular culture. It encourages people to get out, keep learning new things, and to then talk about them as you would the latest episode of The Bachelor. So let's talk.
Sydney's inaugural Raise the Bar brought roughly 60 people to The Forresters in Surry Hills. Dr Megan MacKenzie sat on a bar stool, and joked to the audience that this was the first presentation she could give "without a shitty PowerPoint".
And for most attendees, it was an opportunity to hear about an issue usually reserved for academic and political circles: women's role in combat.
Fifteen countries allow women to serve on the front line. 181 countries do not. The debate surrounding Combat Exclusion is polarising and highly gendered. Both sides rely on emotionally charged arguments, lacking quantitative research and gendered assumptions as to how society should be organised.
MacKenzie explained that it is critical that we understand how this gender bias informs foreign policy. Unsurprisingly, repealing the Combat Exclusion policy and allowing women to fight will supposedly reduce the physical entry standards. Women are biologically different to men and these differences are perceived to make men superior.
Like a Yeezus track, men are harder, better, stronger, and faster.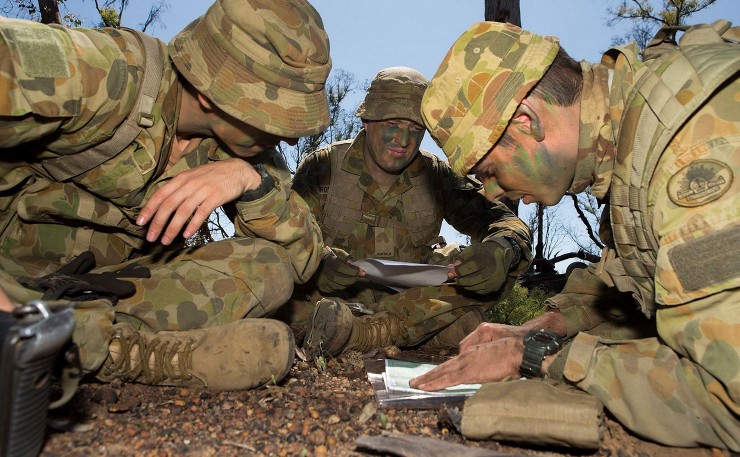 A woman's relative physical weakness compromises the ability of the unit to achieve their objective. And this is an anatomical truth that cannot be sidestepped.
But, as MacKenzie explains, the military attracts above-average physically fit women. The research conducted also highlights that women respond better and adapt quicker in physical training. She also bluntly states that the only requirement to be an infantry marine is "to have a penis".
This single biological standard makes it surprisingly difficult for women to then qualify for infantry roles.
Women's inclusion on the front line is also perceived to spoil the dynamic bond between soldiers – the band-of-brothers myth. It is the basis of every conceivable war movie. American Sniper is the highest grossing movie of 2014 and notwithstanding the controversy the film attracted, it profits from perpetuating the band-of-brothers myth.
Its inexplicable mystique makes it more difficult to challenge. And women will supposedly disrupt this necessary bond. Men, who are programmed to protect women, will get caught up in their involuntary obligation and lose sight of their mission.
This assumption although difficult to qualify with research, is couched in emotive language, making it equally difficult to displace.
This debate is obviously characterised by ramped sexism. By high-ranking officials writing emails that ugly female soldiers are perceived as hardworking and should be used in PR campaigns.
Regrettably, the prevailing military culture is also one whereby if you join as a woman, you are likely to be sexually assaulted. It's a Catch-22.
Removing the Combat Exclusion Policy is then necessary to increase the number of women in the military and begin to change this overwhelmingly 'masculine' culture. Women who do join, however, for the foreseeable future, are likely to be sexually harassed or assaulted.
MacKenzie says changing the military culture and soldier's attitudes needs to come from higher in the leadership ranks. She refers to Chief of Army Lieutenant General David Morrison's damning message about unacceptable behavior in the Australian Army.
At last count, this YouTube message has since been viewed 1,623,024 times.
But the United States Secretary of Defense has issued directives related to preventing sexual assault in the military. And with 22 per cent of active-duty women still experiencing some form of sexual harassment, its effectiveness is questionable.
This problem is not aided by its unpopularity as a campaign platform. Neither Hillary Clinton nor Bernie Sanders will win the 2016 Presidency by lobbying to end sexual assault in the military.
This is, however, telling, in and of itself. The issue's unattractiveness to the broader population reflects complacency with these issues. And this is what needs to change.
Sydney's Raise the Bar gave lovers of learning an opportunity to learn about this controversial issue.

Donate To New Matilda
New Matilda is a small, independent media outlet. We survive through reader contributions, and never losing a lawsuit. If you got something from this article, giving something back helps us to continue speaking truth to power. Every little bit counts.