Understanding why there is so much tension and violence in Palestine and Israel isn't easy. Michael Brull has developed a beginner's guide to getting your head around the long-running conflict.
What is a flare-up in the Israeli-Palestinian conflict?
The conflict in Palestine makes the news when Israeli Jews are harmed or killed. The murder, injuring and oppression of Palestinians is not news, it is background. As of October 12 this year, the UN reports that settlers averaged three property attacks each week, and two attacks resulting in casualties. Eleven Palestinian homes are demolished every week.
Or take the siege on Gaza. The graph below from a United Nations report shows the drastic diminution in truckloads of goods Israel has allowed out of Gaza since 2006, when Hamas was elected in elections in the occupied territories.
Since the war on Gaza last year, Israel has allowed an increased amount of exports from Gaza. It is still a fraction of what was exported in Gaza in 2006, let alone 2004.
In 1967, Israel claimed that a partial blockade on Israel gave it cause to go to war. For those who claim that Israel has imposed a blockade for security reasons: what possible reason could there be to prevent Gaza from sending goods to the rest of the world?
What possible point could there be to such a measure, other than destroying the economy of Gaza?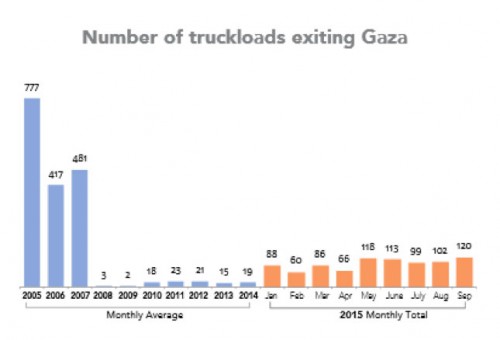 As a general rule, Palestinians being killed or injured isn't news, and neither is the siege. Israeli Jews being killed is news, and journalists then solemnly report on the anguish of Israelis, and Israeli leaders deciding whether or not to exercise "restraint".
No news story in mainstream media ever offers similar coverage of Palestinian "restraint", and only rarely is Palestinian emotional distress portrayed.
What has been happening?
Since the start of October, there have been an increasing number of stabbing attacks on Israeli Jews. In a series of attacks on Tuesday, 20 were injured and three were killed.
Israeli media generally refers to the attacks collectively, rather than quantifying them. Nir Hasson estimated 12 attacks and attempted attacks within the last two weeks. Amos Harel estimated at least 17. Al Jazeera reported on October 12 that four Israelis had been killed from the start of October, and 67 had been injured.
During this same period, 27 Palestinians were killed, "including seven alleged assailants and eight children", whilst at least 1,400 had been injured. This included seven Palestinians killed by Israeli fire at protests in Gaza.
According to the UN, up to October 5, four Palestinians were killed by the Israeli army, and 794 were injured by it. In the following week up to October 12, 23 Palestinians were killed in the West Bank, and another 2,311 were injured.
Israeli forces also shot and killed 9 Palestinian civilians in Gaza, and injured another 237 Palestinians. It also killed two more people, including an infant, when it bombed Gaza.
During last week, Palestinians injured 19 Israelis in 13 stabbing attacks. The UN reported that, "These also resulted in the killing of eight Palestinian perpetrators and alleged perpetrators, including two children, and the injury of another three, including one child." On 13 and 14 October, three Israelis were killed and at least 26 more were injured in stabbing attacks. Four perpetrators and alleged perpetrators were shot dead by Israeli forces.
Hasson says "most" stabbings "ended with the terrorists' death a short time" after they stabbed their victim.
There have also been cases of Jewish Israelis launching revenge stabbings. One stabbed a Palestinian in Netanya. Another stabbed a Jewish Israeli accidentally, falsely believing the victim was Palestinian. Another stabbed four Arabs in southern Israel.
The attacks have typically been by Palestinian residents of East Jerusalem. Harel observes "they have Israeli identity cards that enable them to move freely around the city and the country. Two of the others were Arab citizens of Israel."
They also have other features in common: "Almost all are teens, including four females. None has a record of involvement in terror, and only a handful have even the slightest connection to any terrorist organization." Further, "Only a minority were obviously religious." They have mostly used primitive weapons, like kitchen knives and screwdrivers.
Leading Israeli journalist Nahum Barnea wrote, "The IDF calls these terrorist 'inspired attacks', ones that come from below, sparked by preaching at a mosque, TV footage, a post on social media. They're distinct from 'guided attacks', terrorist attacks that come from the top".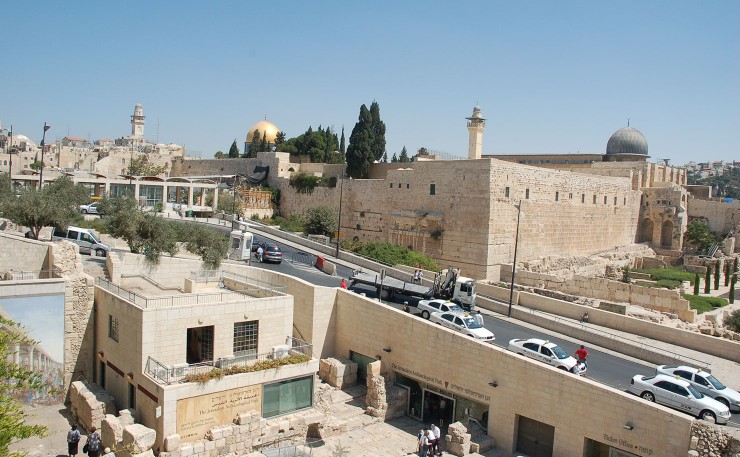 The Temple Mount/Haram al-Sharif
East Jerusalem was theoretically annexed when it was conquered by Israel in 1967, but no country in the world recognises this as valid. Everyone else regards East Jerusalem as occupied territory. This includes the International Court of Justice.
The accuracy of this view was conceded in private by Israel's Justice Minister in 1967. He observed, "We set about Jerusalem with our eyes open and contravened the Geneva Conventions in the most blatant way."
A helpful article at the Telegraph explains. East Jerusalem is Haram al-Sharif to Muslims, containing the al Aqsa Mosque, and Dome of the Rock, where the Prophet is believed to have ascended to heaven. For Jews, it is the Temple Mount, where the first two Jewish Temples were supposedly situated before being destroyed.
They are regarded as so holy that the Western Wall is treated with great reverence by Jews around the world today, ever though it was not part of the Temples, but was merely believed to have been near where they were.
Eetta Prince-Gibson explained the trigger for the recent fighting in Palestine
"Under arrangements in place since the end of the Six-Day War in 1967, Jews are prohibited from praying on the Temple Mount, and the area is administered by Muslim religious authorities. Israeli officials believe Salah is deliberately, and misleadingly, attempting to incite violence by claiming that Israel intends to change the current situation."
Avi Issacharoff explains that, "For many years, non-Muslims have been permitted to visit the Temple Mount during certain hours, in particular during the morning and for one hour during the afternoon." He goes on to observe that:
"In recent months there was an increase in the number of incidents in which Islamist women, mostly members of the now-outlawed Murabitat group, attacked non-Muslim visitors under the pretense of guarding the holy site. As a result of this, the Jerusalem police began to block the entry of Muslim women during the hours that Jews and foreigners visited the Mount. Later on, they also kept out men under the age of 50. These steps heightened tensions and gave Jerusalem Muslims the feeling that Israel was trying to change the status quo at the sensitive site."
Recent escalations in Jerusalem
In August, the Israeli Public Security Minister Gilad Erdan moved to ban Morabitun and Morabitut. These are twin male and female Islamist groups devoted to keeping Jews off the Temple Mount – that is, preserving the status quo.
Ha'aretz reported that the ban "comes at the behest of a group that encourages Jews to pray on the Mount… According to Erdan, [the two]Islamic groups seek to use violence and intimidation to keep Jews off the Mount." Their activists at the Temple Mount "spend most of the day praying or listening to sermons, but when they see Jews coming up to the Mount, they shout and curse. Their actions sometimes lead to violence."
On September 9, Morabitut was banned by Israel. Agriculture Minister Uri Ariel, from the far-right Habayit HaYehudi party, has repeatedly called for Israel to replace the al-Aqsa Mosque and Dome of the Rock with a Jewish temple. The right-wing Israel National News observed that he is a "frequent visitor" to the Temple Mount.
On September 13, Israeli police raided the Temple Mount. Ariel then visited the site with hundreds of activists. There followed days of rioting and clashes on the Temple Mount, leading to the injuring of 26 Palestinians and 5 Israeli police officers within three days. Israel raided the Temple Mount again on 28 September, causing more rioting.
On September 17, Netanyahu asked the Attorney General to allow the use of live fire against stone throwers in East Jerusalem. Israel's cabinet also considered measures imposing fines on parents of children who throw stones at Israeli police.
This further fanned the flames of Palestinian anger. Barnea reported this reaction by an Israeli military source: "We will, of course, put that order into effect against Israeli stone-throwers as well. With us, everyone is equal before the law. Based on the number of Jews throwing stones at Arabs this week, the IDF should have killed 200 Jews."
Barnea commented: "He was being sarcastic, of course. The IDF doesn't kill Jews."
This was neatly demonstrated in early October. On October 1, two Israeli settlers were killed in the West Bank. B'Tselem reported that in response, "Large groups of settlers approached villages in the Nablus area and threatened their residents, threw stones at them, set fire to fields and olive groves and vandalized property. The attacks began with news of the killing, and went on for several days in a row."
B'Tselem volunteers documented the complicity of Israeli soldiers in the pogroms, observing that "the soldiers accompanied settlers on their rampage, and used crowd-control weapons against Palestinian youth from the villages, who threw stones at the settlers in order to push them back." The video footage, available on the B'Tselem website, shows this clearly.
In one instance, "The soldier not only refrains from stopping the settlers, but on the contrary, is helped by a masked settler who carries his military backpack containing tear-gas canisters, and even loads the canisters onto the soldier's six-shot launcher."
Thus, whilst Israel has just advanced a new policy of shooting with live ammunition Palestinians who throw stones, it actively assists Jewish settlers living on Palestinian land, as they throw stones at Palestinians, set fire to their fields and otherwise terrorise Palestinians.
Israel uses emotive rhetoric about its right to protect itself from Palestinian terrorism, but regularly kills Palestinians, and takes no steps to protect Palestinians from freelance Jewish terrorists either.
For example, Jewish terrorists murdered three members of the Palestinian Dawabsheh family in an arson attack in July this year.
Israel's Defence Minister said he knows who the murderers are, but won't take action against them.
Donate To New Matilda
New Matilda is a small, independent media outlet. We survive through reader contributions, and never losing a lawsuit. If you got something from this article, giving something back helps us to continue speaking truth to power. Every little bit counts.