Students have now constructed as 'support camp' and are refusing to leave. Thom Mitchell reports.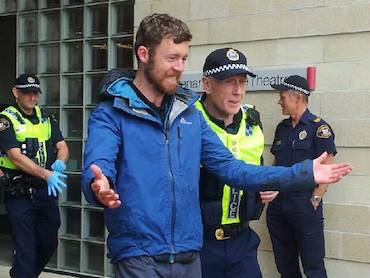 Students demanding the University of Tasmania divest from fossil fuels have remained holed-up in their Vice Chancellor's office for the eighth consecutive day, as protests associated with the stand-off escalate to what the university calls "dangerous" levels.
University of Tasmania (UTas) student Brodie Jeavons was arrested this morning after he scaled a 20-metre high building and unfurled a banner entreating the University to 'stop funding coal'.
According to Fossil Free UTas, the group organising the ongoing protest actions, the institution has around $30 million invested in fossil fuels. A spokesperson said Jeavons is an experienced climber, was well prepared, and does not regret his arrest.
"Brodie's action this morning was probably the riskiest we've done, but he felt that it was totally necessary and not nearly as grave as the risk the uni is taking by investing in fossil fuels," group spokesperson Mel Jones said.
"Those investments will inevitably cause environmental and social destruction, and destruction of lives, as we speak and into the future. That's why we felt Brodie's was a necessary action," she said.
But the University's Chief Operating Officer, David Clerk, said in a statement "the latest action by a protester atop the central column of the Centenary Building is considered dangerous [which is why]we referred the matter to police".
After eight days of occupying Vice Chancellor Peter Rathjen's office, the stand off is deadlocked. Students say they're not leaving until there's a guarantee of full divestment from fossil fuels.
A ramshackle 'support camp' has even been established outside the building to store supplies and act as a contact point for the broader student body.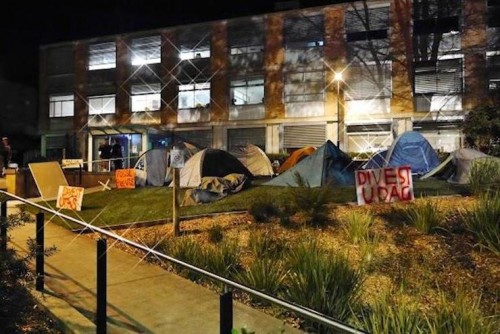 "We've been consistently sending emails asking for audiences with the [University's] Investment Committee, with the Chancellor and the Vice Chancellor. We've had next to no positive response," Jones said.
"They've only paid lip service.
"We conducted a sit-in about six months ago, and during that they called us into a meeting, and away from the sit-in. We agreed at that point that some meaningful negotiation would continue, and we were granted an audience with the Investment Committee when they were due to a couple of months ago.
That meeting was cancelled, Jones said, because of a "stunt" where students handed out flyers promoting fossil fuel divestment at a university function.
"So it seems [the meeting]was just a concession they made to stop us being annoying, and that our handing out flyers was the excuse they used to cancel," she said.
New Matilda has contacted the University for comment. It is understood the protesting students are yet to speak with the Chancellor, Vice Chancellor, or the University's Investment Committee.
The actions at UTas are the small part of a global global fossil fuel divestment campaign which has seen trillions of dollars shifted out of fossil fuels and attracted the support of influential institutions and individuals, including the Rockafellas.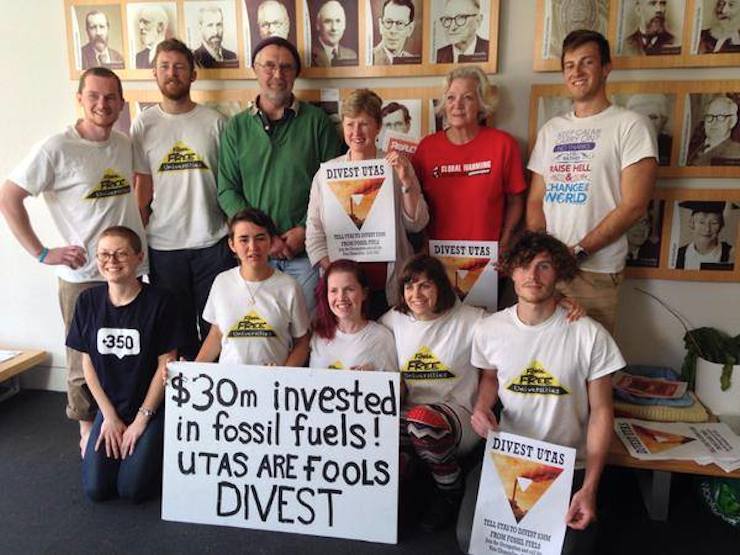 Since Fossil Free UTas began their occupation, former Greens leaders Bob Brown and Christine Milne, along with prominent international environmentalists like Naomi Klein, Bill Mckibben and George Monbiot, have voiced their support.
The Australian National University and the University of Sydney have already moved to partially divest from fossil fuels, joining an international cohort of around 40 Universities. Jones said that given the research the University of Tasmania does around climate change it should be next.
"We think this is a really pragmatic time for the uni to move on climate action, coming up to the Paris summit later this year…if UTas came out with a powerful statement now about its intention to act on climate change it would be extremely beneficial for their publicity and brand," Jones said.
"What they've been saying is it's not possible for them to start a process around divestment while we're occupying the VC's office, but we completely reject that," she said.
"They feel they can't concede anything to us while we're carrying out a protest because it would be embarrassing and it would create a precedent where other students would be able to hold a protest and get what they want.
"But it's not about embarrassing the uni. We love this uni, and we really want to see it as an international leader on this issue.
"What we've said is, 'no, we want you to begin negotiations about divestment while we're in your office, and we want some meaningful commitments before we leave."
Donate To New Matilda
New Matilda is a small, independent media outlet. We survive through reader contributions, and never losing a lawsuit. If you got something from this article, giving something back helps us to continue speaking truth to power. Every little bit counts.