Leading public intellectual and Climate Change Authority board member Clive Hamilton has attacked Attorney General George Brandis and the government's attitude to environmentalism. Thom Mitchell reports.
Controversial Indian coal miner Adani has been thrown a bone in the second approval of its proposal to develop Australia's largest ever coal mine, with a key condition relaxed to allow the company to make changes to environmental plans with minimal scrutiny.
Under newly announced conditions, Adani will be allowed to modify environmental management plans simply by notifying the Department of Environment of its intentions, rather than after receiving written permission from the minister, as was stipulated in a previous approval.
The $16.5 billion project was stripped of its first Federal approval in August, after a conservation group won a Federal Court battle over Environment Minister Greg Hunt's failure to properly adhere to national environmental law.
It was not the greatest set-back Adani's beleaguered mega-mine has faced, and Hunt issued a fresh approval last week, claiming the mine will be "subject to 36 of the strictest conditions in Australian history".
However close reading of those conditions reveals Adani may make a "choice" to change its plans, and can set about implementing them on the same day the new plans are submitted to the Department of Environment.
Any alterations are supposed to avoid creating "new or increased [environmental]impacts," but the loophole clearly has the potential to limit scrutiny of Adani.
"Minister Hunt's conditions on the approval of the Carmichael mine are the same as handing the company a blank cheque and hoping they'll do the right thing," said Shani Tager, a Greenpeace campaigner focused on the Great Barrier Reef.
"Instead of 36 strict conditions, we've seen a weakening of requirements in relation to the Carmichael mega-mine, and a loophole big enough for a dragline to fit through," she said.
Part of the reason the mine has been so controversial is because, in order to export its product, it requires the development of the world's largest coal terminal at Abbott Point in Queensland, near Bowen.
To facilitate ships' access, millions of tonnes of seabed will need to be dredged, which is likely to impact the already highly stressed Great Barrier Reef.
The Carmichael mine will also create four times the carbon emissions of New Zealand, each year.
"This is the biggest coal mine proposed for Australia, yet there is a complete absence of scrutiny by Minister Hunt, since Adani no longer needs ministerial approval to re-write their plans," Tager said.
"You have to wonder, was it the Environment Department or Adani who wrote these conditions?"
Tager's criticisms come in the context of the Federal government being extremely supportive of Adani, to the point where Attorney General George Brandis is seeking to change national environmental law to prevent conservationists challenging government decisions in court.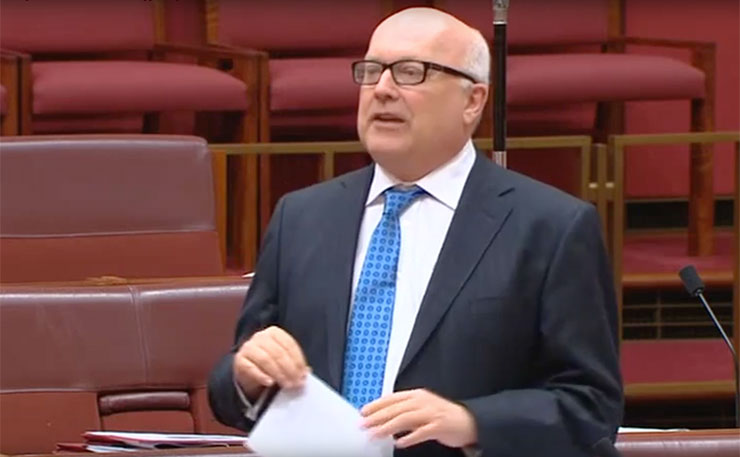 A flashpoint in the climate change debate, the move highlighted the government's hostility to certain types of environmental activism, particularly given it was the government's own decision to set aside Adani's first approval in recognition of the fact Hunt erred when he gave the initial green tick.
At a book launch in Sydney on Monday night, one of four board members of the government's independent Climate Change Authority, Clive Hamilton, said Brandis' efforts to change the law appear to have sprung from "the paranoia of a right-wing fringe".
He said that segments of the government view environmental activism as being akin to terrorism – a comparison that has been made by a number of government MPs, and a sentiment that was recently crystallised in materials prepared to combat the threat of radicalisation and violent extremism.
In a booklet produced by Brandis' department, the government created a fictitious environmentalist called Karen, who was used as a case study to illustrate dangerous threats to "Australia's core values and principles".
Hamilton said 'Karen' "seems to be a figment of the lurid imagination of Attorney General George Brandis, who wants to change the laws to hobble, quote, 'radical green activists', so they can't, quote, 'sabotage development'".
The government booklet compared a forest-dwelling 'Karen' to paramilitary jihadists, Muslim-bashing neo-Nazis, and a would-be Al Qaeda assassin, but Hamilton said "the truth is there is no violent environmental extremism in Australia".
The noted public intellectual and ethicist said the case study was "one of the most insidious developments" in the Federal government's campaign against environmentalism.
"By squeezing 'Karen' into the radicalisation template which the booklet sets out, this document presents a ludicrous, tabloid version of the making of a dangerous extremist," Hamilton said.
Adani's Carmichael mine has a long way to go before the shovels hit the ground, but the strength of opposition that the project has faced suggests that irrespective of the conditions Hunt imposes on it, there will be continuing resistance.
Hamilton noted that there has already "been a surge in civil disobedience…bringing together farmers and environmentalists with the intent of attempting to obstruct mining developments," and New Matilda understands that it's a form of resistance Adani is likely to face.
"But there's nothing in common between these non violent acts of civil disobedience and those of [radical extremists]," Hamilton said, adding that "to put them in the same category is obscene, sinister and extremely dangerous to our democracy".
Launching a book which challenges the corporate response to climate change, Hamilton said that "some conservatives regard non-violent civil disobedience as morally equivalent to violent extremism, and as such something that demands a matching response".
"When this kind of anti-green fanaticism is officially endorsed and actively promoted by the Commonwealth, the paranoia of a right-wing fringe is validated," he said.
Donate To New Matilda
New Matilda is a small, independent media outlet. We survive through reader contributions, and never losing a lawsuit. If you got something from this article, giving something back helps us to continue speaking truth to power. Every little bit counts.