Private Vocational Education and Training (VET) providers are taking an increasing share of public funding, and leaving the government to cover the costs. Max Chalmers reports.
A Senate Committee that heard evidence private colleges are targeting vulnerable students with aggressive marketing campaigns – luring some unknowingly into massive debts – has encouraged the government to pursue unscrupulous providers, calling for an "urgent blitz" from the industry regulator to ensure national standards are being followed.
After nearly a year of hearings and evidence gathering the Senate Inquiry into private Vocational Education and Training (VET) providers has delivered a withering report, in which Labor and Greens members joined to recommend the government launch its own review based on evidence of "rampant abuse, accelerating costs, and doubling of bad debt".
Private colleges deliver a range of sub-university level courses to students. Since 2008, the Commonwealth government has offered low-interest loans to students to help them cover the cost of studying at private VET institutions, similar to the HECS loans university students are eligible for.
In 2012 the system was expanded with the agreement of the states and territories so that all VET providers except those in the ACT now have access to the loans.
As part of Christopher Pyne's halted deregulation package, the government was proposing to extend this system further, opening up millions of dollars for private higher education providers as well as VET providers.
Intended to help less well-off students access training, the expansion of public funding to private VET providers has endured criticism for moving Commonwealth funds to for-profit organisations, who sign students up to pricey and potentially low quality training.
The Commonwealth allocated $3.2 billion to VET spending in 2014-15, and education expert Andrew Norton warned the Committee that much of the Vet FEE-HELP system was likely contributing disproportionately to the government's 'doubtful debt' – student loans that are unlikely to be paid back because the student never earns above the minimum repayment threshold. When this occurs the cost of the bad debt is covered by the government, while the private provider has already pocketed the fees.
Figures put forward during the inquiry reveal the rapid growth of students accessing loans to study VET courses since 2008, and the rapidly expanding bill for the Commonwealth.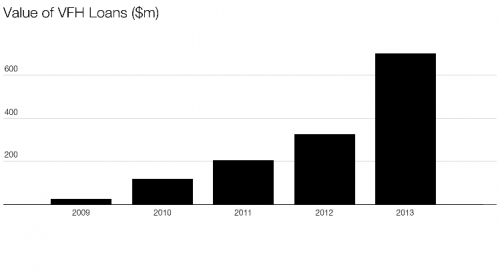 During this period public TAFEs have seen their market share drop off as Registered Training Organisations have risen to a 30 per cent share.
That expansion has seen an increase in reports of wrongdoing and predatory behaviour from private providers.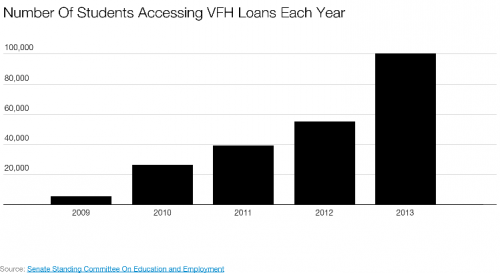 "The committee has been provided and has heard harrowing and concerning evidence of misconduct by private VET providers," the Committee's majority report said. "The private VET sector has been subject to a range of allegations in the public arena not limited to that of exploitative conduct, shoddy training and massive profits at the public expense.
"It is an irony that in the name of social justice, an exploitative scheme to enrich individuals has been allowed to flourish at the expense of the most vulnerable who end up with a debt, but no qualification, or a worthless qualification."
The Redfern Legal Centre told the Committee that brokers for some providers were going door-to-door in public housing blocks and putting on a 'hard sell', as well as targeting people on Centrelink.
The TAFE Community Alliance gave this example as evidence of the misleading promises made to potential students to sign them up:
"An older woman in her early 70s was at the Bankstown Central shopping centre having lunch with her bible group when they were approached by a young man asking them if they would like a free laptop and a "free" Diploma in Community Services.
"He assured them that though they had to sign up for a government loan they would never have [to]repay it as they would need to [earn]over $50,000 (and this was a group of pensioners) and they agreed they would never be earning that much. The whole group signed up and got their laptops."
A 2013 review by ASQA, the body that regulates the VET sector, noted: "8.6 per cent [of private providers]engaged in 'potentially misleading or deceptive advertising' such as guaranteeing a qualification from undertaking their training irrespective of the outcomes of assessment and guaranteeing a job outcome from undertaking training even though an RTO is in no position to ensure someone will get a job as a result of their training".
The Australian Council for Private Education and Training acknowledged wrongdoing in the private colleges sector but argued it was at the margins, and that most providers were doing the right thing.
In their own dissenting report, Coalition members of the Committee placed the blame on Labor for overseeing the changes in 2008 and 2012, and said the government had already introduced a number of reforms to address issues arising from the Inquiry.
"Labor, working with The Greens, has sought to politicise this inquiry instead of working together with the Government to implement the necessary legislative changes, and fails to adequately acknowledge the practical steps the Coalition has taken to reform the VET FEE-HELP programme since coming into office," their dissenting report said.
Despite joining Labor in signing off on the majority Committee report, the Greens argued in additional comments that stronger reforms are needed. The party wants to see contested funding arrangements abolished, funding for for-profit VET providers dropped, and a mandatory portion of federal funding to flow to TAFEs.
"Education should not be treated as a commodity and market-based approaches will not achieve the goals of the VET sector," Senator Lee Rhiannon noted. "Therefore adequate public funds should be guaranteed to public institutions to remove the competition incentives and the associated race to the bottom in terms of quality and costs."
The Committee heard that brokers employed by private providers had escaped regulation and been incentivised to aggressively sign up students to inappropriate degrees thanks to the fact they are paid by commission.
While the Committee recommended commissions paid to brokers be capped, the Greens want to see them banned.
Elsewhere, the Committee recommended regulatory body ASQA be bolstered, and that the government share briefs with the Director of Public Prosecutions "to launch prosecutions against providers engaged or benefiting from fraud and take steps to recover monies lost".
Donate To New Matilda
New Matilda is a small, independent media outlet. We survive through reader contributions, and never losing a lawsuit. If you got something from this article, giving something back helps us to continue speaking truth to power. Every little bit counts.